Post-Wilma Golf at PGA National in Palm Beach Gardens
By: Nancy Berkley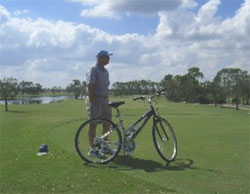 What's wrong with this picture? Nothing, except that no one was teeing off on the first tee of the Champion Golf Course at PGA National Resort & Spa in Palm Beach Gardens, Florida last Thursday – 72 hours after Wilma hit. Bikes were the best way to view Wilma's damage to the courses and this golfer-turned-biker reflects the sense of loss and disappointment as he views the empty course.

But, the courses at PGA National have made an amazing recovery and the Champion Course opened the day after this photo! In fact, 150 golfers played the Champ on Friday. Even better news is that the Estates Course opens Sunday and by the end of this week an additional two more courses are scheduled to be re-opened.

My information is first-hand. The day after Wilma blew through Florida, I made an emergency visit to my home in PGA National to board up the windows and doors blown out by the hurricane. (Unfortunately, the view of the golf course from my patio has improved now that sections of the screen enclosure are also gone.)

I stopped by the golf course offices and found Bob Coman, the Director of Golf, and John Lee, the head superintendent along with my friend and colleague, Jane Broderick, Head Golf Professional. They took a few minutes from their very busy schedules to answer a few questions:

NB: I saw the general damage to the area and was surprised that the resort and hotel were even open. When did they open?

Bob: The Hotel never closed. We have our own generators and in fact, the executives from the Florida Power and Light Company have been staying here. We did lose power at the Spa and Fitness Center, but there was no damage to those facilities and they opened their doors again on Saturday when power was restored. [for updates call the resort at 561-627-2000]

NB: How did you go about assessing damage to the courses and getting them back in shape?

Bob: PGA National Resort & Spa, Palm Beach Gardens, Florida, is home to ninety (90) holes of golf. Hurricane Wilma struck the area on Monday, October 24, 2005. On Tuesday, October 25th, the Golf Courses Maintenance Staff was already assessing and photographing damages, and clearing the pathways for workers and equipment to access all areas of the golf courses. On Wednesday, October 26th, all efforts focused on re-opening the Champion Golf Course and Practice Area. All the debris was cleared from the playing areas. The greens, tees and fairways were cut. The bunkers were cleaned and raked. At 11:00am on Thursday, October 27th, the Champion Practice Area re-opened. At 8:00am, on Friday, October 28th, The Champion Golf Course re-opened with carts restricted to cart paths only.

NB: After you clear the trees and debris, what about permanent damage to the turf?

Bob: There was no damage to putting greens, fairways or bunkers. The Hurricane had strong winds, but only recorded 4" of rainfall at PGA National. In only two (2) weeks after the Hurricane hit, all five of PGA National's Golf Courses will be operating. Members and Resort Guests will only see a few trees missing, and several trees propped-up by stakes to remind them of Hurricane Wilma's visit to PGA National.

I left their offices and continued biking around the courses. It is amazing how efficiently the crews work. Two tractors and six workers make it look easy to up-right a tree. Of course, after Frances and Jeanne last year, crews have a lot more experience.

Hurricane damage is random. One house can be severely damaged and yet houses on either side are untouched. Similarly on the course, one stand of trees will suffer but others survive.

I am sure it won't be too long before I return to Palm Beach Gardens to play again. I know my golf will be random also. One good drive, and then… .

Nancy Berkley writes the women's page for Cybergolf.com and is an industry expert on marketing golf. See her website www.berkleyconsulting.com  or email her at info@nancyberkley.com.

Nancy Berkley is an expert on women's golf. Her book, "Women Welcome Here! A Guide to Growing Women's Golf," published in 2003 by the National Golf Foundation, is the industry reference on how-to attract and retain women golfers. She updates her research and best practices on her website www.nancyberkley.com.

Nancy consults with facilities on how they can increase participation and revenues from women golfers and is a frequent speaker at industry events. Nancy also reviews courses for "The Golf Insider," an international golf and travel newsletter, and "Ladies Golf Journey," a golf publication for women. She's contributed articles to "Golf For Women" magazine and is the author of the 2004 PGA Magazine cover story about women golfers.

A respected resource in the golf industry, Nancy participates in Golf 20/20, the annual strategic invitation-only conference sponsored by the PGA Tour, the PGA, the LPGA, and the World Golf Foundation. At the November 2004 Conference, she moderated the panel discussions on player development with a focus on women golfers. She has addressed the National Golf Course Owner's Association at their National Conference as well as at numerous marketing seminars for the PGA and LPGA professionals. Nancy serves as a consultant to the Golden Links Advisory Board of Corporate Meetings & Incentives, a PRIMEDIA Business Publication. Nancy is an experienced golfer and has competed on the Metropolitan Women's Golf Association (N.J., N.Y., Conn.) interclub matches. She's served on the Board and Golf Committees of her golf clubs in Florida and New Jersey.

In 1998, Nancy founded Berkley Consulting and The Woman's Only Guide® to Golf to share her long-time passion for golf and to help grow the game. Prior to working in the golf industry, Nancy was an attorney for a Wall Street firm and then held a number of senior executive positions with Prudential Financial, including Assistant General Counsel and Vice President of Corporate Marketing & Business Integration. Nancy began her professional career as a high school teacher.

Nancy holds a bachelor's degree in political science from the University of Minnesota; a master's degree in teaching from Harvard University Graduate School of Education; and a law degree from Rutgers University School of Law, where she was a member of the Law Review. She is a graduate of the Program for Management Development at Harvard Business School.

Nancy describes herself as a bogey golfer and plays on her home courses in Florida and New Jersey. To contact her, write, call or email Nancy at: Nancy Berkley, Berkley Consulting, 242 Eagleton Estates Blvd, Palm Beach Gardens, FL 561-776-7243 or at info@nancyberkley.com.