Pound Ridge is Dye-abolical & Fun
By: Steve Habel
Even after all the things I'd heard about the barely two-year-old Pete and Perry Dye-designed Pound Ridge Golf Club in the northern suburbs of New York City, I wasn't sure what I would experience once I set foot on the gorgeous, rolling site.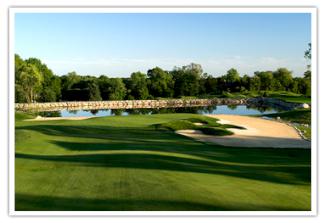 The First Hole at Pound Ridge
Opinions about Pound Ridge have varied, even by writers on this very website. Would I find a deviously fashioned golf torture-chamber of narrow, unforgiving fairways bordered by rock and trees and sand and water?

Would I find my own little piece of green heaven at the challenging track set about an hour north of "The City That Never Sleeps" but seemingly worlds away from all the hustle and bustle?

Or would a round at Pound Ridge accentuate the good parts of my game and penalize the things with which I struggle, which, to my way of thinking, is the true measure of a great but demanding golf course?

After playing Pound Ridge on a damp, cool and foggy day when most players wouldn't have even attempted on such a stout track, I can say my encounter at Pound Ridge was a little of the first question above, a bit more of the second and a whole lot of the third.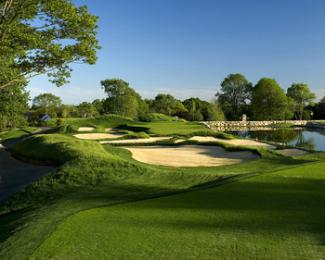 No. 4 at Pound Ridge
One thing's for sure – you better put your big-boy pants on if you expect to have any semblance of success here.

By now you have likely heard a lot about Pound Ridge Golf Club, but let's recap some of the facts about the place. Pound Ridge, located about 15 minutes from Stamford, Conn., in its same-named New York town, is an 18-hole daily-fee venue that plays to a par-72 and measures 7,171 yards from the tips.

Developed by the Wang family, the 172-acre course is legendary Pete Dye's first design in the Empire State. Carved out of as much as 14,000 feet of rock walls, outcroppings and house-size boulders, the fairways are interspersed with trees, streams, wetlands and water hazards as the layout snakes its way to the tops of ridges, through hardwood forest and open, rolling meadows.

The site features more than three miles of stone walls that run through the property and the knock-your-socks-off hazard called "Pete's Rock," a massive boulder that blocks the view of the fairway from the 13th tee, a 486-yard par 5. Dye has been quoted as saying that the Pound Ridge site is "as difficult a piece of property to build a golf course on as I've ever seen."
"It's really admirable what he did in hanging in there," says Perry Dye, Pete's son and fellow architect who co-designed the course and was on-site for much of construction.

If it was hard to build, it's even tougher to play. Like a huge intricate puzzle, the elements at Pound Ridge blend but are never transparent in the course's plentiful package. "The rocks here actually have become an asset, and you could not afford to do what we're doing here today if we had to go buy the rock," Pete Dye said. "The things that made it hard to build make it beautiful."

There are the rocks and trees and blind shots over mounds to well-protected and often elevated greens complexes. Most of all you have to be accurate at Pound Ridge. That task is mitigated somewhat by the course's five sets of tees, which are classified by handicap ability, allowing players of all skills to enjoy the strategic layout and wide variety of shot-making options.

Mother Nature was in charge of building the hills that dominate the course, and Dye added extensive mounding, bunkers, a variety of grasses (including fescue just off the fairway on several holes) and water hazards, several of which require carries of better than 250-plus yards from the tips. Remember, too, there is water or wetlands on 17 of Pound Ridge's 18 holes.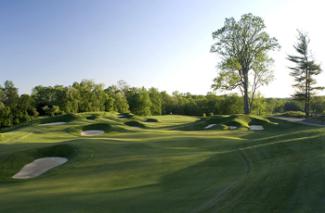 5th Hole at Pound Ridge (all photos by Jim Krajicek)
Taking Advantage of the Shot-making Opportunities

There are plenty of holes at Pound Ridge – mostly those that are in the meadow (most of the front nine and Nos. 16-18) – where you think you can bust the driver and attack the course.

But, as usual with Dye layouts, even the holes where you think you might grab the upper hand can rein you in. Whether it's on the approach (via an uneven lie, a mound or blind shot) or around the rolling greens, many defined by wicked and sloped collection areas, Pound Ridge demands your attention on every shot.

Such is the case on the very first tee, a seemingly harmless but lengthy (453-yard) par-4 that ends at a green surrounded by a beach bunker that wraps from the right side to the back. You'll be lucky to get home in two on the uphill, 485-yard par-4 second, and beware the huge pond that enters play on the approach all the way to the green.

Take your chances at the reachable 317-yard par-4 fifth, but no less than 14 punitive bunkers in the fairway and up to the green may make you were more prudent.
The downhill 378-yard par-4 10th requires a well-placed fairway wood off the tee, as the hole drops 80 feet from the tips. The 417-yard par-4 12th, named "Narrows," lives up to its moniker by forcing players to drive over a stretched-out wetland to a tight landing area before the longest green on the course.

Perhaps the best stretch is the trio at Nos. 13-15. On the 485-yard, par-5 13th, the drive is over "Pete's Rock" to a saddle-shaped landing area with danger both sides. The tiny green is guarded left by a deep ravine with a bunker in its deep floor, and along the right by woods. Take some personal advice: play this as a three-shotter and hope to make the par putt.
The 429-yard, par-4 No. 14 requires a long carry across a deep and elevated chasm fronted by a stone wall. Once across, the hole bends left and plays uphill to a semi-blind green set between two hummocks. Avoid the rock outcroppings that line the left side of the fairway.

You'll be amazed at what awaits at the short and quirky par-3 15th, with its backdrop of a large white-rock outcropping. The hole is played entirely over wetlands fronting the green that obscure much of the diagonal putting surface from the tee. Once across, you'll see that the green is actually quite roomy, and even if you play your shot off the rock it has a chance of finding the putting surface (just don't bet on it).

The three closing holes – the uphill 564-yard par-5 16th and two testy par-4s in the 457-yard 17th and the 454-yard 18th (where your drive must be played over a stand of trees) – will make you take a deep breath. Success on this threesome will hinge on the state of your nerves and a great short game.

A generous practice area is available to golfers, and the club plans on building an attractive modern clubhouse in the near future. The property features some of the highest points in Westchester County, with a number of tees offering expansive vistas of the surrounding countryside.
All the Awards Can't be Wrong

Recent accolades for Pound Ridge Golf Club include: "No. 1 New York City Area Golf Course, 2010" by AskMen.com; "America's Best New Courses, 2009" by Golf Digest; "New Golf Development of the Year, 2009" by ABTA Golf; "Top Ten You Can Play, No. 2, 2008" by Golf Magazine; "Best New Courses, 2008" by LINKS Magazine; and, "America's Best New Courses, 2008" by Golfweek.

Granted, Pound Ridge, with a rating of 76.1 and a slope of 146 from the tips, is a bear. But if you're in the Big Apple or anywhere near, it's a must-play. I liked the course and enjoyed my round, but don't think this is a track I could play every day.

For more information, visit http://www.poundridgegolf.com.
Steve Habel is one of Cybergolf's national correspondents, contributing news stories, features, equipment and book reviews and personality profiles from his base in Central Texas. He is also the managing editor for Texas CEO Magazine and works as a contributing editor for Horns Illustrated magazine, a publication focusing on University of Texas sports. He also writes a blog (www.shotoverthegreen.blogspot.com), which features news on golf and the Longhorns, and another (www.checkinginandplayingthrough.blogspot.com) on his many travels, which took him across the nation and to 105 different golf course in 2009. Habel is a member of the Golf Writers Association of America and the Texas Golf Writers Association.