Pound Ridge - Pete Dye's Contribution to Westchester County Golf
By: Rob Duca
Prosperous Westchester County, N.Y., is no stranger to elite golf courses. Winged Foot, Westchester Country Club, Quaker Ridge and Stanwich are all within shouting distance. Now you can add Pound Ridge Golf Club to the list of must-play layouts.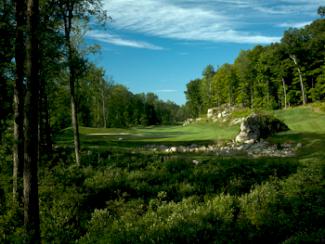 The 13th at Pound Ridge
And here's the twist: It's public. That's not to say that Pound Ridge doesn't act and feel like a private course, especially considering the stiff $235 green fees during peak times. That said, golfers searching for a bargain will now find it through stay-and-play hotel packages that bring the price down to as little as $100 a round. One such package is through the waterfront Delamar Greenwich Harbor. Rates start at $515 per night for a Friday or Saturday night stay and include a round of golf, a $20 food and beverage credit at Pound Ridge, 10 percent off golf merchandise, breakfast, a bottle of champagne, and a wine-and-cheese reception.

Obscured from the road by the precipitous grass mounds that run down both sides of virtually every fairway, and with an entrance marked only by an unpretentious wooden sign, the club is easy to cruise past as you wind through the twisting back roads of picturesque Pound Ridge, a town located 45 minutes north of New York City. It's almost as though they don't care if people miss it.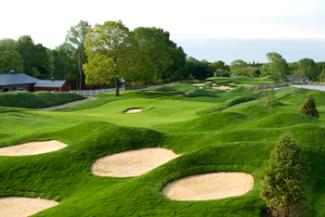 The 3rd Hole at Pound Ridge
Created by Pete Dye, Pound Ridge opened in 2008 after owner Ken Wang, Jr. (brother of world-renowned designer Vera Wang) decided to transform the sleepy, faded nine-hole course that his family owned since 1980 into a 18-hole masterpiece. To make it happen, he gave Dye and his son, Perry, an unlimited budget and encouraged them to let their fertile imaginations run wild.

A tour of this splendid course left me spellbound, although it also ate me up and spit me out. But isn't that what you'd expect from the diabolical Dye? The course is visually stunning and brutally difficult. There are countless strategic decisions to be made, and an endless array of dramatic views along the spectacular undulating terrain. The property features some of the highest points in the region.

It would be presumptuous to call Pound Ridge Dye's personal masterpiece. After all, his impressive resume includes Whistling Straits, The Ocean Course at Kiawah Island, TPC Sawgrass and Harbor Town Golf Links. But his first foray into the Empire State might someday be favorably linked with those signature creations. For his part, Dye considers Pound Ridge to be one of his finest designs. He has called the 16th hole "one of the most visually stunning green complexes that I've seen out of the 378 golf holes I've done."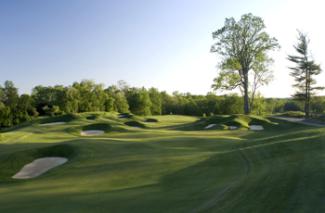 No. 5 at Pound Ridge
The course is carved from 172 acres of rolling hills, with nearly 15,000 feet of rock walls combining with mature trees, meadows and water hazards to create an imposing and beautiful layout. A succession of elevated tees and greens provide panoramic views of the surrounding countryside, while five sets of tees accommodate golfers of every skill.

You'd be wise to follow the suggestions on the first tee directing you to the proper markers. As the sign advises, the championship tees are for golfers with a handicap of 4 or less. And that's not an exaggeration. I chose the granite tees (13-to-20 handicap) and was glad I did as I came upon hole after hole with forced carries, some approaching 230 yards.

The par-3 11th is one of the most memorable spots on the course. From the elevated tee, the view to the hole features dramatic rock outcroppings down the entire left side, with bunkers to the right and also behind what is a long, thin, crowned green that sits in a valley. The par-5 13th requires driving over "Pete's Rock," a giant boulder that sits in the middle of the fairway. The par-3 15th, named "Headstone," includes a massive rock wall backdrop and a 9,000-square-foot green. Conversely, the 317-yard par-4 fifth has 13 bunkers protecting a postage-stamp green.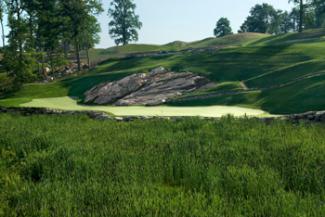 The Par-3 15th
The course closes with three of the most punishing holes you will encounter. The par-5 16th of 570 yards is followed by a pair of par-4s checking in at 460 and 477. Good luck here.

By the time I putted out on 18, I was sad to leave, but looking forward to the 35-minute drive back to my hotel in Tarrytown. Did I say hotel? Actually, it's a castle - the gorgeous Castle on the Hudson, to be precise.

With its high ceilings, plush carpeting, corner tables and earth-tone motif in the intimate 19th-century style bar, it was easy to imagine being back in the early-1900s when the castle was the private residence of General Howard Carroll, where grand galas were held for foreign dignitaries and ambassadors. The stately stone structure, with its signature 75-foot tower, sits atop a cliff overlooking the Hudson River.

Designated a historic landmark in 1981, its suites feature four-poster beds, wood-burning fireplaces and extraordinary river views. Now a luxury hotel, the gourmet restaurant draws diners from near and far in a cozy atmosphere of dark wood, exposed-beam ceilings and a massive stone fireplace.

This is a luxurious and magnificent setting, and the perfect complement after a day at glorious Pound Ridge Golf Club.

For more information, visit www.poundridgegolf.com.
Rob Duca is an award-winning sports columnist who wrote for the Cape Cod Times for 25 years, covering golf, the Boston Red Sox, the Boston Celtics and the Boston Bruins. He is now managing editor of Golf & Leisure Cape Cod magazine and has written for a variety of other publications, including Sports Illustrated, the Boston Globe, Yankee magazine and Cape Cod Life.