Practice Rounds at the U.S. Open - Junior Golfers Welcome
By: Nancy Berkley
It's Monday and the first practice round of the U.S. Open at the Olympic Club in San Francisco - not very far from the Pacific Ocean. I'm here and the weather is absolutely beautiful - sunny and about 65 degrees. It is supposed to get a little cooler as championship week progresses.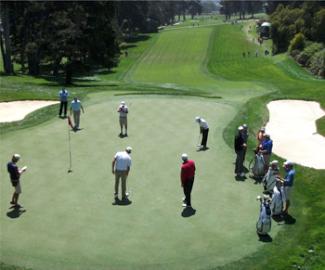 18th Green During Monday's Practice Round
The first round of the Open begins Thursday with 156 golfers. After the second round Friday, the field will be cut to the top 60 players for the weekend's final rounds.

Practice rounds are a great way to introduce junior players to professional golf. The admission for adults is less on practice rounds and children 12 and under get in free. This article includes some tips for parents and adults who bring children to the tournament.

I took this photo today from the grandstand right behind the 18th green. The foursome had just come up the 18th fairway and were "practicing" on the green. Yes, they were taking mulligan putts in order to learn the ups and downs of these greens. Some golfers put out circles for other hole placements and practiced putting to those. And their caddies were making notes in the little notebooks they look at on the course when advising their plaeyrs on clubs and target.

Even though long and accurate drives count for a lot, this short finishing hole may determine the winner. As I watched today, I saw several golfers hit great second shots to the green and one-putt for birdie. This hole is not dramatic looking, but it may be the site of great drama Sunday afternoon.
But not all golfers in the U.S. Open play a practice round. Some would rather work on the practice tee and some will arrive just in time for to tee off Thursday for the first round of the championship. Hopefully, they or their caddie know the course. Since not all the golfers play practice rounds, especially on the same day, these first three days of the week are not too crowded. They are great days to really catch the excitement of a major golf event.

But I am not only watching the golfers, I'm checking out the Olympic Club set-up in anticipation of coming back on Friday with my grandsons, ages 7 and 10. It will be the first time they have been to a U.S. Open, and I want them to have a great time. I'll be writing an article about their experience and reactions to attending a big event like a U.S. Open.

What most of the professional golfers at the U.S. Open have in common is they started playing golf when they were young. That's why the leaders of the golf industry are investing more time and money in junior golf programs. The USGA Foundation has been very generous to the LPGA-USGA Girls Golf program and to the First Tee.

And in the spirit of growing the game, most professional tournaments do not charge children admission if they are with an adult who has bought a ticket. At this U.S. Open, children age 12 and under are admitted free. Children 12 through 17 pay $35 for the championship rounds.
Advice for adults bringing junior golfers to this Championship

Children must get a ticket in order to pass through the main gate. Children's tickets are available on a daily basis at the Will Call booth, which is just to the left of the main entrance.

And do not even think of bringing a cell phone or any type of camera. It is absolutely forbidden and will be taken from you. So if you could keep in touch with your junior golfers via texting - forget it. Set up times and meeting places if you are separating. And if you are separating from your teenage golfers, make sure they know the etiquette signals - especially "Silence" - and understand not to try to get over (or under) any roped-off areas.

Once through the main gate, you are in what I call the "plaza." Walk to your left to the first and ninth holes and the practice tees. You're on your way. On Thursday and Friday prior to the cut there are two sets of starting times on the front nine and the back nine. (See www.usopen.com for starting times and for the very important directions about how to get to the Open and where to park.)

Unlike most courses where the back nine begins at the 10th hole for this U.S. Open, the "back nine" begins on No. 9. Then after the 18th, golfers move to the first hole and finish on the eighth. Both the 18th and eighth greens are conveniently located by the clubhouse and near the food court.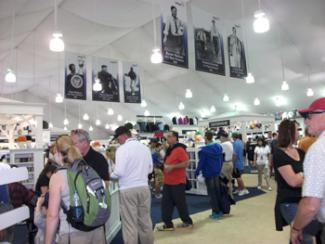 Merchandise Pavillion at Olympic Club
You can walk to your right past the entrance to the Merchandise Pavilion, where you'll find a shopping extravaganza. This is the largest display of golf clothing and accessories I have ever seen at a tournament venue. I think every major brand is represented. One of the vendor managers I spoke with today said that sales are very strong. In fact, they were already sold out of a new T-shirt in a tie-dye design that they were not sure would be popular. More are coming!! If you buy a lot of items, there is a booth next to the Pavilion where you can check your bag of items so don't have to carry them with you all day.

More Advice for adults bringing junior golfers to this Championship

Getting autographs is part of the excitement of attending a tournament, but a word of caution is in order. In fact, hats and pin flags are often purchased just for autographs. But, the USGA is very strict about where golfers can be approached for autographs. The only place that's authorized is AFTER the player has turned in his scorecard. So, if you are looking for autographs, find the scoring tent where golfers head to after the 18th green (or the ninth and hang out there).

Back on the plaza: Look straight ahead and you will see the USGA booth. Check it out because there are some interesting programs that junior golfers may find interesting. I plan on taking my grandsons to one program Friday about how the golf clubs are made. If you are not already a member of the USGA, consider it. It is not expensive.

Hungry? (Note you cannot bring your own food into the tournament.) There are lots of food vendors on your way to the first tee and lots of tables to eat at. There were many open tables today at Monday's practice round, but they will be crowded once the championship begins. There are several other concession stands at various places on the course. Think ahead; lines could be long.

If you have opted for one of the more expensive tickets, for example in the Trophy Club, food is available there. But the Trophy Club, which is near the main entrance, is a long distance from the course; so, be prepared for a walk. Reminder: Bring sunscreen!

On Friday, I will be walking the course with Coby and Alex. Since they have played a little golf, they understand "par" and how the scores are posted. Stay tuned for their reaction to attending the U.S. Open. I'm making a good list of questions for them. And because it will be crowded and we can't risk getting lost, I am making sure they can easily find me. I will have a big blue flower pinned to my visor. If you see us, say "Hi!"
Nancy Berkley, President of Berkley Golf Consulting, is an expert on women's golf and junior-girls golf. She is a frequent contributor to www.cybergolf.com/womensgolf. Her book, "Women Welcome Here! A Guide to Growing Women's Golf," published by the National Golf Foundation, is an industry reference on marketing golf to women and spotting trends within the industry. She offers information and advice about the golf industry on www.berkleygolfconsulting.com and is often quoted in national publications. She was a contributing editor of "Golf for Women" magazine and a founding advisor of "Golfer Girl Magazine." Her interviews with women in the golf industry now appear on www.golfergirlcareers.com. Nancy lives in Palm Beach Gardens, Fla., and is a graduate of the University of Minnesota, Harvard University and Rutgers Law School. After a business and legal career, she decided to write about the game she learned and loved as a teenager. She describes herself as a good bogey golfer with permanent potential.