Praising Arizona - Seeing the Valley of the Sun from a Whole New Perspective
By: George Fuller
We think of Phoenix and neighboring Scottsdale as bustling cities, with first-class resorts, an abundance of highly rated golf courses, celebrated restaurants, exciting shopping centers, and professional sports teams. If you live in Chicago, Canada or anywhere else in the world with frigid winter weather, the Arizona desert presents an enticing escape, especially between the months of November and April.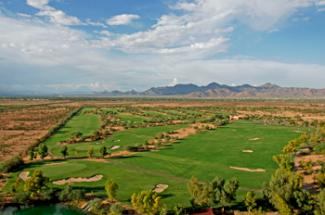 Overview of Talking Stick Golf
from Orange Sky Restaurant
But if you want to see the Valley of the Sun from a whole new perspective, look into Talking Stick Resort the next time you're headed to Arizona. Opened in 2010 and owned by the Salt River Pima-Maricopa Indian Community, the resort has all the amenities you want, including two Ben Crenshaw/Bill Coore-designed courses and 497 chic rooms and suites that are so spacious and well designed that your "perspective" of Indian casino hotel accommodations (plain and functional) will be changed forever.

At the resort's rooftop restaurant, Orange Sky, you're 15 floors skyward - your second new perspective - with the resort's two golf courses extending into the expansive desert below, and panoramic views of the distant mountains in every direction through floor-to-ceiling windows. The town of Scottsdale, which until now you've seen only from ground level, spreads out to the north and west. The cuisine here is as extraordinary as the 360-degree views. Chef de Cuisine Ron Dimas is a master of creative preparations, spotlighting fresh local ingredients along with excellent steak and seafood choices. The restaurant's wine list has garnered an award for excellence by Wine Spectator.
The two courses at Talking Stick were fashioned by the renowned architectural duo of Coore-Crenshaw. True to their traditionalist beliefs, the two designers moved a minimum of dirt when constructing the courses, and used the natural land formations to create the playing characteristics.

The North Course is more target-oriented than the South and is often favored by better players. With its fairways crossing frequent washes and arroyos, the North has a "desert links" feel. The South, on the other hand, is a lot of fun to play for groups and higher-handicappers, with wider, tree-lined fairways and a pleasant, parkland style.

"The South Course is the more scenic and forgiving of the two golf courses, and has become a true favorite for locals," says Scott Heideman, general manager of resort's golf operations. "Its straightforward approach, tree-lined fairways and memorable water holes make the South Course a refreshing experience for golfers looking for something other than target-desert golf.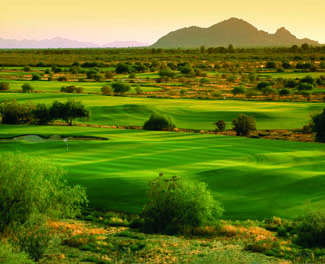 Looking Across Coore & Crenshaw-Designed Holes
"The North Course," Heideman continues, "is preferred by golfers looking for a more challenging test of their game, and has been ranked as the No. 1 course in Arizona by Golfweek magazine. Its broad, angular holes reward thoughtful play and offer many options according to one's level of skill. Its low-profile, slightly crowned greens and close-cropped approaches encourage running as well as aerial assaults."

After golf, players staying at Talking Stick can get back on the elevator and push floor 14 for a top-of-the-valley spa experience. The Spa at Talking Stick is a 13,000-square-foot, open-air facility, where treatments are offered with sweeping vistas of the valley, and includes a Pro-Sport massage that is perfect for tired golf muscles.

"I consider a stay at our property to be a total experience, as we have so many options for a first-class experience: beautiful rooms, multiple dining and lounge options, two golf courses, a 14th-floor full-service spa, and a full gaming experience," notes Robb McCreary, hotel director. "Guests often ask us why no one told them not to rent a car!"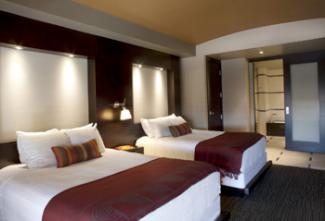 A Guest Room at Talking Stick Resort
McCreary proudly gives property tours, but gets particularly enthusiastic when showing off the guest rooms and the Orange Sky Restaurant on the top floor. "The guest room design, oversize bathrooms [with overhead rain showers] and recessed entry doors are all relatively unique to this area," he says. "And the unmatched views, décor and quality of materials and finishes used in Orange Sky make a visit a special event, even before ordering food or drink. Plus, our Scottsdale location, with its close proximity to so many additional experiences, is yet another positive contributor to a memorable visit."

If the resort, its golf courses, casino, spa and dining options are not enough to entertain you, time a visit to coincide with the Barrett-Jackson collector car auction, where more than 1,400 classic vehicles crossed the auction block this January (including the "Batmobile" from the 1960s television show, which sold for $4.6 million); the fun-filled Waste Management Phoenix Open golf tournament, dubbed "The Greatest Show on Grass"; or spring training baseball, as 15 MLB teams (including the Dodgers, Angels, Cubs, Mariners and world-champion San Francisco Giants) get ready for their seasons. The newly opened Salt River Fields, the spring training home of both the Arizona Diamondbacks and Colorado Rockies, is situated just across the highway from Talking Stick, and is also owned by the Salt River Pima-Maricopa Indian Community.
For a deeper look at your resort hosts -the Salt River Pima-Maricopa people - and their long history in the region, take time to wander through the Cultural Center in the hotel lobby. This is your third new perspective, as this space provides a window into the rich and accomplished cultures of the Pima and Maricopa bands and their longstanding traditions of agriculture, hospitality and reverence for the land.

Historical photos line the walls, and a collection of Native American art, pottery and jewelry are on display, including an authentic talking stick, an implement that allowed its holder to speak his sacred opinion when in traditional council gatherings, and from which the resort draws its name.

If this writer held the talking stick, his offered opinion would be that anyone who chooses to stay and play at Talking Stick Resort would be a wise man indeed.

For more information about the resort, visit www.talkingstickresort.com.
Award-winning publisher, editor, writer and photographer George Fuller has been covering golf travel and lifestyle for more than 30 years. From 1992 to 1997 he was editor of LINKS-The Best of Golf, based in Hilton Head, S.C. In 2005, after having spent several years in the Pacific starting two magazines for Continental Micronesia Airlines and writing two books, Fuller launched GOLF LIVING Magazine for the Los Angeles Times, a "super-regional" magazine of travel, real estate and the lifestyle surrounding the game of golf. In 2009, he helped redesign and re-launch TEXAS GOLFER, a magazine with 25 years of history in the Lone Star State. Most recently, Fuller partnered with Troon Golf to launch TROON GOLF & TRAVEL, a monthly eMagazine with an annual print component. In addition, Fuller's newspapers and magazines credits include TIME, Wall Street Journal, San Francisco Chronicle, The Los Angeles Times, Robb Report, Coastal Living, Palm Springs Life, Estates West, GOLF Magazine, Golf Digest, Travel & Leisure Golf, LINKS, Successful Meetings, Honolulu and many others. He has reported for Reuters, United Press International (UPI), written for Copley News Service and is a regular on-line travel correspondent for Cybergolf. Based in Pacific Palisades, Calif., he can be contacted at gfuller@earthlink.net or 310/245-9550.