Premier Clubs Support 'Els for Autism' With Tee Time Donations
Two legendary U.S. Open championship courses and more than 20 courses in the TPC family, including TPC Sawgrass, are among the golf clubs that have signed on to support the Els for Autism Foundation by donating tee times for outside play.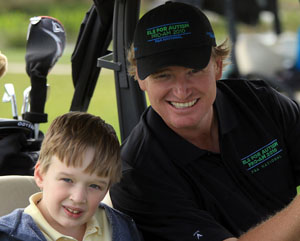 Nat'l-Ben & Ernie Els (Photo Copyright
Dave Cannon-Getty Images)
Historic Oakmont Country Club in Oakmont, Pa., and Winged Foot Country Club in Mamaroneck, N.Y., which have hosted 13 U.S. Opens in total, are just two of more than 40 golf clubs across the country that have joined forces with the Els for Autism Foundation. Oakmont is where World Golf Hall of Famer Ernie Els won his first U.S. Open title in 1994, at age 24. TPC Sawgrass, in Ponte Vedra Beach, Fla., is the annual home of the Players Championship.

All proceeds will go to the Els for Autism Foundation to fund a Center of Excellence. Opportunities are available for two to four golfers, with set group prices starting at $500.

The Els Center of Excellence will include a physical hub based in Palm Beach County, Fla. From there, a global digital learning platform will reach out to the autism community across the U.S. and around the world. It will be the first of its kind in the world and has the support of leading autism experts across the U.S. Autism affects roughly one of every 110 children and one in 70 boys and is the fastest growing serious developmental disability in the U.S.

To see a complete list of the tee time donations available for purchase, visit www.e4aGolf.com.
"We are very grateful to the many prestigious and award-winning courses that have generously donated tee times in aid of Els for Autism. This program gives golfers exclusive access to courses that they may not otherwise have an opportunity to play and in doing so helps raise funds for a great cause." said Els.

Els, whose son Ben was diagnosed with autism five years ago at age three, is appealing to golfers across the country to get involved. "Every once in a while, a cause resonates so profoundly that we need to respond," said Els, a three-time major champion. "Autism is such a cause for me because I know first-hand what families go through.
"Autism hits families hard and I'll be fighting for the rest of my life to try and help others in the same situation. I hope you'll share an interest and join me in this fight."

Other highly recognizable venues include PGA Tour stops Doral Golf Resort and Spa in Miami and TPC San Antonio, as well as the ultra-exclusive Trump National in Bedminster, N.J., where the invitation is for a group of four to play all day long and enjoy lunch at the luxurious clubhouse.

In addition to the Els for Autism Tee Time Donation Program, the Foundation is also conducting the "Els for Autism Golf Challenge," the largest charity-driven national tournament ever. The Challenge has 30 regional events across the country from now through September, with a Grand Finale in Las Vegas in October. Two-person teams will advance from each of the regional events and have the opportunity to win major prizes, including a 10-day luxury trip to South Africa.
Autism - The Facts

• Autism is a general term used to describe a group of complex developmental brain disorders.
• Autism is the fastest-growing serious developmental disability in the U.S.
• Autism currently affects one in 110 children and one in 70 boys.
An estimated 1.5 million individuals in the U.S. are affected by autism.
• More children will be diagnosed with autism this year than with AIDS, diabetes and cancer combined.
• There is currently no medical detection or cure for autism.
• Huge gaps exist in the availability of adequate care, treatment, education and support services.
The Els for Autism Foundation and the Els Center of Excellence

'The Els for Autism Foundation' was established in 2009 by Ernie and Liezl Els and has since embarked on a catalytic philanthropic project; the establishment of 'The Els Center of Excellence.' The Foundation has launched a capital campaign to raise $30 million to finance the facility, with the Els' family already committing $6 million. The Center will focus on a global digital learning platform to provide children on the autism spectrum from around the world with access to best practices in education and therapy. It also will help connect the international autism community with best practices and the very latest information and research. The Center, the first of its kind in the world, will also have an on-site education facility, medical and professional services as well as research and transition to adulthood programs.
suspected for a few years that something was not quite right. There's a process that every kid goes through. Crawl at nine months, walk at 12 months, and then start talking and so on. With Ben, we started thinking: 'Why is he not crawling? Why is he not walking? Why is he not looking me in the eye?' We soon discovered he was quite severely touched by autism. It hits the whole family hard. For a long time you're trying to figure out, 'What just happened to my life?' You feel sorry for yourself, for your kid and for your family.

Liezl and I are private people, but we are also in the public eye and we recognize that gives us a platform to help raise funds and awareness for the causes of autism and its possible treatments. It is something that we both feel very passionate about.

We established our Els for Autism Foundation in the spring of 2009. Our first goal was to help create a Center of Excellence, a model of what should be available to children on the autism spectrum...and we're working with some of the best experts in the world to make the Center a reality."