Presidio Golf Course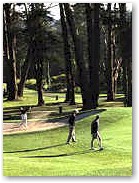 The 100-year-old Presidio Golf Course opened for public play in 1995 and has quickly gained a reputation as one of the nation's top public golf courses.Surviving the 1906 quake, this prestigious facility is located just 10 minutes from downtown San Francisco and offers 18 holes of challenging golf. Winding through beautiful Eucalyptus and Monterey Pine trees in the city's trademark hills, this course was formerly open exclusivelyto members of the military and members of a private civilian club.

The San Francisco Experience
Steal a glance between shots and you'll see brightly colored Victorians lining the trademark hills of San Francisco Century old Eucalyptus and Monterey Pine trees sway to a fresh Pacific coast breeze. Fairways roll and meander past menacing bunkers, toward lustrous greens -- perfectly manicured to Palmer standards. This is golf at the Presidio. Beautiful and challenging. The perfect way for a golfer to experience San Francisco.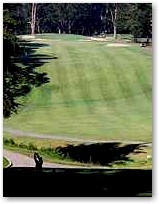 A Stroll Through History
To tee it up at the Presidio is to stand in the footsteps of giants. Historical leaders like Teddy Roosevelt and Dwight Eisenhower played here regularly -- as did countless officers. A tradition that lasted until 1995, when the Presidio was converted to a National Park, making the "famed" Presidio accessible to all. Perhaps it is only fitting that another giant, the legendary Arnold Palmer, has been sought out to operate this treasure by the bay -- hosting golfers of all abilities from around the globe. With the dedicated service and quality added by Arnold Palmer Golf Management, you too can expect a Presidio experience nothing short of "Presidential".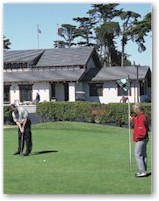 The Palmer Experience
Equally important is how we treat you. Here, you can get your clubs cleaned before your round. Pick up a few pointers from our Arnold Palmer Golf Academy Certified Professionals. Or, practice your swing on San Francisco's only all-grass practice center. The Presidio Golf Course. Rich with history. Beauty. And possibilities. That special day of golf you dream of. Right here, in San Francisco.