Prestonwood Country Club Has 100,000 Reasons to Become a Member
By: Dave Droschak
As a 16-year veteran of various positions at Pinehurst Resort, Matt Massei has always had plenty of golf to sell. So Massei fit in quite nicely since he returned to North Carolina after a three-year stint at Mount Washington Resort to become the Prestonwood Country Club general manager.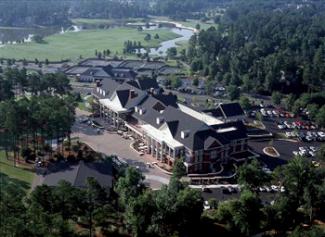 Bird's eye View of the
100,000-Square-Foot Prestonwood's Clubhouse
Prestonwood is the only club in the Triangle with 54 holes of golf, its green complexes were recently renovated by architect Rick Robbins, and the club has successfully hosted the SAS Championship Champions Tour event for 13 years.

Jim Goodnight, founder of SAS Institute, the largest private software firm in the world, owns Prestonwood, so the financial backing and long-range vision is rock solid.

But Massei was stepping into a new world in late 2009, the private club world. And that golf world - one of monthly dues and spending excesses - was hooking far out-of-bounds at the time with the United States economy in freefall.

Massei and the rest of his private club colleagues across the nation were not necessarily faced with a waiting list of prospects, but a major job of retention, of convincing members their clubs had real value.
That's where Massei has a massive advantage over others in the Raleigh market, the state of North Carolina and beyond. Prestonwood's amenities match those of any private club in the country, with an indoor learning center, 15 tennis courts, a full-service fitness center with trainers and massage therapists, along with an outdoor aquatics center's three pools. That's quite a lineup, but Massei's ace-in-the-hole is Prestonwood's 100,000-square-foot clubhouse - the largest in North Carolina.

"The facility itself is unrivaled in a private club setting," Massei said. "It has to have some size and stature just because we have 1,850 total members, but the initial impression when people first drive up to the club and see this clubhouse, they think, 'Oh my goodness.' It's pretty awe-inspiring if you've never been to Prestonwood before and you drive up to the entrance. And then when they get behind the club there are these beautiful columns and staircase. It's an impressive sight, so it sets a great expectation level right off the bat when people come here."

And that's just the outside. Once through the wooden doors, some of the "hidden" member benefits begin to unfold, and a part of the club that Massei immediately took notice when beginning to sell memberships.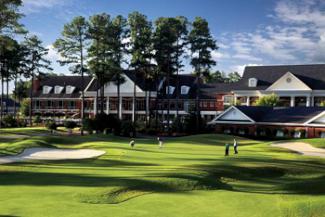 The View Golfers have Finishing
at the Fairway Course at Prestonwood CC
There is a grand ballroom measuring 7,000 square feet that hosts 70 weddings a year, and a 2,500-square-foot Kids Club equipped with four video consoles and monitors, a large projector TV, a basketball hoop, air hockey games, arts and craft space and the newly added Gaga game. Serving children and grandchildren ages 3-12, the club offers track-out camps and summer camps and weekend babysitting. The men's locker room also offers close to 400 lockers.

And then there is the food. Prestonwood was voted the "Best Food on the Champions Tour," offering up a colossal daily lunch buffet to its members, along with Sunday Brunch in the Oak Room, which opens onto a balcony with expansive views of the golf course.

"The buffet is kind of like our signature," Massei said. "It was mentioned to me when I got here by members and others, something to the effect, 'You are not going to mess with the buffet, are you?' I was like, 'It doesn't sound like I can.' It is special. The culinary staff, and F&B and wait staff have set the bar with the buffet for many, many years."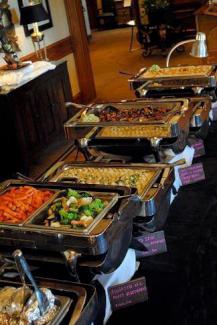 The Hot Portion of
Prestonwood's Daily Lunch Buffet
Executive chef Scott Rowe, who worked with Massei at Pinehurst Resort, was hired on at Prestonwood in 2010 and soon found out there were a few sacred cows on the lunch buffet.

"There are things on the buffet that are untouchable," Rowe says with a laugh. "We put out eight different cold salads for the buffet every day in addition to the garden greens, so one of the first things I did was evaluate the chicken salad, which is real important to golfers. I tasted our chicken salad and said, 'Ok, this is pretty good,' but I'm thinking in my mind that my chicken salad is way better than this. I went back to my chefs and told them we were going to change the chicken salad and they all looked at me like, 'You can't do that.' I did it and found out very quickly that no, I can't do that, all the members were asking what happened to the chicken salad."

For many at the club, the buffet is a ritual of sorts. "We see familiar faces every day. Some of the ladies come over every day after their tennis matches," Massei said of the buffet. "I have a lot of fun in the mornings going in and talking to the chefs and watch them prepare and the amount of effort that goes into it. They mix it up every day. Different soups each day, different cold salads each day, there is always a different fish and a different meat, protein, so they take a lot of time in the creation. It's not the same thing every Tuesday or Wednesday."
Massei firmly believes a positive clubhouse environment is a necessity in today's private marketplace. "With a club like we have with the diversity of the amenities, you want your members here," he said. "People join a club to have a sense of place and they want a place to go and congregate with their friends and bring their families, and if you don't have all those things with an active, lively clubhouse then it almost becomes transient, it almost becomes where people will come and play their golf and leave.

"We want the golfers to come to the club a little bit early before their tee time or tennis match and hang out and see their friends, and when they get done have a place they feel comfortable and they feel wanted, the staff makes them feel welcome.

"You want them to feel like they don't want to leave the club," added Massei. "If you don't have that appeal then the club isn't really a club, it's a facility. We're trying to create a haven, a refuge, if you will, for our membership to feel like this is where they want to be, and this is where they want to hang out. We're right in the heart of Cary so there is a lot of competition, not just golf club competition, but when you start looking at all the restaurants and all the things that are around us, our challenge is to make sure we capture them here because we are blessed to have this incredible facility."
Managing the Prestonwood staff is a full-time job in itself. There are 200 employees, and that number swells to over 300 in the summer when the pools are open.

"At a private club we're always focused on the member experience, but we're always asking, 'What can we do to enhance the employee experience here?' '' Massei said. "And sharing information is important. One of the things we try to do is share how we're doing, share our financial performance or initiatives so they feel like they're in the know and have a voice, and they understand what they do each day impacts the success and/or failure of what we're doing. We share the good and the bad."

With close to 900 full golfing members, other area clubs are envious of the Prestonwood model. However, this sprawling club hasn't been immune to a slight membership decrease during the economic downturn.
"Why is there attrition, why do people leave?" Massei said. "Some of it is out of our control because it's financial, or someone gets transferred, but each month all of our members get a statement and you want them to look at that statement to say there is value in that. That is where the clubhouse is key."

Don't just take Massei's word for it. Each fall Prestonwood gets ringing endorsements from the touring pros, who often have to loosen their belts after three rounds - and repeat trips through the buffet line.

"They've got a great club here with a lot of good golf and a fantastic clubhouse," said Hall of Famer Tom Kite. "The restaurants, the food service here, food and beverage at Prestonwood, is second to none. This is a wonderful country club to be a member of. If you're living here in Raleigh, this would be high on the list of clubs to join."

For more information about Prestonwood, visit www.prestonwoodcc.com.
David Droschak has covered golf in the Carolinas for three decades, mostly with The Associated Press, where he worked for 20 years as AP sports editor in North Carolina prior to launching Droschak Communications, a full-service marketing and PR firm based in Apex, N.C. Dave, 51, has covered numerous major golf tournaments, including the 1999 and 2005 U.S. Opens at Pinehurst Resort, and is a longtime member of the Golf Writers Association of America.

Dave was honored with the Sports Writer of the Year award in North Carolina in 2005, and is currently editor of Triangle Golf Today (www.trianglegolf.com), a print and online publication regarded as the "No. 1 Source for Golf News in North Carolina." He is golf editor for Pinehurst Magazine, an award-winning glossy publication, and was instrumental in helping launch Triangle Golf Deals powered by Twongo (www.trianglegolfdeals.com) in the fall of 2011.

Dave also is the co-founder of www.HurricanesBeat.com, a website devoted to coverage of the Carolina Hurricanes, an NHL franchise he has covered since the team moved to North Carolina from Hartford in 1998.

Dave grew up in Penn Hills, Pa., about five minutes from the famed Oakmont Country Club and was introduced to the game of golf as a caddie at Green Oaks Country Club in nearby Verona, Pa.

Dave was the co-captain of the 1978 Penn Hills state championship baseball team, was a pitcher for the 1982 Atlantic Coast Conference champion University of North Carolina Tar Heels, and pitched professionally for two years in the St. Louis Cardinals organization. He is a member of the Penn Hills High School Sports Hall of Fame, which also includes NBA coach George Karl and former four-time Pro Bowl offensive lineman Bill Fralic.