Princess and the Tee
By: Elisa Gaudet
Once upon a time in a land far away,
there was a young lady who wanted to play.
A place she had seen only from afar,
she longed to try as she knew she'd be a star.
She prayed to the gods Timing and Tempo,
to give her a chance she promised to shoot low.
Each night before she went to sleep,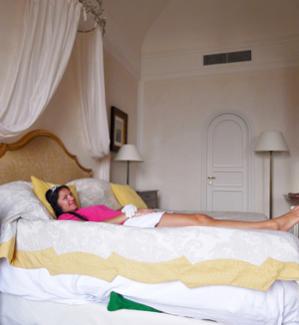 Elisa as Princess & The Tee
The princess had a ritual she would always keep.
Her story a bit different I am sure Hans would agree.
Under her mattress she would place a tee,
and dream of the day she would be under the tree.
As the saying goes "good comes to those who wait,"
she was very patient as she pondered her fate.
In her dreams at night birdies would appear,
and whisper to her the things she wanted to hear.
Eagles that soared to the highest of heights
and crowds that roared to extreme delight.
Visions of pink azaleas in full bloom filled her dreams,
sipping sweet cocktails under umbrellas is more than it seems.
A prince in green was always in sight,
just not a frog to kiss at night.
She awoke one day and to her delight,
there was a letter from Augusta,
An Invite.

Dedicated to Condoleeza. Darla & princesses everywhere.
Elisa Gaudet brings a wealth of entertainment and golf experience to Cybergolf. Elisa has spent the past several years in the golf industry in the U.S., Latin America and Spain. She worked for the PGA Tour and the Tour de las Americas before founding Executive Golf International, a golf marketing company that works with clients to develop strategies using golf as the medium. Often referred to as the Maria Bartiromo (a business analyst for CNBC) of golf, Elisa says: "Golf, as a marketing tool, has been around for years. It's amazing how many new ways companies can align their brand with the golf market to reach their target audience. Our goal is to create alliances and establish cross-border relations." Elisa also worked in the entertainment industry for over 10 years, including five in Los Angeles as a model and actress. She can be seen at many celebrity golf events and often gets the inside scoop from PGA Tour players. In 2011, Elisa published her first book, "Two Good Rounds" (Skyhorse Publishing). Her story for Cybergolf, "Golf a Romantic Affair at Cabin Bluff," won the top prize in ING's 2012 Travel Writing category. For more information about Elisa, visit her websites at www.onthelip.com or Executive Golf International www.execgolfintl.com.