Princeville Renaissance
By: George Fuller
Kauai is as enchanting an island as there is, in Hawaii or anywhere in the world. Where land meets sea, she is ringed by gentle beaches. Her interior is a heave of bright-green mountains with sharp, knife-like ridges, often capped with clouds. Tall palm trees, thick vines, and red and yellow blossoms line her roads. When we think of things "tropical," it is Kauai that comes to mind.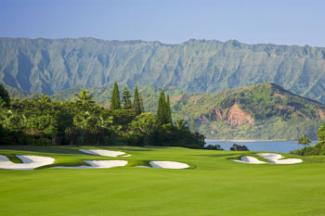 The 2nd Hole at Makai (Photo by Aidan Bradley)
The North Shore of the island is particularly scenic. Out here, where hikers embark on the Na Pali Coast's fabled Kalalau Trail, Hollywood has filmed dozens of movies requiring that "perfect" tropical locale. So many films have been made on the island that Kauai has been called "Hollywood's tropical back lot."

Many older fans will still think first of "South Pacific" (1957), which first brought images of Lumahai Beach and Mount Makana (the conical mountain peak called Bali Hai in the film) to the world. But today's moviegoers have also seen Kauai's charms on the silver screen in such films as "Six Days, Seven Nights" (1998), two of the three "Jurassic Park" incarnations (1993, 2001), and most recently "The Descendants" with George Clooney.
Golf with a View

Such a magnificent landscape also lends itself to unique and dramatic golf courses, and two of Hawaii's best are found at Princeville. Both the Makai Course and the Prince Course are Robert Trent Jones II designs, and both have had recent upgrades and redesigns.

With a longtime home in nearby Hanalei, Jones considers Kauai a perfect landscape for golf. "Although everyone immediately recognizes the dramatic beauty of the ocean, Kauai also has spectacular inland views of the rugged mountain ranges," he says.

Both of his Princeville designs take full advantage of those views, providing golfers 45 holes of truly memorable golf.

Beyond the views, as remarkable as they are - I counted 50 waterfalls gushing out of the distant mountains when I played there in February 2012 - what guests will discover is a well-rounded trio of golf courses that truly offer something for everyone. Makai has won numerous awards over the years, including "Top 5 Great Golf Settings" from National Geographic; Golf Digest's "75 Best Golf Resorts;" and "Top 100 Golf Resorts" from Travel & Leisure.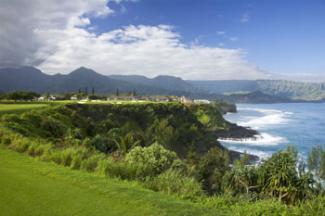 No. 7 at Makai (Photo by Aidan Bradley)
Among the postcard holes are the over-ocean par-3 seventh; and the scenic par-4 14th, where views stretch from Bali Hai in one direction down the coast to the Kilauea Lighthouse in the other. From both of these cliff-top vantage points, whales can be easily spotted offshore in winter months.

The Makai Course completed a renovation in early 2010. In addition to new grass (Seashore Paspallum) and bunker sand throughout, the renovation of Makai combined what was formerly known as the Ocean and Lakes nines into one 18-hole layout; the third nonet, Woods, now makes for a family friendly nine-hole loop.

The Prince Course, meanwhile, just completed its own renovation in March 2012. First opened in 1991, the recent renovations softened the landing areas on a couple of holes - notably the tee shot on No. 1, known as one of the more difficult starting holes in golf - and opened up the views and landing areas on several holes where the jungle had started to encroach. The stately Prince clubhouse is where the most visible changes took place in the recent renovations, with a new Roy Yamaguchi restaurant, The Tavern at Princeville, now open for lunch and dinner.
Bespoken Elegance at St. Regis Princeville

While the golf is superb at Princeville, it does not stand alone in its excellence. The 252-room St. Regis Princeville opened in October 2009 - the first St. Regis in Hawaii - and immediately took its place among the very best resorts in the Aloha State. Occupying the same footprint as the former Princeville Resort Kauai, the St. Regis is perched on a bluff overlooking Hanalei Bay, with million-dollar views from every vantage point.

Entering the expansive lobby - where several scenes from "The Descendants" were filmed - the first thing one observes is a sweeping view of the bay and green mountains behind. Original Polynesian-themed artwork graces the walls, koa wood furniture and woven matt flooring accents add authentic Hawaiian touches, and a 4,225-piece, waterfall-inspired Murano glass chandelier hangs from the lobby ceiling.
Such elements successfully merge St. Regis elegance with local style. Guestrooms - and 51 premium suites - also bespeak well-crafted luxury, but it's difficult to take your eyes off the view, as from your bluff-top perspective you gaze out upon surfers in the bay, the town of Hanalei and the craggy splendor of the Na Pali Coast.

Even in the marble-lined bathrooms, the view is foremost. With the flick of a light switch a unique "privacy window" turns from opaque to clear. When clear, guests are able enjoy the full visual impact of the magnificent setting while indulging in the pleasures of a wide soaking tub. A glass of champagne is suggested to accompany your bath.

A 10,000-square-foot spa and a signature restaurant by Jean-Georges Vongerichten are other noteworthy additions to the resort.
Garden of Earthly Delights

A short drive from Princeville leads to Hanalei, a laid-back North Shore village that serves as an adventure gateway for the Na Pali Coast. Outfitters can be found here to usher you on snorkeling trips, hikes, kayak expeditions, horseback rides and Zip-line thrill rides.

Even if you're not inclined to partake of a hike, drive north to where the highway ends and the Kalalau Trail begins. Several picturesque and oft-deserted beaches are found along the way - including Lumahai, of "South Pacific" fame - and a glimpse of Kauai's rural lifestyle await discovery.

Kauai may be, as Robert Trent Jones II says, a perfect island for golf. For everything else, it's just downright dreamy. For more information, visit http://www.stregisprinceville.com.
Award-winning publisher, editor, writer and photographer George Fuller has been covering golf travel and lifestyle for more than 30 years. From 1992 to 1997 he was editor of LINKS-The Best of Golf, based in Hilton Head, S.C. In 2005, after having spent several years in the Pacific starting two magazines for Continental Micronesia Airlines and writing two books, Fuller launched GOLF LIVING Magazine for the Los Angeles Times, a "super-regional" magazine of travel, real estate and the lifestyle surrounding the game of golf. In 2009, he helped redesign and re-launch TEXAS GOLFER, a magazine with 25 years of history in the Lone Star State. Most recently, Fuller partnered with Troon Golf to launch TROON GOLF & TRAVEL, a monthly eMagazine with an annual print component. In addition, Fuller's newspapers and magazines credits include TIME, Wall Street Journal, San Francisco Chronicle, The Los Angeles Times, Robb Report, Coastal Living, Palm Springs Life, Estates West, GOLF Magazine, Golf Digest, Travel & Leisure Golf, LINKS, Successful Meetings, Honolulu and many others. He has reported for Reuters, United Press International (UPI), written for Copley News Service and is a regular on-line travel correspondent for Cybergolf. Based in Pacific Palisades, Calif., he can be contacted at gfuller@earthlink.net or 310/245-9550.