Profile - Gamble Sands' Dave Christenson
By: Bob Spiwak
I met with Dave Christenson in Brewster, Wash., a small town of 2,000 in north-central Washington. Dave is the general manager and head pro at the new Gamble Sands golf course, located about 10 miles outside of town, and which will be opening August 2.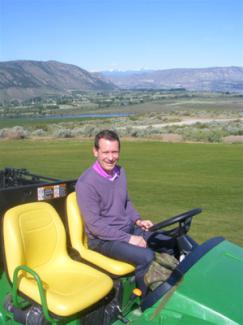 Dave Christenson
Christenson is overseeing the David McLay Kidd-designed venue, whose nearest city of consequence is Wenatchee, 80 miles to the south. After that is Spokane, just under three hours to the east, and Seattle, west over the Cascades and a little over three hours away.

Joining us was Nick Saper, the newly-hired caddie master. Caddies are an unknown species in the golf world of north-central Washington, if not most of the state. Christenson explained that caddies would be optional on the course, and as general manager they would come under his wing. Asked what other functions over which he would preside, he noted Gamble Sands' chef, food and beverage manager, retail areas, and guest services.

He added that the principals in these areas have experience at Spokane's Davenport Hotel, Sun Mountain Lodge in Winthrop, Chambers Bay near Tacoma, Bandon Dunes along the Oregon coast, and Idaho's Circling Raven. Four of them have worked on both coasts of the United States.

Before Christenson went to work at Circling Raven south of Coeur d'Alene, he was responsible for the course's name. Before the course opened, the owners – the Coeur d'Alene Indian Tribe – had been trying to come up with a suitable moniker but without success. Dave had been researching the tribe and mentioned that a significant chief was named Circling Raven. That was all it took, and the highly acclaimed course suddenly had an identity.
Prior to visiting Gamble Sands we took a side trip to one of three holes completed at the temporarily on-hold Gamble Cliffs layout, a Perry Dye design that was stopped when the nation's economy went downhill. This course is partially in the town of Brewster and extends into Okanogan County. Long-range plans call for a hotel and a possible gated community with tennis, swimming and other amenities.

But Gamble Sands will be strictly golf. Featuring 120 acres of all-fescue turf, there's only one tree in sight at the links-like course above the Columbia River.

Christenson married his wife, Jennifer, in 1992. The couple now has two children, Eli 17, and Emily, 13. The couple met in high school and the two attended Washington State University, where David graduated with a major in General Studies. After college he became an assistant pro at Spokane's Indian Canyon, one of the top-100 public courses in the nation, and then to Circling Raven.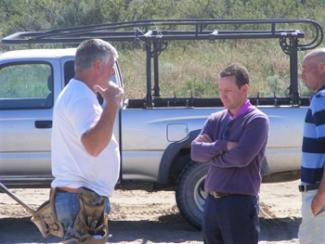 Dave Christenson Getting Input from the Crew
From Circling Raven, Christenson moved out East where, for six years, he managed the 45-hole Lyman Orchards Golf Club in Connecticut. Says Christenson, "The opportunity came along to come back home to Washington State and work for OB Sports as the GM at Gamble Sands. I knew this was going to be very special as I drove the course for the first time with Orrin Vincent. "

As head pro and GM at Gamble Sands, he's in charge of the pro shop and merchandising. However, Jennifer will be the boss when it comes to merchandising, which will be all upscale, name-brand stuff.

"She did all the work [merchandising] at Circling Raven, setting sales records, and I got all the credit," says a grinning Christenson. In the still under-construction Gamble Sands clubhouse – a modest structure for such an upscale venue, the pro shop will be in a corner and Jennifer's domain will occupy a larger area.

As we drove around the course in a utility cart we came upon superintendent Chip Caswell and an assistant nursing a green. The question about a Stimp [meter] reading came up and Caswell, at times passionate in his disclaimer, stated there was no target, he was not interested in numbers and only cared if the ball rolled true, especially the last 18 inches to the hole. With the putting areas mowed, he was checking how the balls would roll from different approaches to the cup. (The largest green – the 12th – is 16,000 square feet, providing a heck of a lot of test-rolling.)
Along the way there would be stops and conferences among Christenson and those for whom he is responsible. After the ninth hole he pointed out a site for a refreshment stop, a local out of sight and in a hollow but on the route from green to tee.

There is no "turn" at Gamble Sands, or a stopping place between the first tee and the 18th green in which to get a beverage or something to eat. Discussion ensued between Dave and the just-hired Saper, who thought a different location for the refreshment area would be more suitable.

Christenson listened carefully, as he did with those at other stops, and considered the alternative point of view, making no sudden decision. The same scenario arose near the clubhouse where a discussion was held about the caddy shack with assistant pro Luke Luttrell, recently an assistant at Bandon Dunes, and again with the construction crew at the half-completed clubhouse.

With all this responsibility, Christenson is still not at the top of the Gamble Sands' decision-making ladder. That position is held by the Gebbers family of Brewster, owners of a company that's the world's largest packer of apples and other produce, and reputed to be the biggest landowner in Okanogan County, Washington State's largest county. As family patriarch Cass Gebbers said, "I am a 'black hole' with the realtors. I never sell any land, only buy it."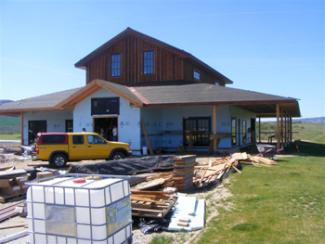 Gamble Sands' Half-Finished Clubhouse
(Photos by Bob Spiwak)
Tory Wulf is the Gebber family's representative. Next in the management hierarchy is OB Sports, a company headed by Orrin Vincent that oversees 60-plus courses nationwide. "We all get together, or else just a few of those concerned and discuss what situations need to be looked at," said Christenson. But generally, the big decisions are made by the family.

The course was named after a distant forbear who, in the late-1800s, walked from Nova Scotia to Washington to get in on the gold rush in the Cascades. Mr. Gamble married and, along the line, a Gebbers was born. The family dynasty now has roots in the state that stretch well over a century deep.

Gamble Sands will expand the Gebbers' legacy, and Dave Christenson will be front and center in helping add another chapter to the family's lore.
Bob Spiwak took up golf in 1953 while awaiting the Korean War draft. First published at the age of 12, he entered the golf-writing arena in the early 1980s as a freelancer and staff writer for Golf Course News and GolfWeek, all the while freelancing for other publications in the U.S. and abroad. A co-founder of the Northwest Golf Media Association and contributing editor of Cybergolf, he lives below a mountain near Mazama, Wash., with a wife and pets on his former Whispering Rattlesnakes Golf and Flubbers Club. They have unwelcome guests like cougars, bears, deer, and Bob's very high handicap.