Program Helps Seniors Putt Around
A Seattle-area man has created a unique service to assist seniors in local retirement centers get back into the swing of things.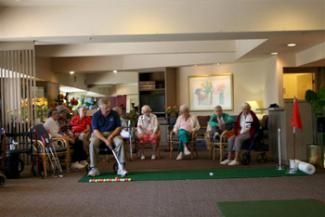 Bill Perry shows the seniors how to putt from a rolling walker.
Bill Perry created his program, "Just Putt'n Around," in 2007. The former businessman's purpose was simple: bring the enjoyment of golf and the "art of putting" indoors to active adult communities.
Of his interest in this, Perry says, "I have always been a 'people person' and found that my passion for golf and seniors could be combined to create a new company. I had no idea that it would so well received and it continues to take new and exciting directions every month."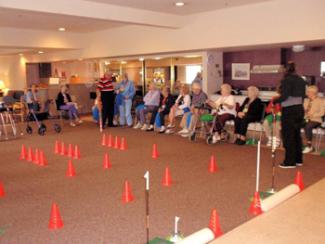 A Puttn' Around course in a senior center.
One of the main problems addressed by Perry is that many seniors cannot stand for long periods of time and need wheelchairs or rolling walkers to get around.
So Perry purchased a "Rolling Walker" and designed the first "Active Adult Putter" to solve the problem. His program has been so successful that he's gone from seniors to rehabilitation facilities and is now working with military personnel injured in battle.
To meet the expanded market Perry has added to his line of putters. In 2009, new models include the Mini, Side Saddle and Maxi.
The program costs between $80 and $150, depending on the number of participants and the length (one to two hours). The service is paid by the facility.
Bill teaches his students from a rolling walker. A senior himself, Perry has developed a program that involves face-to-face interaction, instruction, games and prizes, all while providing mobility-impaired residents with an additional activity to help them keep fit and busy year-round.
Perry lives across from Seattle on the east side of Lake Washington, where there are 80 active adult communities with over 1,000 seniors in residence. He says of his immediate market, "It's huge and growing with today's Baby Boomers becoming active adults looking for a place to retire."

Bill is an avid golfer who took lessons and played in high school. He recently attended the Butch Harmon Golf School in Nevada and the United States Golf Teaching Federation School in San Diego, and is now a Certified Professional Golf Instructor.
For more information, visit www.justputtnaround.com.