Pronghorn - A Prime Destination in Central Oregon
By: Jim Moore
"No. 10 tee is right this way, Mr. Moore," said Shawn, our forecaddie at Pronghorn's Nicklaus Course as we walked off the ninth green. Shawn is a great kid and apparently a great stick, too. We had had plenty of time to get to know each other on the front nine.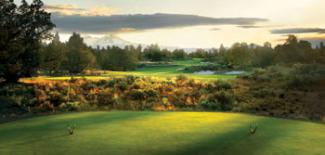 15th Tee on Nicklaus
If Shawn is the example of a typical forecaddie at Pronghorn in central Oregon, you'll have a terrific round of golf here. It's hard to judge which is superior, the service or the course - the Nicklaus layout was No. 38 on Golf Magazine's list of "The Top 100 You Can Play" in 2012.

Now here's the thing - if I'm you, I'm thinking: "Well of course this writer is going to rave about golf at Pronghorn and everything else at Pronghorn because he was probably comped the whole time he was there."

Which is true. But after you go to Pronghorn, tell me there was something to complain about, something you weren't happy about. I'm happy at a Super 8 and happy to play a golf course no matter what shape it's in. It could be the lowest-rated course in the country, but as long as there are tee boxes and greens with flagsticks, I'm good to go.

But my wife? She's different. She has standards, high ones. And Pronghorn, in every way, exceeded her expectations. She was content as could be for three days, and I caught her looking in the side-view mirror when we drove away from Pronghorn, clearly not wanting to leave.

The only part of our family that did not enjoy Pronghorn was Willie, our 8-year-old golden retriever. Pets aren't allowed here so we dropped Willie off at Happy Tails, a dog hotel between Redmond and Bend. The look on his face mirrored my wife's when we left Pronghorn.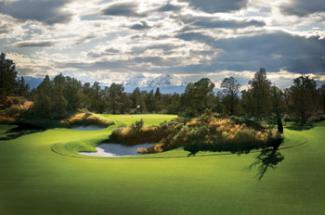 2nd Hole at Nicklaus Course
Anyway, back to Shawn, or as I referred to him under my breath: "poor Shawn." I was calling him poor Shawn because every time I saw him, he was looking for my wife's balls in the desert or my kids' balls in the desert and sometimes even mine.

If you were to ask poor Shawn what he was thinking about our group, I'll bet it was something along the lines of this: "Man, I wish someone would hit a ball in the fairway. It seems like we've been out here forever. How in the world did I get stuck with these hackers? I knew I should have let Jason caddie for this group; he told me he would. At the rate we're going, I'll never make it in time to meet my mom for dinner. Gawd I wish I could have a beer. Mr. Moore is sure downing them."

It took us four hours to play nine holes. We let three groups play through. My kids are 7-year-old twins who have been playing golf since they were 2. They're good little golfers but need to pick up the pace. And my wife, God bless her, she thinks she's playing fast, but she's not. She six-putted the first hole, and I can only imagine what the foursome in the fairway was thinking as they watched. I felt like the guy in charge of all three rings at the circus.

"Shawn," I said as we walked off the ninth green, "we're not playing the back nine."

"Why not?" Shawn asked in complete seriousness.
"Come on Shawn!" I said. "You think I'm going to put you through another four hours of THAT? Go have dinner with your mom!"

He said what he was supposed to say, that he was ready for the back nine if we were. I thanked him profusely and tipped him and shook his hand and thought about the stories he would be telling his mom about the longest nine holes he had ever had in his life.

We returned to our villa and had the same reaction every time we opened the door: "Wow, this place is unbelievable."

I used to be a sportswriter at the Seattle Post-Intelligencer who covered the now-defunct Seattle SuperSonics. My job took me to every major city in the country, and I stayed where the team stayed - at Ritz Carltons and Four Seasons.

But I had never stayed at a place as nice as our villa at Pronghorn. It featured the best of the best in everything - from kitchen appliances to living-room furniture. From our patio, we watched golfers finish their rounds on the 18th green.

There were three bedrooms upstairs, one for Mikey, one for Stevie and one for us. Mikey's opened up with a view of the 18th green and the living room downstairs. But he was more interested in playing video games on the flat-screen in his bedroom.

Before heading to the Trailhead Grill for dinner, we sat on our patio in front of the fire pit. Barbecues are on each patio if you prefer grilling and staying in to eating out.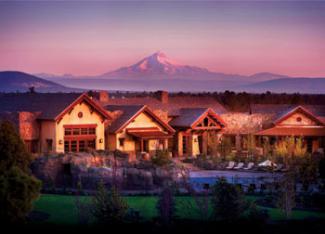 Pronghorn Resort
Everything is first class, as you would expect - Pronghorn is managed by Auberge Resorts, making it the first luxury-branded five-star resort in the Pacific Northwest.

There are many different lodging options here, from four-bedroom units to one-bedroom units. All are plush and within easy walking distance of the 55,000-square-foot clubhouse and Trailhead Grill, where you'll find more than good food. The Trailhead building also has a family-fun activity center and two big pools, one with a slide.

My kids love golf, but when I asked them about their favorite part of Pronghorn, they answered in unison: "The pools!"

You might even see a celebrity or two at Pronghorn. When we were at the pool we ran into former Seattle Mariners slugger Richie Sexson, who's a member at Pronghorn. So are former Washington and UCLA football coach Rick Neuheisel and soccer star Mia Hamm.

I made about five seconds of small talk with Sexson, figuring he didn't want to be bothered because if I were him I wouldn't want to be either.

The next morning, we had breakfast at the Trailhead Grill before taking a 15-minute drive into Bend to go on a Sun Country Raft Tour. I honestly thought we were going to be floating down a lazy river, soaking up sun and scenery.

I should have known that something called "The Big Eddy Thriller" had nothing to do with lounging and relaxation.
We went through three Class III rapids, paddling like madmen. I like to think that they put the most capable oarsman up front because they wanted someone who could steer us through trouble. But it was probably more of a case of needing the fattest guy on the raft up front for ballast. Whatever the reason that's where I was, right next to my kids, whose entirely drenched little bodies and really wide smiles told the story of our Big Eddy white-water rafting trip on the Upper Deschutes.

(Special note: Sun Country either needs to invest in bigger life jackets or I need to shed some ell-bees off my 230-pound frame before the next time I go. My wife and kids - and no doubt everyone else - got a big kick out of seeing daddy bursting out of his life jacket.)

Our guide Billy could not have been any cooler if he were in Fairbanks. When you're at Pronghorn, this is a don't-miss attraction, especially in the middle of summer when you'll appreciate a wet respite from temperatures that can reach the high-80s.

For me, the Big Eddy was thrilling enough - if those were Class III rapids, I want no part of Class IV or V. I can only assume that Class VI is death for novices.

You can go on any number of full-day Sun Country trips, but I liked the half-day Big Eddy excursion because it gave me the time to stop by Pronghorn's Troon Golf Academy before I teed it up on the Tom Fazio course.
Pronghorn's Nicklaus Course
Run by Tim Mahoney, one of Golf Magazine's "Top 100 Golf Teachers in America," Troon Golf Academy uses the latest in video technology. But since I'm old school and hate to see how bad my swing looks, I just appreciated the tips I received.

To this day, I carry a "Points to Remember" card with me in my bag, reminding me to swing to the right, release my hands and have a good finish. Within minutes, using Troon Golf Academy's advice, I was launching 7-iron shots farther and higher than I ever had before.

When I swing to the right - or as I like to think of it, right-center field - I hit some amazingly good shots as long as I release my hands and finish. If I don't, I send forecaddies like Shawn scurrying to the desert in search of blocked shots that went really right, Rush Limbaugh right.

Thanks to Troon Golf Academy, I played better than usual that afternoon on the Fazio course, the other jewel on the Pronghorn property. It's private, but if you get a chance to play with a member, I'd highly recommend it.

In addition to being a first-class layout, as one would expect from a world-class architect, the Fazio course is just like the Nicklaus and in immaculate shape. Of all of the courses I've played in 40-plus years, the Resort Course at Coeur d'Alene, Idaho, Big Sky in Pemberton, B.C., and the Nicklaus and Fazio courses at Pronghorn are in my top five. No. 1 is Augusta National, which I played twice as a very fortunate member of the media when I covered the Masters.

Again, I'm not a golf-course snob, but the fairways at the Pronghorn courses are like greens at other courses. You'd have a better chance of finding a needle in a haystack than a weed on a fairway here.
If you asked me which course was better, Nicklaus or Fazio, I don't know what I'd tell you because I like brunettes as much as blondes. And it depends on who you ask anyway - Brandon Tucker of WorldGolf.com said the Nicklaus course at Pronghorn was the best public-access Nicklaus course he's ever played. Tucker loved the par-5 15th, calling it a beautifully designed hole, and I'll have to take his word for it, having never played it. At the Fazio course, one of the neatest holes on the Fazio course is the par-3 eighth, built adjacent to a lava tube.

If you're like me, you have no idea what a lava tube is. Apparently they discovered one while excavating and building the eighth green. You can go inside the lava tube and walk through the tunnel for a quarter-mile, or so I was told. I was also told that course architects had a temporary office down there while the course was being built.

I can tell you this for certain - it's dark and cold in there, not to mention a little bit eerie. They've got lanterns if you want to take a walk and look around. By all means, do it.

The only quibble I have with the Fazio course is the par-5 18th hole. I'll bet that Mr. Fazio would tell me why he designed it the way he did, and there's something I'm apparently missing, but I thought the lay-up area for the second shot was too narrow for the average golfer, of which I'm one.

But overall, I enjoyed playing it slightly more than the Nicklaus course, keeping in mind that that might have had more to do with my wife and kids being at the pool when I was on the Fazio course, allowing me to focus on golf instead of keeping the animals in line.

We spent three days at Pronghorn and wish we could have stayed for 300. We're looking forward to going back even if forecaddie Shawn isn't. It's only six hours from Seattle, three hours from Portland and the best part? Pronghorn is much farther away from the real world.

For more information, visit http://www.pronghornclub.com.
Jim Moore also writes for his website, www.jimmoorethego2guy.com and www.710Sports.com. You can reach Jim at jimmoorethego2guy@yahoo.com and follow him on Twitter @cougsgo. He appears weekdays from 3 to 6 p.m. on 710 ESPN Seattle and also co-hosts "The Golf Show with Jim Moore and Shon Crewe" every Sunday morning.