Providence Golf Course Taking Divine Care of Land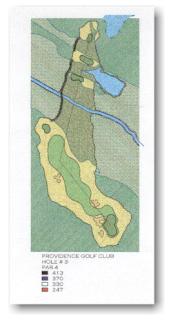 Along with a new name, the former Pocoshock Golf Course here is getting a complete makeover – and attitude.

Now called Providence Golf Club, the facility in Richmond, Virginia will live up to its name, according to course designer Lester George. "Providence," he pointed out, "means protection of resources, and we are taking extra pains with this property. This is the first course that I know of built in the Chesapeake Bay Watershed to have absolutely zero impact on 'waters of the U.S.' "

Landscapes Unlimited, one of the nation's premier golf course builders, began major earthmoving and rough-shaping of Providence in late March and the owner, local developer Buddy Sowers, hopes to open the daily-fee facility next spring. The original Pocoshock Golf Course closed 14 years ago when a new owner intended to build real estate around it, but that effort failed. Sowers purchased the land a year ago and more than doubled the property's size to 215 acres.
Calling the project "extremely environmentally sound," George said the Pocoshock Creek watershed runs through the property, yielding 40 acres unusable for development of real estate or golf.

Nevertheless, he said, "it's a remarkable piece of land for a golf course. We hardly have to move any dirt – about 70,000 to 80,000 cubic yards. If not for the lakes we're building, we'd be moving less than 50,000 yards. Many courses today move 600,000, 800,000, even a million or more cubic yards of dirt."

Predicting Providence Golf Club will become the No. 1 public-access course in Richmond, George said it will be "the absolute model for an affordable daily-fee golf course in an environmentally sensitive area."
Before it closed, the old Pocoshock GC hosted a whopping 50,000 rounds a year. Sowers hopes to duplicate those numbers, keeping greens fees in the low-$30 range and selling "hot-dogs for 50 cents and a beer for a dollar."

Providence will play to a par 71 over 6,400 yards. It will feature Dominant bentgrass greens, and the tees and fairways will be sodded with 419 Bermudagrass.

George said the course will be a collection of 18 novel holes, and pointed to two in particular – the 10th and 3rd. The 10th is a short risk-reward 301-yarder. The drive will need to be placed perfectly between four fairway bunkers. The greens complex around a small plateau putting surface will make for a nifty approach shot.
The 3rd, a 407-yard dogleg-left, will be the one of the most intimidating driving holes on the course because it traverses the marsh. The player will be faced with a long carry over the marsh to a wide and receptive fairway set on an oblique angle to the line of play. This fairway disposition allows players to risk cutting off as much of the dogleg as they dare. Depending on the success of the drive, the player will be left with either a short- or medium-length second shot to a green that sits precariously on top of a hill.

Since opening his own firm in 1991, Lester George has designed a number of golf courses. Among them are the highly rated Colonial Golf Course in Williamsburg, which was voted by GOLF Magazine as one of the Top 10 daily-fee courses to play in the U.S., and Newport Bay Golf Course at Ocean City Golf & Yacht Club in Berlin, Maryland. His private Kinloch Golf Club in Richmond opened on April 14 to much fanfare.