Public Golf North of New York City
By: Jay Flemma
I-84, N.Y. - It's a summer weekend in the greater NYC area and rather than having a meal set to the dulcet tones of jackhammers and ambulances, fighting through crowds shopping or at museums, or doing a vapid dance of the sand crabs at a Hamptons time-share, you wisely decide to get some air and exercise and play golf.

Now let's suppose your friends couldn't come through with that dream round at National Golf Links of America, Winged Foot, Shinnecock, Winged Foot, Sleepy Hollow or Bayonne, and that you really don't feel like staying up all night in the parking lot at Bethpage for a round on the Black - the only course to play at the state park facility - and only a chump of the highest order will waste 6˝ hours and $50 on any of the poorly conditioned New York City public golf courses. Besides, you'd like to go upstate, get out of the city for a while in the bucolic splendor of the Catskills. What's an NYC public golfer to do?

North of the city, there are plenty of public courses just a little over an hour's pleasant drive up the Hutch, The Saw Mill, or the Taconic Parkway and along I-84. Let's compare and contrast six venues: Links at Union Vale, Centennial Golf Club, Pound Ridge Golf Club, Richter Park Golf Club, Casperkill Golf Club and Concord Golf Club's "The Monster" course.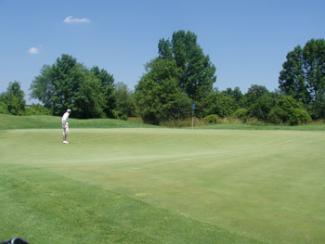 Thumbprint in 7th Green at Union Vale
Links at Union Vale

Won't you take me down…
to that Texas town…
to that town…they…call…LaGrange!

Sorry, that's a little ZZ Top there for you, but you do have to make it to the upstate New York town of Lagrange for some excellent golf.

The architect of this course, Stephen Kay, is also a professor at Rutgers University and a gifted golf historian. As a young high-schooler he told his parents, "I wanna be a golf course architect when I grow up," and he did it. His biggest man-sized hit is Links of North Dakota, a superb layout along Lake Sacagawea. His affinity for U.K. golf shines through there as well as at other courses, including Union Vale, where he incorporates strategic elements he imported from the great links across the Atlantic.

Like a true links, Union Vale is treeless, so the wind whips and swirls. Kay also tried to keep open routes to the greens to incorporate the ground game and plenty of short-game options.

The highlights include the stretch in the middle of the course from 5-11. Five, a short par-4, requires a long carry over a pond to a diagonal fairway extending from left to right. The pitch plays uphill to a green bisected into two smaller pods by a long hog's back extending parallel to the fairway through its center. It's a much tougher hole than its meager length on the card. The sixth green is guarded by a huge center-line, sod-faced bunker with an enormous lip, a theme Kay repeats throughout the round in different forms. The green is also divided by a swale running through it, another element Kay brings back time and again to make the targets on the approach on short holes smaller than they appear. It's a basic tenet of good architecture: the shorter the hole, the sexier you can make it.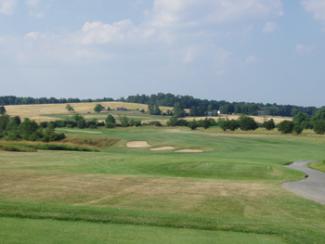 The Three Sisters Complex at Union Vale's 16th
And right on cue, the best and most unique hole on the course is the long par-3 seventh. Severely uphill all the way and guarded by a cavernous bunker, the green contains an old-school design element, a thumbprint, a roundish depression in the front of the green so that a small circle of green is much lower than the rest and, once again, the green has two distinct sections, and two-putting from one to the other is remarkably taxing on the nerves.

Two other good holes are Nos. 11 and 16. At 11, an enormous chocolate drop, a grassed over rock guards the front of the green, "but we also extended its reach into the green itself," explains Kay. "Everyone thinks that it existed beforehand, that it was there originally, but we designed it that way." The massive humps sheds balls like a magnet with the polarization reversed. The long par-4 16th is a Kay original he tries to build at every course, a "Trinity Hole," a hole with a "Three Sisters" bunker complex. Unquestionably the best example is at Alister Mackenzie and Perry Maxwell's 5th hole at Crystal Downs. But the features Kay employs are both strategic - as the bunkers create a diagonal hazard to be challenged according to how aggressive the player wishes to be off the tee - and aesthetically pleasing.

Union Vale stands head and shoulders about the rest of the class on the I-84 corridor when it comes to golf course architecture and strategic design features. Even though you can hit driver on every hole here, it's a tough second-shot golf course, requiring careful planning and execution. It's a true thinking man's track. Moreover, the greens are cunning. The adventure simply continues as you try to putt along their spines, knobs and hollows. It's a great place to work on your short game.

Though the premium weekend rate is $89 with cart, $73 for walkers, the course's twilight rate stars at a player-friendly 2 p.m. and is only $58/42. Weekday rates are substantially less.

Design: 5 stars (all ratings out of 7)
Natural Setting: 3-1/2 stars
Value: 5-1/2 stars
Overall: 5 - 5-1/2 stars

For more information, visit www.thelinksatunionvale.com.
Centennial Golf Club (Meadows and Fairways Nines)

A radio-blitz campaign spearheaded by former WFAN personality Chris "Mad Dog" Russo made the course famous, but 27 holes and a striking natural setting keep New Yorkers coming back. Located just a hop, skip and jump off of I-84W in Carmel, this 27-hole facility designed by Larry Nelson rumbles up and down 340 acres of steep hills: excellent terrain for golf.

Now you have to be judicious at Centennial. Most golfers like a side called the "Lakes" nine and, indeed, the Lakes is the most popular and heavily marketed by the club. It has lots of water. It cuts through the trees. It has dramatic downhill tee shots into saddles and tough approaches uphill back to the plateaus. It's visually arresting.

It is also an architectural abomination and gets double the play. It's one thing to drive to a narrow isthmus of land between two ponds and then hit a second shot the same way on a par-5 at PGA West Stadium Course, but not when I'm trying to have a low-impact practice round at home on a weekend with my friends. Endless water hazards and trees doubling as pinball machines is not what they thought of when the Dutch taught the Scots the game when journeying from the ships' docks to their mercantile meetings in the town of Edinburgh, nor is it what Old Tom and his boys envisioned when playing at Prestwick, St. Andrews and the like. I refuse to play the Lakes nine on general principle.

Happily, the Meadows and Fairways nines offer a little more architecture and have wonderfully varied natural settings and interesting cross hazards and greens, so you can have an excellent 18-hole day and avoid the masses of players pock-marking the Lakes nine with unrepaired ball marks.

The Meadows nine has a great drive-and-pitch par-4 at the second hole, another great cross-hazard at six, and a homey setting amidst rolling farmland and old farmhouses. Most greens here and on the Fairways nine are separated into two tiers, but not as artfully or strategically as at Union Vale. The sharp lines of the tiers are more abrupt.

Still, the Meadows-Fairways incarnation shows you something different every hole except the No. 2 and 3 fairways, which are similar but a par-5 and par-4. Indeed, the Fairways nine is just straight-ahead, no tricks, good old-fashioned golf with bunkering eerily (and happily) reminiscent of the fabled Olympic Club in San Francisco.

Everyone's favorite hole is the short, downhill par-5 at No. 8 on Fairways. "I have a reasonable chance to hit a par-5 in two and have a good look at eagle," gushed Mel Stollenheinrich, a local player who plays the club almost every weekend. "Between that and the great finisher with a huge downhill drive and a heroic carry over a chasm, it keeps you coming back."

Sadly, walkers are not allowed to play until 4:30 p.m., a tough walking policy which is too rigid and costs the club a ˝ point rating overall. Numerous scientific studies show walkers and riders finish within five minutes of each other: sometimes the carts are faster, sometimes the walkers are. However, I see why they do it at Centennial. It's a murderous walk between tees and greens, especially on Meadows. The walks between tees are harder then playing the course.

The $135 rack rate during high-season weekends is far too high, but the twilight rates start early (2 p.m.) and are only $85 on weekends, $70 Monday - Thursday. Even deeper discounts are available after 4 p.m. There is a matted practice range and a short-game practice area.

Here's a sure bar bet winner for you: How many majors did Larry Nelson win and where did he win them? A. Three - 1981 PGA at Atlanta Athletic Club, (site of the 2011 PGA, incidentally), 1983 U.S. Open at Oakmont, 1987 PGA at . . . shudder . . . PGA National, the worst major venue ever. Yes, even worse than Medinah.

Design: 4 - 4-1/2 stars
Natural Setting: 5 stars
Value: 4-1/2 stars
Overall 4-1/2 - 5 stars

Visit www.centennialgolf.com.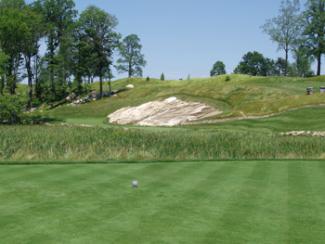 The Rock on the Par-3 5th at Pound Ridge
Pound Ridge Golf Club

Say it out loud with me and repeat as necessary . . . this is a Perry Dye golf course . . . this is a Perry Dye golf course . . . this is a Perry Dye golf course. Pete helped with it, of course, and there are a couple of funny stories regarding Pete's involvement as there always are. But Perry was the lead. It's his place.

Don't get me wrong; it's still as hard as any Pete Dye golf course. To paraphrase one critic's review of Pete's Stadium Course at PGA West, you need a camel, a canoe, a tourniquet and a rosary to play Pound Ridge. It's ridiculously hard for the weekend or bogey golfer: a high-alert walk through a minefield of unexploded triple-bogeys on every shot from one through 18.

"I lose two dozen golf balls every time they play there," moaned a shell-shocked Pound Ridge resident, who plays there once or twice a year. "If you're off the fairway, you're taking a penalty stroke."

He's right. Due to the irregularly shaped nature of the property and the stranglehold of environmental restrictions, most fairways are criminally narrow, tighter still because of ubiquitous water and hip-high fescue. Most of the holes are shoe-horned in a rather pedestrian back-and-forth manner along a north-south axis of a square-shaped parcel that's relatively flat.

"It's actually a rhombus, not a square," joked one of my friends, but who's counting. You get the idea. You feel like you're playing back and forth most of the day.

The best holes are Nos. 13, 14 and 15, holes that are away from the rhombus. The 13th tee is set in an idyllic dell deep in the woods. The drive is semi-blind over a rock to a saddle of fairway. On this three-shot hole is a green that's a narrow sliver guarded left by a deep ravine with a bunker at its deep floor, and right by woods. You either have nerves of steel or a prescription for antidepressants if you go for this green in two.
The Dramatic Tee Shot at Pound Ridge's No. 13
Off the tee, No. 14 requires a thrilling carry over a deep chasm bolstered by a stone wall. Then the hole bends left and plays uphill to a semi-blind green set between two hummocks.

The most recognizable and memorable hole at Pound Ridge is the short and quirky par-3 15th. Another narrow sliver of green is set beside a wetlands hazard left and a gigantic white rock right. Dye - Pete not Perry - spent a good half-hour on that tee bouncing ball after ball off of the rock.

"Some of 'em bounce on the green, and some of 'em bounce all over the place," he laughed as he played the next shot straight up and stuck a 7-iron to 3 feet: pretty good for a guy who's half of 164.

Still if you really want to get scared at Pound Ridge, look at the price tag. The standard rate for 18 holes is $235, with discounts harder to find than your golf ball.

"It's prohibitively expensive, even for Pound Ridge residents," said our Pound Ridge resident, who has been part of a grass-roots movement reaching out to the club for more reasonable rates. "I'd play there a few times a year if it cost $125, but I just can't get my wife to wrap her head around a $235 green fee, not when she needs a pair of shoes and the kids need camp."

If you're wondering why it costs so much, it's because it cost over $40 million to build. Far more work needed to be done than just digging up the old muni that was there before. All of Westchester and the surrounding area sit atop a large granite slab, so acres and acres of rock had to be dynamited, sending building costs through the stratosphere.

"I just told Mr. Wang to tell me when he was out of money and then we'd be done," quipped Pete Dye at the Grand Opening and Media Day Ceremony.

Everyone laughed except Wang, who looked like he needed antacids. He'll tell you he had no choice but to change the economic model of the course and try to market it as a "destination course," pushing hard on the marketing and Pete Dye name, the only Dye or Dye Family course in the state. As such, the course markets stay-and-play packages with a premium hotel in Manhattan. What a bargain. Not only do you add a huge rack-rate hotel into the equation, you also pay $45 for the hour-plus shuttle ride to the course. That must be some new definition of a "golf destination" and a "resort package" with which I am not familiar.

There are a few options for locals, but they are also premium priced. $3,500 buys you 50 rounds, but you can only play after 4 p.m. Since you'd have to take off work to have even a remote chance of finishing your round, Pound Ridge again fails on delivering actual value to its customer.

Design: 3-1/2 - 4 stars
Natural Setting: 4 stars
Value: 1 star
Overall: 3 stars

For more information, visit www.poundridgegolf.com.
Concord Golf Club (The Monster)

Back in the '70s, the Concord Hotel was one of the most celebrated facilities in the country. "A-list" celebrities entertained well-heeled New Yorkers and other jet-setting golf and tennis aficionados in a bucolic getaway conveniently nestled in the Catskill Mountains.

This full-service resort climbed to the top of its competitive mountain primarily on the strength of its unconquerable golf course, dubbed "The Monster." Sadly, bankruptcy and real-estate disputes have closed this once-proud hotel. It has been many years since Bobby Darin and Englebert Humperdink shared drinks with Florence Henderson and Ben Vereen. But the golf course has stayed open throughout the turmoil, a well-kept secret on any true connoisseur's golf-radar screen.

Owner Ray Parker issued a challenge to architect Joe Finger. Parker wanted the most difficult course in the country, one that could host a tour stop and provide a difficult test to the world's top players. Finger succeeded too well to lure the professionals, reputedly intimidated by the ungodly length and ubiquitous water hazards. When the course opened in 1963, only Spyglass Hill had a higher course rating in the United States. Nevertheless, coupled with the white-glove resort treatment of its guests, the course was an instant hit with the playing public, eager to test their skills and see if the Monster was truly deserving of its reputation. To this day, most players return to their homes humbled by the layout, but loving the experience.

Most of the course's difficulty is derived from a combination of length, the size and placement of intimidating water hazards, and enormous, undulating greens. Built amid eight large lakes and Kiamesha Creek, water is in play on nine holes. The course features numerous forced carries over these hazards. Add in the sheer length of every hole and the course is worthy of its rating and reputation. Seven of the 10 par-4s are over 410 yards from the white tees and both par-3s on the front exceed 207 yards. The par-3s on the back, while shorter, feature forced carries over water from tee to green.

Even now, its prolific length and fierce rating make it one of the most difficult tracks in the country for all levels of play. Most amateurs are overmatched at tracks over 6,800 yards and ratings over 72, and pros still face a stern, long test at the Monster's Herculean 7,650 yards and rating of 76.4. Now imagine the challenge presented back in the course's heyday when no one heard of a bubble-shaft; fairway metals were not even in designers' imaginations and blade irons were the standard in all bags. The Monster's difficulty was so renowned that pros were unwilling to consent to a tour stop being played there. To this day, the course record remains 67, owned by several players.

The course beats players into submission on the front nine, but shortens on the back. The back, however, has more water and looks more difficult than the front. Still, the high number of good back nines carded by traveling golfers helps keep them coming back.

While the resort may not reopen for a few more years (if ever), the course is still in terrific shape. When rumors went around several years ago that the conditioning had deteriorated, the course took the criticism to heart and rectified the problems. It's $75 at its highest weekend rate, $55 after 2:30 on weekends, both excellent values. It costs $65 during the week, $45 after 2:30. There is a large practice area and short game facility.

Design: 4-˝ stars
Natural Setting: 4-˝ - 5 stars
Value: 5-1/2 stars
Overall: 5 stars (like Centennial, a no walking policy knocks an entire half-point off the rating)

For more information, visit www.concordresort.com.
Richter Park Golf Course

Danbury, Conn., still gives NYC public golfers something the actual New York City does not: a public golf course with an interesting design and at a fair price (around $62 in high season). Richter is a nice muni in good condition with some interesting holes, and some beautiful views. You can get around in four hours, meet some nice people, get a great meal and be home before rush hour hits.

Architecturally, the course is hit-and-miss. The low points are Nos. 1 (a 90-degree dog-leg around a pond), the par-3s on the front (both carries over water), and the stretch of 14-16 (which play around man-made ponds or the course's unique quicksand hazard).

For those of you who've never heard of Richter, you read that last sentence right. A nasty and downright dangerous quicksand bog guards the entire right side at 15 and 16. The city found that out when it lost a backhoe there during construction of the course.

There are some excellent holes too, though. Four and six are great par-4s, six in particular. The blind drive should start at the big tree in the distance and draw gently to the left. The long iron/fairway wood approach to the elevated green will be played with the ball above your feet and cannot go left under any circumstances as the green drops 60 feet straight down to the edge of the river. Excepting 16, the par-5s are strong, especially the three-shot 12th. Looky-loos love to squeal about how the green is surrounded on three sides by water in the middle of the river. It is an inspired setting. The closing dogleg, par-4 18th demands your best drive of the day to reach the corner, then requires your best approach of the day: uphill to a green surrounded by bunkers.

Richter is a great place to take the family for a getaway weekend round or to get in some quick low-impact practice without breaking your back. It's not a place to take to impress friends interested in architecture and design, but it's a reliable stand-by for a quick getaway. Sadly, the practice facility is sub-par.

Design: 3 - 3-1/2 stars
Natural Setting: 5 stars
Value: 4 - 4-1/2 stars
Overall: 4 - 4-1/2 stars

For more details, visit www.richterpark.com.
Casperkill Country Club

Built in 1944 and for years a private course for corporate guests, this Robert Trent Jones course is another nicely conditioned, inexpensive getaway for a quick round. Therea are a few good holes, a number of solid, well-protected green complexes, and you'll get around in four hours instead of the six you'd have to invest over the chopped salads that serve New York City public golfers.

Architecture junkies won't like it as there is too much penal architecture, and a few par-4s are either screwy or bland, but for weekends the course tests enough of a player's game to be just fine. Most importantly, you can work on all aspects of the short game, not just the lob wedge. There's even a good short-game area with bunkers for practice.

The best holes are some of the more difficult par-4s. Two plays long and uphill to a green benched in a hillside. A severe drop-off to a shaved chipping area guards the left side. At seven, a long drive must catch the hill and roll down to the lower plateau or else the approach will be side-hill with a long-iron or hybrid to a green guarded by sand on three sides and fronted by water.

Nos. 11 and 17 are the strongest par-4s on the back. The 11th requires a long drive over a burn which crosses the fairway, then an approach to a green guarded by one of the deepest bunkers on the course. The 17th plays through a chute of trees, and requires a long drive and an uphill approach to a long, narrow green.

Though the high rate on weekends is $65, greens fees go down after 12 p.m. to $45, and reduce further still to $27, a steal. Weekdays the rate is $45 in the mornings, $27 after noon. As my father says, "You can't beat that with a stick!"

Design: 3 - 3-1/2 stars
Natural Setting: 4 stars
Value: 4 - 4-1/2 stars
Overall: 4 stars

www.casperkillgolf.com

In summation, definitely visit Links at Union Vale to see things you've never seen before and learn about architecture. Go to Centennial or The Monster to impress clients and make a special occasion out of your round. Play Casperkill or Richter Park with family and friends for a nice, low-impact day or for practice, and wait to play Pound Ridge when they have a ˝-price day or a friend gets you in a scramble so you don't leave with a bruised ego and slashed wallet.


Since launching his first golf writing website in 2004, http://www.jayflemma.thegolfspace.com, Jay Flemma's comparative analysis of golf designs and knowledge of golf course architecture and golf travel have garnered wide industry respect. In researching his book on America's great public golf courses (and whether they're worth the money), Jay, an associate editor of Cybergolf, has played over 220 nationally ranked public golf courses in 37 different states. Jay has played about 1,649,000 yards of golf - or roughly 938 miles. His pieces on travel and architecture appear in Golf Observer (www.golfobserver.com), Cybergolf and other print magazines. When not researching golf courses for design, value and excitement, Jay is an entertainment, copyright, Internet and trademark lawyer and an Entertainment and Internet Law professor in Manhattan. His clients have been nominated for Grammy and Emmy awards, won a Sundance Film Festival Best Director award, performed on stage and screen, and designed pop art for museums and collectors. Jay lives in Forest Hills, N.Y., and is fiercely loyal to his alma maters, Deerfield Academy in Massachusetts and Trinity College in Connecticut.