Puerto Vallarta - Golf and Life in the Slow Lane
By: David Wood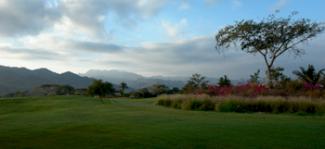 For me, a traveling golfer who savors accruing passport stamps, Puerto Vallarta is ideal - friendly, authentic, sunny, and, best of all, you have to cross an international border to get there.
I'm not alone in my affection for Puerto Vallarta. The city receives over 3 million visitors yearly. This gem of a locale on the scenic Mexican Pacific coastline seems to handle the onslaught of tourists with grace and ease and toothy smiles, and without sacrificing one iota of the charm of what Puerto Vallarta remains to be - a lovely coastal town with great weather, idyllic sunsets, and a bunch of stuff to do just in case you don't want to simply plop down in a beach chair and wiggle your toes in the sand. I love walking around Viejo Vallarta - Puerto Vallarta's Old Town with its cobblestone and brick paths winding through a Mexican city that has maintained its Old World ways. Better yet, the local golf is first-class - especially at Vista Vallarta Club de Golf (www.vistavallartagolf.com).  
My personal theory that a longish drive to a golf course via curvy back roads almost always leads to a pleasant golfing is validated here in spades. About 30 minutes or so from the main drag of beachfront resorts and restaurants, the drive to Vista Vallarta takes you through quiet working-class neighborhoods complete with dogs lazing in the sun, the occasional chicken hurriedly scampering across the dusty road (to get to the other side no doubt), and local street vendors selling tacos and orange Fanta - which in addition to tequila seems to be the national drink. As we turned off the main road and started gaining a bit of elevation as we drove - and not to mention a curve or two - I knew I was in for a golfing treat, Mexican-style.
Vista Vallarta offers 36 holes of golfing heaven set in the foothills of the sleepy Sierra Madres. We're talking true championship golf as the club hosted the 2002 World Cup of Golf as well as a Champions Tour event in 2006. Two legends designed the respective 18s - Jack Nicklaus and Tom Weiskopf. Combine intriguing topography chockablock with blooming flora and a couple of craftsmen like those two and chances are you've really got something really happening as a place to tee it up. Both courses are indeed muy bueno.
I loved the rugged terrain combined with the lush vegetation. Here you'll discover fairways framed by dense patches of palms, fragrant bougainvillea, giant ficas trees, natural creeks, and unforgiving ravines. The Nicklaus course holds the higher ground and is the flatter of the two, although that's not to say there aren't undulations. Like most Nicklaus layouts, there is plenty of room off the tee, but par is prudently protected by clusters of well-placed bunkers around the greens - many of which have diabolical slopes. One of my favorite holes is the 381-yard 4th which offers a grand view of the Bay of Banderas off on the western horizon. Though you'll probably hit a smallish iron on your approach, the sombrero-shaped putting surface slants severely from right-to-left and makes two-putting feel like you just won a Lotto.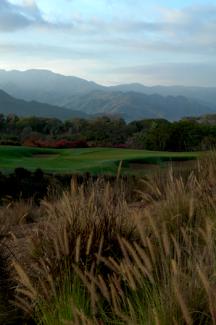 The Weiskopf side is even more dramatic as the groomed fairways are bordered by thick jungle, vast ravines, and rocky creek beds proving hazardous for any dreams of a decent scorecard. I've been on few courses around the world with more flowers throughout. The pleasing scent of the fragrant ruby-red bougainvillea wafts on most every hole and brings a soothing respite to the challenging golf offered by Mr. Weiskopf. The par-3s are noteworthy, especially the 15th which plays from 190-yards from the back tees and requires a blast over a thirsty, cavernous gully to a green protected by five ball-gobbling bunkers. Par there feels like a birdie.
I guarantee that once you're up at Vista Vallarta you won't want to leave in a hurry, no matter how much fun awaits you back in town, as there is a good reason why "Vista" is part of the course moniker. The Mexican Pacific offers Shakespearean sunsets and everyone stops to watch the sun - which looks to be startling close - gradually sink behind the horizon. That high vantage point from Vista Vallarta makes the ephemeral murals over Banderas Bay even more brilliant. Grab a cerveza and a chair outside the airy clubhouse and take it all in; your blood pressure will fall faster than the Dow.
In addition to golf, Puerto Vallarta has it all: snorkeling, sport-fishing, open-air markets, and gastronomical delights that will have your taste buds in rapture. Puerto Vallarta has become famous as a haven for internationally known chefs who chose to ply their trade in a tranquil sunny locale. Two restaurants are not to be missed - Los Xitomates (www.losxitomates.com), where Chef Luis Fitch is such an avid golfer (he said he plays most everyday) that he was wearing his golf shoes while cooking my delectable seafood dinner.
Café des Artistes is also off the charts good. The multi-level eatery resides in a century-old, artsy-furnished hacienda (worth at least a drink at their bar just to see the hipster interior) on a hillside overlooking the heart of old Puerto Vallarta. This 212-seat restaurant offers diners the opportunity to sample the artistry of Chef Thierry Blouet - recognized worldwide for his genius in the kitchen. Though I can be content with tacos sold from street vendors or golf course cheeseburgers, Café des Artistes is simply too good and unique to be missed. You'll thank me for this tip.

For comfortable accommodations at a good price, try the Sheraton Bougainville Resort (www.sheratonvallarta.com) which has several huge swimming pools complete with swim-up bars, a great private beach, and a bunch of tasty dining options on the compound. Once checked in, you don't have to leave if you don't want to: it's all there for you in one spot if that type of vacation floats your boat.

What's better than life in the slow lane of sunny Mexico and lovely Puerto Vallarta, especially with Vista Vallarta and its awesome golf nearby? My passport is current. I'll be back.
David Wood - writer, in-demand corporate speaker, and humorist - is the author of the book, "Around the World in 80 Rounds." For information on David, visit his website: www.DavidWoodSpeaking.com or email him at David@DavidWoodSpeaking.com.