Q. Are Reverse Slope Greens Okay?
Used correctly, I think they are.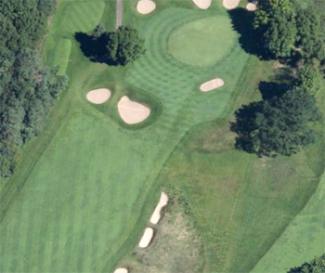 Donald Ross's White Bear Yacht Club
(seen above in a Google Earth Screen Capture)
While back-to-front-sloped greens became the standard as clubs and balls made the golf swing similar for different-length approach shots, reverse-slope greens are making a comeback! Modern architects have rediscovered the true "Redan," which slopes from front-right to back-left, and some try reverse-slope greens of other types to differentiate their designs.

Golf architecture historians believe older designers used cross-slopes and reverse-slope greens to a far greater degree than modern architects. I have looked at hundreds of old green plans by Donald Ross, Alister Mackenzie and A.W. Tillinghast and believe, even then, greens had a back-to-front slope.

So, I think the historians are indulging in a bit of nostalgia when they call for greater use. The game is what the game is now, and my sense is that every course could use a few "non-standard" greens for variety, but more than a few will be rejected as "goofy golf."

Ross occasionally included a reverse-slope green, such as the 12th at White Bear Yacht Club in Minnesota (seen photo), or the 14th at Oakland Hills near Detroit. As can be seen, Ross designed in the essential elements - room in front to allow players to "just" carry the bunkers and roll-out on the green, at least from the left side of the fairway - and with plenty of penalty in the back for those who overshoot the mark.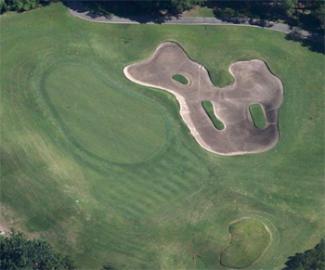 Jeff Brauer's Redan Green at Wild Wing
On mid-length approach shots to reverse-slope greens, better players simply play for more spin. Shinnecock Hills' seventh hole at the 2004 U.S. Open showed how Redans get played in modern times, with players cutting shots into the slope rather playing the run-out. However, in the 1996 PGA at the 505-yard 14th hole at Oakland Hills, pros typically played a running shot onto the green, primarily because they had longer clubs and were not teeing the ball up.

If you want good vision to the green, reverse-slope greens obviously work best on downhill holes, where vision can be maintained and the approach shot tends to have higher effective loft, reducing roll-out and helping hold a bit more.

My 200-yard 12th hole at Sand Creek Station in Newton, Kan., is a Redan hole on level ground. It slopes to the back-left corner, but the front of the green dips, and the right side of the green flares up to create vision.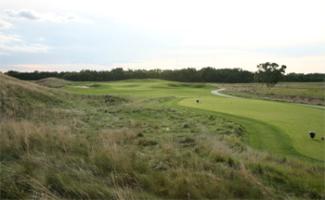 Brauer's 12th hole at Sand Creek Station
The grass bunker is some 20 yards short of the green. Using the contour to kick your approach shot left requires a carry of that bunker. Because it is a public course, and the bunker's location is short-right of the green, I chose to leave it in grass as a concession to difficulty and speed of play. Also note that I have used a larger "kick-plate" than the original Redan at North Berwick in Scotland.

Back in 1994, I designed a reverse Redan at Wild Wing in Conway, S.C. However, I was afraid to use the reverse slope, so it's not a true Redan in the strictest sense of the word. However, it gives an idea of how far in front of the green I place carry bunkers.

When designing reverse-slope greens, we cannot merely copy the old ones as their slopes were much steeper and greens much slower, so you would expect a modern reverse-slope green to be different than a classic one, and each must consider both the green and surrounding fairway slopes along with grass types, green speeds and the height of fairway cuts.
Jeffrey D. Brauer began his career as an apprentice in the Chicago area in 1977. His first project was Kemper Lakes, which shortly after hosted the 1989 PGA Championship. He formed GolfScapes in Arlington, Texas, in 1984. In the last 29 years he has designed and consulted on a wide spectrum of projects, ranging from partial renovations to international resorts. His recent work includes teaming with the design team of Pascuzzo and Pate on a remodel of the world-famous La Costa Resort & Spa in California, and renovations at Superior National Golf Course in Lutsen, Minn., and Mesquite Municipal Golf Course in Mesquite, Texas.

He has been a member of the American Society of Golf Course Architects since 1981, serving as President during its 50th Anniversary year in 1995-96. Jeff still studies the classic works - both old and new, and has played more than 75 of the best courses in the world.

Jeff gives many presentations and is a regular architecture columnist for many publications and websites, including Golf Course Industry and Cybergolf.com. He has also been a strong advocate for the "Tee it Forward" campaign and strives to make his courses fit the description of "fun to play every day."

Jeff's work has been spotlighted in most of the world's major golf magazines. Golf World ranked him as one of the top-20 golf course architects and Golf Inc. ranked him as the world's fourth-best value in golf architecture in 2010. Jeff's portfolio and reputation keep him at the forefront of desired designers for new courses, reconstruction and renovation projects. For more about Jeff, visit http://www.jeffreydbrauer.com/sites/courses/layout.asp?id=859&page=48451.