Q. How Do We Conceal Cart Paths from View?
A. I have always favored cart paths that are "handy" vs. "hidden," figuring a path hidden to golfers by distance will not receive much use. And, I see little sense in building $500,000 (or more) worth of cart path to NOT be used.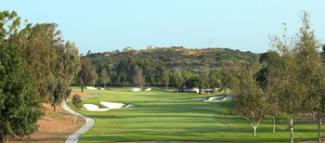 Choices for Concealing Cart Paths from View
I know that many architects go to more extraordinary lengths to hide paths, and nearly all of us try our best under the circumstances. In some cases, such as holes with elevated tees, it is impossible. In these cases, it is almost as effective to design long and flowing curves, generally in scale with flow of the landscape, as shown in the photo.

From experience, these are my guidelines to concealing cart paths:

• Shade them with trees.

• Place them on the outside of dogleg holes, as paths on the inside edge are right in the natural line of sight. The photo shows why, but also demonstrates that the golfers will always go the shortest route to the destination. In this case, I felt that placing the cart path on the right would cause many short cuts to the fairway straight ahead.

• Tilt them away from view lines/direction of play.
• Use long, low ridges to hide them from the fairway in open areas, rather than a series of humps, since carts will inevitably funnel through the valleys.

• Where cart paths must be visible, blend them to natural contours and avoid sharp vertical and horizontal alignments for best appearance.

• Since many golfers will travel the route, try to provide views of natural highlights such as specimen trees, waterfalls, rock outcroppings or landscaped areas.

• It's often easier to conceal a path crossing the fairway than one paralleling the line of play. In the photo, the path actually crosses the fairway just beyond the bunker in this view. You can just see it exit the fairway on the right side. Since it is just a bit uphill, it took only a 6-inch-high ridge in front of the path (and some catch basins to drain trapped water) to hide this path crossing the fairway. This path gets to the left of the fairway (where it needs to be because of a water hazard on the right) where it needs to be on the right side of the green. It crosses the fairway for maximum fairway accessibility, and yet is hidden from view. The best of all possible worlds in cart path design!
Jeffrey D. Brauer began his career as an apprentice in the Chicago area in 1977. His first project was Kemper Lakes, which shortly after hosted the 1989 PGA Championship. He formed GolfScapes in Arlington, Texas, in 1984. In the last 29 years he has designed and consulted on a wide spectrum of projects, ranging from partial renovations to international resorts. His recent work includes teaming with the design team of Pascuzzo and Pate on a remodel of the world-famous La Costa Resort & Spa in California, and renovations at Superior National Golf Course in Lutsen, Minn., and Mesquite Municipal Golf Course in Mesquite, Texas.

He has been a member of the American Society of Golf Course Architects since 1981, serving as President during its 50th Anniversary year in 1995-96. Jeff still studies the classic works - both old and new, and has played more than 75 of the best courses in the world.

Jeff gives many presentations and is a regular architecture columnist for many publications and websites, including Golf Course Industry and Cybergolf.com. He has also been a strong advocate for the "Tee it Forward" campaign and strives to make his courses fit the description of "fun to play every day."

Jeff's work has been spotlighted in most of the world's major golf magazines. Golf World ranked him as one of the top-20 golf course architects and Golf Inc. ranked him as the world's fourth-best value in golf architecture in 2010. Jeff's portfolio and reputation keep him at the forefront of desired designers for new courses, reconstruction and renovation projects.
For more about Jeff, visit http://www.jeffreydbrauer.com/sites/courses/layout.asp?id=859&page=48451.