Q. How Do We Eliminate Cart Paths Wear Areas?
A. I agree that concentrating traffic on paths generally leads to some compacted turf near high traffic areas. It is somewhat inevitable, but can be mitigated. Here are some tips: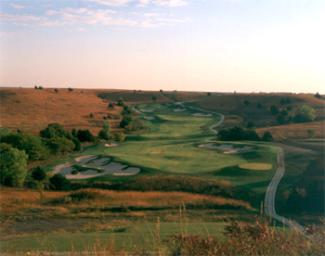 Illustration of Cart-Path Design to Eliminate Wear Areas
Don't place them too close. You can put a path one foot off a tee, but golfers getting out of the carts must step right on the tee area, causing wear. As noted in the photo, keeping the 25 feet or more from tees and 40-60 feet away from green edges helps a lot.

Limit Obstructions (like trees, mounds or bunkers) between paths and tees, fairways or greens, since they funnel traffic. This leads to:

• Placing the path on the side of the fairway where there is no bunker.
• Placing the path on the side of the green where there is no bunker.
• Keeping a simple tee edge between path and tee, so as not to concentrate traffic.
• Do not place trees between cart path and green/tee, as it creates cow path on either side.
Crossing fairways increases fairway accessibility and is okay, if you avoid prime landing areas! It is convenient and can be hidden well with a low ridge. Good locations include:

• In front of the tee - but crossing no more sharply than 30 degrees. The path needs to direct golfers at least 2 feet forward for every foot sideways to keep carts on the path.
• 300-plus yards from the tee, past the prime landing zone.

Avoid Sharp Curves. How many sharp curves have you seen with cobbles, pavers or more concrete added? So, why do it again? Carts max out at about 16 mph, and require about a 55 feet radius minimum at that speed. Curves should be broader than that, and any "T" sections connecting two paths should have these "high speed" intersections.
You can further aid agronomic impacts of carts by:
• Routing cart paths on the south and/or east sides of golf holes in wooded areas. This effectively "pushes" your turf areas north, allowing better morning sunlight penetration to these areas. (Southern Hemisphere readers should reverse this advice . . .)

Using green-to-tee cart paths through wooded areas as wind slots by aligning them with prevailing breezes to provide air circulation.

• Make sure your irrigation system favors the cart-path side of the fairway. Insufficient irrigation combined with the stress of additional cart traffic stresses and kills turf quickly. Ideally, there may be a sprinkler just outside the path, so it gets double coverage. If not possible, the sprinklers ought to be within 40 feet of the path to assure adequate coverage.
In the Photo: Note that the entry to the start of the fairway is just adequate, with two zones on either side of the forward tee. You would expect some wear in the exact lowest spots of those two areas as carts tend to follow both the shortest and most level route.

The exit from the first landing zone, where most golfers return to the path just past the big fairway bunker, is also just "adequate," However, the 150 yards of unimpeded access between landing zones spreads wear pretty well. On the highest-play public courses, it would be better if there was not a fairway bunker on the right. Even trees or small mounds can tend to concentrate traffic too much on either side.

The exit from the second landing zone to the cart path is restricted to two 40 to 50-foot-wide zones, which may be too small. And, whenever there is a bunker on the cart path side, carts tend to drive to just outside it. Again, taking the shortest route possible, unless stopped by ropes, causes wear.

Note that the green has two cart paths - the full one to the right, and a secondary one on the left. While few courses like the cost or look of a second cart path, wherever I have used them, about 15 to 20 percent of golfers use the alternate path, greatly reducing wear areas associated with a single entrance point just ahead of the green.

When cart paths are visible, as here, I try to smooth the curves out visually. To my eye, the curve just below the main tees is just a little too sharp visually, as is the curve, as it starts around the first fairway bunker on the right.
Jeffrey D. Brauer began his career as an apprentice in the Chicago area in 1977. His first project was Kemper Lakes, which shortly after hosted the 1989 PGA Championship. He formed GolfScapes in Arlington, Texas, in 1984. In the last 29 years he has designed and consulted on a wide spectrum of projects, ranging from partial renovations to international resorts. His recent work includes teaming with the design team of Pascuzzo and Pate on a remodel of the world-famous La Costa Resort & Spa in California, and renovations at Superior National Golf Course in Lutsen, Minn., and Mesquite Municipal Golf Course in Mesquite, Texas.

He has been a member of the American Society of Golf Course Architects since 1981, serving as President during its 50th Anniversary year in 1995-96. Jeff still studies the classic works - both old and new, and has played more than 75 of the best courses in the world.

Jeff gives many presentations and is a regular architecture columnist for many publications and websites, including Golf Course Industry and Cybergolf.com. He has also been a strong advocate for the "Tee it Forward" campaign and strives to make his courses fit the description of "fun to play every day."

Jeff's work has been spotlighted in most of the world's major golf magazines. Golf World ranked him as one of the top-20 golf course architects and Golf Inc. ranked him as the world's fourth-best value in golf architecture in 2010. Jeff's portfolio and reputation keep him at the forefront of desired designers for new courses, reconstruction and renovation projects.
For more about Jeff, visit http://www.jeffreydbrauer.com/sites/courses/layout.asp?id=859&page=48451.