Q. Should Par-3 Holes be Designed Differently?
Answer: Par-3 holes are different than others, because there is no inherent strategic relationship between the approach and tee shot. The tee shot is the approach shot, and the starting point is usually relatively fixed, creating a slightly different design dynamic.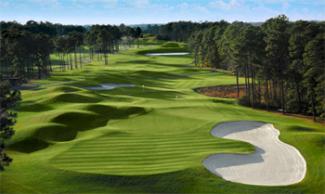 This photo clearly shows distinct targets on a big par-3 green,
but it cheats a little, in that it is a combined green
- the sixth and 17th at Avocet Course at
Wild Wing Plantation in Conway, S.C.
Donald Ross wrote that because the ball is on a tee, par-3 drives could be more difficult, with smaller and more tightly guarded greens. I agree with that in theory, and would add that they can also simply be more "interesting."

Without the tee-shot relationship, par-3 holes are good places for "concept shots" that require running up, curving around, or something else a bit more unusual than your standard, "It's 150 yards, so I'll take the 7-iron."

Famous concepts like the Redan, the Biarritz and the precision green (such as island green at TPC Sawgrass - even if wildly overused (I haven't done one in 20 years) - are more common on par-3 holes than anywhere else, perhaps because Charles Blair McDonald tended to use those there.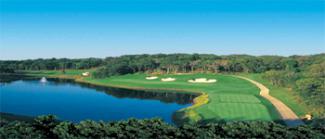 The 3rd hole at Cowboys Golf Club, Grapevine, TX.
A mid length par-3.


Incidentally, I also feel these long par-3 holes are perfect (along with reachable par-5s) for one of my favorite but little-used features - the partial cross-bunkers 20-30 yards short of the green. In these cases, it might still play as it did a century ago, since we can almost ensure most players are using fairway woods that need some roll-out.

For shorter holes where I want a small target, and because par-3 greens tend to suffer from ball marks, I often create very large greens subdivided into smaller sections with ridges, tiers, knobs, etc., with the plateaus giving you small targets within a bigger, easier-to-maintain green.

A century ago, cross bunkers like this one were common,
but have largely disappeared with the emergence of
aerial golf. On an ultra-long par-3, however, a cross bunker
20-30 yards short of the green might
still play in similar fashion.
How small can those targets be? Jack Nicklaus told me, that in his prime, he wouldn't aim for a target less than a 40-foot-diameter circle, thus ending further research on this question for me.

Variations on this concept are extremely wide or deep greens, such as the third shown here at Cowboys Golf Club in Grapevine, Texas. Each pin location requires a different club, but the same amount of precision. It plays differently every day. I have combined this green type with multiple tees and playing angles. Imagine how differently this hole would play from another tee in the lower left of the photograph!

The key is that the "hit it for the fat part or go for the pin" strategy almost seems wasted on a par-3 as it is a basic staple of other holes. Par-3 holes seem like an opportunity to try something somewhat unique.
Jeffrey D. Brauer began his career as an apprentice in the Chicago area in 1977. His first project was Kemper Lakes, which shortly after hosted the 1989 PGA Championship. He formed GolfScapes in Arlington, Texas, in 1984. In the last 29 years he has designed and consulted on a wide spectrum of projects, ranging from partial renovations to international resorts. His recent work includes teaming with the design team of Pascuzzo and Pate on a remodel of the world-famous La Costa Resort & Spa in California, and renovations at Superior National Golf Course in Lutsen, Minn., and Mesquite Municipal Golf Course in Mesquite, Texas.

He has been a member of the American Society of Golf Course Architects since 1981, serving as President during its 50th Anniversary year in 1995-96. Jeff still studies the classic works - both old and new, and has played more than 75 of the best courses in the world.

Jeff gives many presentations and is a regular architecture columnist for many publications and websites, including Golf Course Industry and Cybergolf.com. He has also been a strong advocate for the "Tee it Forward" campaign and strives to make his courses fit the description of "fun to play every day."

Jeff's work has been spotlighted in most of the world's major golf magazines. Golf World ranked him as one of the top-20 golf course architects and Golf Inc. ranked him as the world's fourth-best value in golf architecture in 2010. Jeff's portfolio and reputation keep him at the forefront of desired designers for new courses, reconstruction and renovation projects.
For more about Jeff, visit http://www.jeffreydbrauer.com/sites/courses/layout.asp?id=859&page=48451.