Q. What Shape Should Our Tees Be?
Early tees didn't seem to have gotten much thought. Like cities, whose roads were laid out in grids, no matter what the topography early tees were simple squares, but over centuries, a wide variety of design styles have evolved. Today, your architect can choose from many styles, using one as the predominant design style, but he shouldn't be afraid to "mix and match" a variety of styles to fit the land, the hole and provide variety. If pressed for a style name, he can call the course "eclectic."
Your basic choices are rectangles and curves. Rectangular tees connote an old style of course. They can have square edges (very traditional!) or have 8-to 10-foot radius curves, which are easier to mow. Rectangular tees are nearly 100 percent usable for tee markers, and can be slightly smaller than other tee styles, which reduces construction and mowing costs.

You can have vaguely rectangular tees, with one side straight and the other angled or gently curved to fit a space. (The straight side works best on the cart path side). The rough grass can come right to the "break line" between flat tee and bank, or be brought either above/inside or well below the break line to vary style (and in the case of the latter, allow drainage to more easily exit the tee surface without the surrounding rough impeding progress).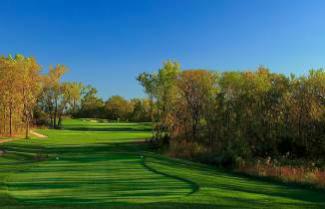 This is a gently rounded tee, looking quite natural
Rounded tees fit rolling ground best, and connote a natural design. You can simply round the rectangles a bit more, build circles or ovals, or even create a variety of freeform shapes, from simple to extravagant. If you allow the contours to dictate, the number of shapes is infinite. However, the more shape you put in, the bigger the tee needs to be, since many little curves and corners become unusable. You lose tee space in the name of nature or "artistry." In some cases, we have combined styles, such as a straight tee edge on the cart path side (to spread out traffic evenly) and freeform curves on the far side to fit contours.

Some wonder if you can mix tee styles on any golf course. Why not? The same green over and over would be monotonous and, to me, tees are no different. Using different styles for variety is encouraged. The key is matching style to location.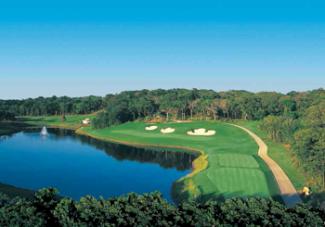 Cowboys Golf Club features rectangular tees
with tight rounded corners for
ease of maintenance
For example:

• Rectangular tees fit tight and flat areas where no design "cues" suggest a shape.
• Rounded tees can be used on rolling ground, always following the contour.
• Gently freeform tees should be used to follow and adapt to particular landforms.
• Wildly freeform tees can be integrated with existing trees, landscaping and contouring in larger areas.

Over the years, I have drawn from both natural ground contours as well as outside influences and random ideas to create tee shapes. Some examples:

• Double tees - Playing from either side of the cart path, or even from widely different angles. The hole plays a little (or a lot) different every day.
• Wide Tees - Most tees have more length than width, so this one sticks out as different.
• The "Y" Tee - (or "U", "E", "S" or "W" etc. shaped tee) - an odd shape, but noticeable.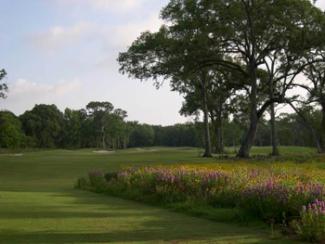 This is a 'fair tee where the fairway
simply continues back to the tee location
• The "Fair" Tee - Simply mow the fairway back to the tee area and place markers on level (or nearly level) areas. These can be at fairway grade, or in some cases need to be elevated to match grade.
• Sunken Tee. Placing tees in a deep valley - natural or manmade- creates a nice enclosure effect to start a hole, and may conceal the wind to the golfer. On possible tournament venues, it will provide spectator mounding. (On most courses, the first and a few closing holes are all that will require spectator accommodations for regional events.) For practicality's sake, it is probably necessary to enclose the cart path inside the mounds.
• The Rolling Tee - Some architects are now trying to make holes harder by eliminating the notion of the level tee.
• The Decked/Multilevel Tee - Breaking the tee into four to five "pods" is typical on prominent hillsides to fit the natural contour, balance cuts and fills, and provide vision to the fairway from the back tees.
• The Combined Tees - Two tees combined, or perhaps a tee combined with a putting green makes for a different look.

If your course used one each of the suggested tees, sprinkled between more "standard" tees, I believe golfers would notice and appreciate the different tee designs.
Jeffrey D. Brauer began his career as an apprentice in the Chicago area in 1977. His first project was Kemper Lakes, which shortly after hosted the 1989 PGA Championship. He formed GolfScapes in Arlington, Texas, in 1984. In the last 29 years he has designed and consulted on a wide spectrum of projects, ranging from partial renovations to international resorts. His recent work includes teaming with the design team of Pascuzzo and Pate on a remodel of the world-famous La Costa Resort & Spa in California, and renovations at Superior National Golf Course in Lutsen, Minn., and Mesquite Municipal Golf Course in Mesquite, Texas.

He has been a member of the American Society of Golf Course Architects since 1981, serving as President during its 50th Anniversary year in 1995-96. Jeff still studies the classic works - both old and new, and has played more than 75 of the best courses in the world.

Jeff gives many presentations and is a regular architecture columnist for many publications and websites, including Golf Course Industry and Cybergolf.com. He has also been a strong advocate for the "Tee it Forward" campaign and strives to make his courses fit the description of "fun to play every day."

Jeff's work has been spotlighted in most of the world's major golf magazines. Golf World ranked him as one of the top-20 golf course architects and Golf Inc. ranked him as the world's fourth-best value in golf architecture in 2010. Jeff's portfolio and reputation keep him at the forefront of desired designers for new courses, reconstruction and renovation projects.
For more about Jeff, visit http://www.jeffreydbrauer.com/sites/courses/layout.asp?id=859&page=48451.