Q&A with a Drive, Pitch & Putt Contestant - and His Father
By: Jeff Shelley
Jack McMullin was among the 88 junior golfers from around North America who competed in the inaugural Drive, Chip and Putt Championship in April at Augusta National Golf Club.
The McMullins at Augusta National Golf Club
In addition to the Masters Tournament, the event was put on by the USGA and the PGA of America. In its first year of 2014, about 17,000 participants were involved in 110 local qualifying sites at courses around the U.S. The finalists came to the famed site of the Masters Tournament, with the field derived from 11 regional winners. The champions in the various age categories were determined by their total number of points.

The event was such a success that it's expanding. In advance of the 2015 finals, the competition will involve 50,000 junior golfers at 256 host sites at all 50 states in June and July of this year. The top-three finishers will advance to one of 50 sub-regionals in August, with the top two players in each division making it to regional qualifiers at 10 sites in September. A total of 80 players - 40 boys and 40 girls - will earn a trip to Augusta National for the finals on April 5, 2015.

Jack McMullin was accompanied on the 2014 trip by his father Brady, mother Sheri, sister Hannah, uncle Casey (a golf instructor) and family friend Bob Losey. The McMullins are members at Sand Point Country Club in Seattle.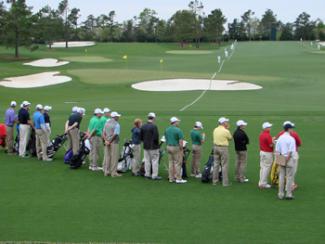 Contestants Lined up at 2014 Drive,
Chip & Putt Championship
The outcome was close. Jack racked up seven points in the driving part of the competition, 11 in the chipping and six in the putting, finishing with 24 points, a mere point behind champion Bryson Bianco of Tallahassee in the boys 12-13 age group.

Cybergolf recently conducted the following Q&A with Jack, and posed some questions to his father Brady. Here's what the two of them had to say about their experiences in the first-ever Drive, Chip and Putt Championship.

Jack

How old are you and how many years have you been playing golf?

I am 12 years old, and I have been playing golf since I was 2 in my backyard with plastic clubs. I played my first nine holes when I was 4 at Rainier Golf & Country Club (in Seattle).

What's your handicap, and what do you like best about the game?

I am a 6.3 handicap, and my favorite thing about playing golf is everything. I don't like any certain thing about golf; everything is the same amount of fun and challenge.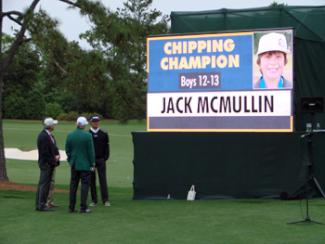 Jack's Announced as Chipping Champion
What was your experience like at Augusta National and what's your favorite memory?

My experience at Augusta National was one of the best moments in my life and knowing that I earned my way to go there was priceless. The memory I recall when I tell other people is that I know how fast the Augusta greens really are and after I won the chipping competition that I got to shake Bubba Watson's hand before he won again.

Were you nervous? If so, why?

I wasn't really nervous because I didn't care if I won or not. Going there is winning no matter what place you get.

What's your favorite memory of the actual Drive, Putt and Chip competition? Were you disappointed to come just short of winning your age group?

My favorite memory is when I got to putt on the 18th green for my final putt to win and how I almost made it.
Were you able to attend the Masters? If so, what rounds/days were they and which of your favorite players did you get to see?

I was able to see the Tuesday practice round, and I got to see Dustin Johnson, Phil Mickelson, Rickie Fowler, Jason Dufner, Adam Scott, Jordan Spieth and Bubba Watson.

Are you entering next year's Drive, Putt and Chip competition?

Yes, my sister is signed up as well.

Brady

What other family members went to Augusta and what was the experience like for you and/or them?

All of our family went, Jack's mom Sheri and sister Hannah. My brother Casey went as well and someone who is kind of like my dad (not actually though). We call him Grampa Bob, Bob Losey. The experience was really terrific. Everything from the way they handled the travel arrangements, to how organized everything was. It was really cool seeing how so many people can work together for the overall good of the experience. It felt quite special to go into the clubhouse for lunch and be behind the ropes. Hannah said she liked getting autographs from some of the players.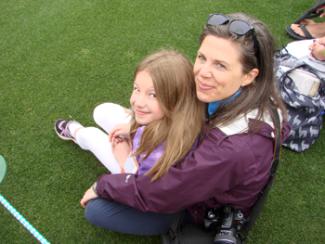 Sheri & Hannah McMullin
Were you nervous and, if so, why?

I was not really nervous at all. I've seen him play in a lot of tournaments and get announced on the first tee. This was another level, of course, but I guess I only get kind of choked up with pride sometimes, not nervous, but I didn't at Augusta. I could have as I saw my wife and daughter in the stands (behind the tournament practice facility where the patrons watch). I could tell she was emotional and I almost felt that way, but I gathered it all back up so I could enjoy watching Jack do what he does. It was a bit overwhelming but oh so cool.

How did the people from the Masters, PGA of America and USGA treat the kids and the families?

Well, we really were made to feel very special and this was even more so when Chairman Billy Payne said in his speech during the banquet (on the Saturday before the DCP competition) that all of the contestants and families made him feel special - talk about cool! It was so genuine. I remember laughing about it - how can he feel special? He's the one making us feel special!

It wasn't just him and the Masters folks, it was Mike Davis and Tom O'Toole of the USGA and Ted Bishop of the PGA - each gave us one-on-one time talking about golf, school, other sports, life. Maybe things like that were more special to the parents as most kids wouldn't have known who these people were. But Jack knew. Everything felt just right. There were all the Golf Channel "personalities" in attendance as well.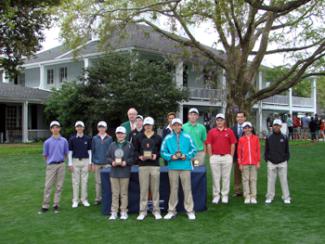 Jack (left-front), Winner Bryson Bianco
& Third-Place Caden Christopherson
What's your favorite memory of the experience?

That's kind of like asking me to pick my favorite kid! Impossible to choose! Well, I really liked the banquet. Meeting people from all over the country and Canada . . . all the bigwigs in the sport (non-players) and I especially liked the time Chairman Payne gave Jack and me with meaningful conversation. That was great.

A little hard to peg down just one experience because they all bled together. One fun memory has to be something J.J. (Weaver - co-head pro at Augusta National) said during the players meeting on Saturday night in which one of the dads asked, "What are the speed of the greens?" I could tell that J.J. was really hoping someone would ask this question. He leaned into the microphone with a smile on his face and said ". . . tournament speed." Big laugh there. It ended up being the running punch line the rest of the time.

Driving down Magnolia Lane has to be in there. Heading over to practice chipping on the members' practice facility (with a continuous supply of new Titleist Pro V1s). Watching Jack just crush drives on the member practice range only five stalls over from Sir Nick Faldo and Mark O'Meara and other Masters champions. A member stood and watched Jack hit balls and just shook his head. Kind of a neat feeling. I know what he meant - I do it all the time playing with and watching Jack swing.

All of the competition was great - to see Jack hit his two drives 230 and 232 yards down the middle was AWESOME. When they announced. "We are pleased to announce that Jack McMullin from Seattle is our Chipping champion." Wow, that was cool.
But maybe my favorite moment had to be when the boys were taken to the Tournament practice green, where Jack put down a couple balls and proceeded to stroke - quite slowly - about a 20-foot putt that never really picked up too much speed but never slowed down as it went past the hole he was putting to, and just kept going. Jack then turned to me with a huge grin on his face and mouthed the words "These greens are FAST!" I replied, "Tournament speed."

I'm never going to forget it.

It was so very satisfying, yet I want to do it again! And so does Jack.
Jeff Shelley is the editorial director of Cybergolf.