Q&A with a Grand Strand Veteran
By: Jeff Shelley
Visited annually by over 14 million tourists a year, the Grand Strand in South Carolina is home to a variety of attractions, including golf. Myrtle Beach - located at the epicenter of this sandy expanse bordering the Atlantic seaboard, has been called the "Golf Capital of the World" with over 100 courses in an area that stretches from North Myrtle Beach to the southern tip of Murrells Inlet.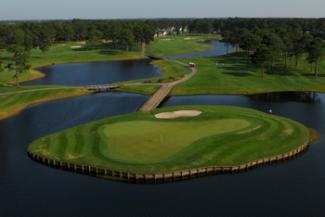 An Island Green at Man O'War
Golf has been played here since 1927, when Pine Lakes Country Club was built next to Arcady Resort. Since that time, this part of Horry County has blossomed with new layouts. Though overbuilding, the economy and a slump in residential lot sales have caused a few facilities to close in the past few years (just like in virtually every other section of the country), this is still one of America's prime destinations - particularly during the winter for Northeasterners - to play the Royal & Ancient Game. (For a complete course listing, visit http://www.golfholiday.com/courses/listing.cfm.)

I made a cross-country trek in mid-October from Seattle to Myrtle Beach to participate in the first-ever Golf Media & Guest Tournament. (I was the only attendee from west of the Rockies. When told where I was from, the other writers invariably remarked, "It rains there all the time doesn't it?")

About 45 writers and their guests showed up to play three days on the courses owned by our host, Claude Pardue, the proprietor of Mystical Golf. Claude's trio of 18-hole tracks includes The Witch, The Wizard and Man O'War. Considering the periodically heavy rains during our rounds, the greens and course conditions were excellent. Inside the clubhouses are served some of the best-ever chili dogs by friendly, fun-loving folks.

My wife and I had a good time in Myrtle Beach, and enjoyed our subsequent three-night stay in Charleston, S.C, a vibrant city with considerable history and excellent restaurants.

Claude and his staff were sterling hosts, exhibiting the legendary Southern hospitality that only seems to be found in this corner of the U.S. Though the courses were quite a bit different than the up-and-down affairs I'm accustomed to - Claude informed me that The Wizard only had two feet of elevation change, I enjoyed each of the layouts, all designed by Dan Maples, a Pinehurst-based architect who learned the trade from his father, Ellis Maples.

As noted in the Q&A session below, Claude is a master at marketing his facilities, giving each course an enchanting name under the umbrella of his Mystical Golf organization. He's also a veteran of the Myrtle Beach and Grand Strand golf scene.

So who better than Claude Pardue - whose nephew Dave Pardue is an Atlanta-based performer who wrote the song "I Love the Witch" in tribute to one of his uncle's courses - to describe the past, present and future of this long-lived, American golf hotbed?

Here's my chat with Claude Pardue.
Jeff Shelley: Before you became involved in golf, what did you do for a living?

Claude Pardue: When I finished college I went to work with my family's insurance agency in Burlington N.C. I worked there for nine years. I was not really interested in the business and my Dad was ready to retire, so in 1983 we sold the agency to the people that worked for dad.

JS: When did you become involved in golf and what's the chronology of the development of your three courses? Please describe the sites, number of acres for each course, prior owners of the properties, unique topographical attributes, etc.

CP: I grew up playing golf but that really wasn't what drew me to the golf business. I love business, I love studying business and studying people's buying habits. I was very intrigued with the golf industry. I found that for the most part, it wasn't a very professional industry. Not many were run as an operation on their own. Either they were built to sell home sites or they were run by hobbyists that hired their home golf pro and decided to be in the golf business.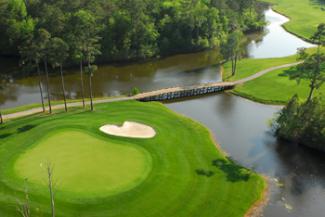 Aerial View of The Witch
I was intrigued with the tourist market as I realized that they could yield a higher dollar per golfer and there was a bigger market to attract from. I studied markets for two years before my partner at the time [Richard Lee] and I found a course in Southern Pines, N.C., right on Highway 1 that met all my criteria for purchase. It was rather rundown but still had a large volume of players, which meant that the public liked the golf course and that there was demand.

We bought it in December 1984. When we bought it, it was grossing a little over $550,000 in total sales. We owned it until 1999. When we sold it, we were doing $2.1 million in total sales. We bought it from a gentleman named Maurice Brackett who had bought it from Wachovia in 1978. I gained a lot of knowledge about what worked and what doesn't work during that time.

After we were able to get that business off the ground, I started looking for expansion opportunities. It became obvious that the best opportunity for us was to look at getting into the Myrtle Beach market and that we had a chance to do well by building an upper-end golf facility in Myrtle Beach. After looking for over a year at properties, I located a tract of land that Canal Industries had owned for 60 years that was located in the Wacamaw Swamps. It was a 500 acre-tract with 350 acres in the swamps and 150 acres of very rolling sand hills, which is very unusual for this area.

I fell in love with it because of the diversity of the property, allowing us to give our customer a lot of different looks as he plays our golf course. This is something that I really like. I don't like at all a course where every golf hole has the exact same look. We had picked Dan Maples as our architect simply because I love the style that he puts in a property. But even more important than that, I loved his reputation of working with his developers to do a true joint venture as it is the developer that understands that use of the golf course, how it is to be marketed as well as the desired utility.

I took Dan to look at the property and he felt exactly as I did. My background is finance and marketing and it was very important to me that we have a name that stands out. We discussed names for a long time and finally Richard and Dan had the idea of the Witch. Names are important in that I do not believe you should name a facility something like the Witch unless it is truly great. It would seem goofy if you did. It also matched the look of the golf course through the swamp. We opened the Witch in September 1989.
Two years later, I got a visit from the people at International Paper. They owned a 48,000-acre tract of land in the middle of Myrtle Beach that they had owned since the 1920s and had used for timberland. They had come to conclusion that the land was too valuable to continue using for timber and wanted to convert it to a community they were going to name Carolina Forest. They were so impressed with what we did at the Witch, they told me I could cut out what I wanted if I would build two 18-hole upper-end golf courses to get their development started.

After looking at the property, I determined that I wanted to build a facility with a major lake of approximately 100 acres. With the help of my engineers, we did soil tests all over that property until we found a site that we could build our lake and the two courses. The site is about 400 acres and had no water on it but, because of the makeup, it had an unusually high water table, allowing us to dig a hole and it would be full of water at about the 3-foot mark.

I thought this would be the magic that we needed for the facilities as it allowed us to design whatever type of hole we wanted. We have three island greens and two island holes on the property and had no limitations as to what we did in design. Dan Maples did a brilliant job of making this idea work efficiently and keeping the playability at a very high level, which is also one of his strengths. We named them Man O'War and the Wizard for basically the same reasons as the Witch. We opened Man O'War in January 1996 and the Wizard in July of 1996. In 1999, we sold Hyland Hills in Southern Pines to be able to concentrate on the business at Myrtle Beach.

JS: I understand that each of the courses has its own clubhouse; could you please describe the reasons behind that decision?

CP: We wanted three Identities to our golf courses. They were all built to be totally different in every way from the others so our customers would have three different experiences. By having three clubhouses, they have three different identities.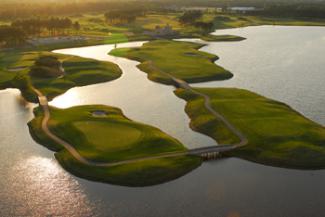 Water Guards Many Holes at the Wizard,
including the 18th on the Right
JS: What is the annual number of rounds played at each of the courses?

CP: Since opening, the Witch has averaged about 44,000 rounds and Man O'War and the Wizard have averaged about 42,000.

JS: What is your forecast for golf in the Grand Strand? Do you think the area is better insulated to handle the current down period in golf experienced elsewhere in the nation?

CP: I think that no one is insulated from the problems with our economy. I think my company has done a really good job of developing a customer base that just loves to play our golf courses. Even when times were great, we never shot up our prices. We have always believed in charging a fair price for a great product. Successful companies in my opinion are ones that give a customer true value. We have for this reason developed a loyal customer base. For example, the Witch has been rated a 4½-star golf course by Golf Digest. It is truly a great golf experience. There is no other 4½-star golf course in this market or any other that a customer can play for the price that we charge.

That way when he comes then leaves, he feels as though he got more than he paid for. When that happens, you have a very happy customer. That too is why Golf Digest called the Witch "The best value in golf in Myrtle Beach" and that is how we want our customers to consider us. For this reason we are holding our own in this environment. I do not think the market will spring back. I think the economy will grow from now very slowly. Lots of companies will have trouble frankly.

The good thing about Myrtle Beach is that we have a ton of options in all price ranges. This allows someone to come to the beach at whatever price point that they want. This also gives us a little bit of a marketing edge. You can come as nice as you want or you can come on your golf vacation as cheap as you want to.
JS: Do you have any plans to expand Mystical Golf with the acquisition of an existing course and/or construction of new one(s)?

CP: We are looking. We tried to acquire another property last year. But we are not going to press the issue. The opportunity has to be perfect. We are, however, acquiring three-bedroom condos right on the Wizard to be able to sell our own golf packages at a very affordable rate. We have spent a great deal on them to make them very nice. All are three rooms with at least four full beds. They are built for comfort. Our expansion for the foreseeable future is in opportunities like this.

JS: Who are your primary partners (if any) and/or senior managers at Mystical Golf?

CP: The golf courses are owned by a syndication that my brother, David Pardue, handled. He was in the business of syndicating real estate deals to single tenants. When I was expanding in 1989, that is the way that I raised the money to build the Witch. Richard Lee is no longer with me. I act as the senior manager and have department heads. Each golf shop has a golf director that runs the golf shop only. Graham Williams is at the Witch, Randy Broughton is at Man O'War. Tim Sauter is at the Wizard. A gentleman by the name of Mike Markowitz runs all my food services and Andy Apple is my chief agronomist overseeing the maintenance of all three golf courses. Elwin Miles assists me with marketing and operations. One of the areas that I am most blessed with is that I have attracted great people to be around me.

JS: What is your age, where were you born and how many children/grandchildren do you have? Are they all living near you?

CP: I am north of 50 - that is as close as I will give you. I have a daughter, Elizabeth, who is 28 and lives with her husband Greg Shultz, in Fuqua near Raleigh, N.C., along with my four-year-old granddaughter Chloe. I have a son, 26, Claude, Jr., who is the assistant basketball coach at Georgia State University in Atlanta. He is not married. I have a daughter Diane, 25, who works for BB&T Bank here in Myrtle Beach. She does not live with us and is not married, and my youngest, Margaret, 24, lives in New York City and works for the Huffington Post, a division of AOL, and she does not have a family.
JS: Do you get to play much golf and, if so, what's your handicap?

CP: The day that I got in the golf business, I was an 8 handicap. Right now, I would be about a 20. I work in the business 60 hours a week. When I am off, I really don't want to play. I would much rather do something with the kids. I do play when something special comes up, but that is about six to seven times a year. Elwin and I have started a children's foundation through our company and I work on it. This is very important to us. I love my company so when I don't have anything to do, I work more. I am also into model railroading, which relaxes me. Not sure if I want that printed as my children and friends laugh at me. I also love doing whatever with my granddaughter. These are the things that I enjoy.

JS: If there is one thing in the golf industry you'd like to change, what would that be?

CP: Basically, there is nothing in the industry that I would change at all. I find golf to be the perfect game for the public in a participation sport. I feel, however, that we are losing a generation of people playing. I think that young kids are not getting into golf or any other activity for that matter. In a lot of ways, I think it is because my industry priced themselves out of the market with new participants. That is a shame to me. We need to find a way to truly get kids involved with golf so the game can grow and not pay lip service to it.
Jeff Shelley is the editorial director of Cybergolf.