Q&A with Brad Faxon
By: Rob Duca
Brad Faxon, 52, grew up in Barrington, R.I., and as a teenager would bike to Rhode Island Country Club, where he caddied and worked in the bag room. Today, the eight-time PGA Tour winner is a member of the club and hosts his annual CVS Charity Classic there along with fellow Rhode Islander and tour pro Billy Andrade. Faxon now lives across the street in an expansive oceanfront home, complete with a "man cave" that features memorabilia from throughout his career, including replicas of the Ryder Cup, Fred Haskins Award he won as 1983 College Player of the Year, and personalized letters from Byron Nelson, Arnold Palmer and President George H.W. Bush.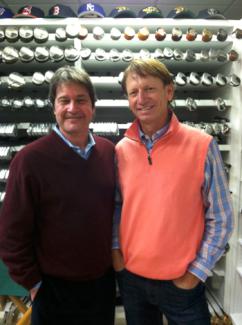 Cybergolf's Rob Duca & Brad Faxon
Faxon spent summers caddying for his father at Eastward Ho! in Chatham and has been a member there since 2001. He played a full schedule last year on the Champions Tour, winning once and earning more than $400,000. He also dabbles in golf course design and has worked as a studio analyst on the Golf Channel. I sat down with Faxon at his Barrington home to discuss his career, Tiger Woods, the belly-putter controversy and a variety of other topics.

You lived in Orlando when you were playing on the PGA Tour. Why did you return to Rhode Island?

I always came back for summers and would either stay with my father or rent some place in town. I moved back in 1992 when my daughters were old enough for school. Like everybody else I figured I had to live someplace else to make it on tour. When I moved back everybody said I was crazy. They wondered why I did it, and talked about not being able to practice in the winter, how it's harder to travel, the state taxes, all those reasons. But once I moved back, and this makes no sense at all, my starts in January, February and March got unbelievably better.

You're right, that makes no sense. How do you explain it?

I can make up a reason. I remember living in Florida and there wasn't really an off-season. I'd feel guilty about not practicing, and all my buddies would ask me to play. I never had the chance to recharge. If you look over time, the best golfers in the world didn't play a lot. [Jack] Nicklaus, [Greg] Norman, Tiger [Woods], they did a good job of spacing out their tournaments. People ask me what are the hardest things to learn about the PGA Tour and one thing is what courses best suit your game. I loved going to Phoenix, for example. I loved the air, the weather, the tournament. But I played lousy there. I never had a top-50 finish. After a while, it was like, "Why do I keep going there?"
When did you start thinking you could be a pro golfer?

As a kid, I wanted to be a pro golfer, pro baseball player, pro hockey player; whatever sport it was. I just wanted to go play. When I won the state juniors at 14, that's kind of when [other sports] took a back seat. And then in my third year [at Furman University] I was a first team All-American. I looked at the plaques of previous first-team selections and every one was on tour. So that's when I knew I could make it.

How do you assess your career on tour?

I wish I had known some of the things then that I know now. When I was a rookie I was in a rush to change a lot of my game. I played with Payne Stewart and I watched his grace, his rhythm, the beauty of his swing and how well he hit a long-iron. Then I played with Norman, who was the best driver in the world, and I thought I needed to be that. Then I played with [Tom] Watson, watched him putt, and Tom Kite, watched him scramble, and I'd always be saying I've got to do it like him, or him. You've got to believe in your own game and own way. If you had told me at 17 that I would have won that many tournaments or played on two Ryder Cup teams I probably would have said that was the coolest thing in the world. Now I know I blew my chances a few times to win tournaments, but what golfer hasn't? Look how many times Jack or Tiger finished second. But, obviously I would have loved to win a major or been in contention more.

You have a pretty impressive workshop here, with hundreds of clubs. Tell me about it?

I have a swing-rate scale, a lie-loft machine for irons and putters. I might bend an iron, make it flatter or stronger. Sometimes I just come down here and pretend I'm organizing. I've got a TV in here, so it's a weekend thing where I turn some sports on and just hang out. People come down and say, this is pretty extravagant, but this is what I do [for a living].
Speaking of tinkering, why do you many great golfers change their swings even when they're successful?

There's two schools of thought. You could say that Nicklaus stuck with Jack Grout and always worked just on fundamentals. I know that Stewart worked with different teachers, and Kite works with the busboy or the bellmen; he'll talk to everybody. And then you look at Tiger. Guys just want to stay busy, too. I don't think they can stay happy with themselves if they're not doing something with their game.

What was it like to throw out the first pitch at Fenway Park in 2005?

It was really cool for a lifetime Red Sox fan. As I was going out there to throw the first pitch, [then general manager] Theo Epstein walked by and said, "Don't try and lob it in there. You've got to throw it. Most people try to lob it and they bounce it." So now I'm thinking, well I know how to throw. But I thought I'd be throwing to Jason Varitek. Instead, it was some young ball girl. Now do I really throw it at her? I went ahead and threw it in there and did okay.

You've called Eastward Ho! one of your favorite places in the world. Why?

Architecturally, there are more features at this place than almost anywhere I've been. On a typical weekend when I was young, I'd caddie for my dad, we'd have lunch, and I'd go play nine holes carrying my own bag. He'd come join me for the back nine. My dad and his buddies always told golf stories. I loved hearing about tournaments, things that happened under pressure, something they had seen. I thought, "This is the coolest game in the world."

If you had one round of golf to play, where would it be?

I'd probably say Pine Valley [in New Jersey], and a close second would be Eastward Ho!. [Pine Valley] is a great golf course. It's one of those places that has this great history, a great clubhouse and is a phenomenal place to play.
You were known as one of the tour's finest pure putters? What made you so adept on the greens?

You have to spend a lot of time putting to be a really good putter. My fundamentals have pretty much remained the same. You've got to be able to see the break, combine the speed and the line, and then repeat it under pressure. And not to care if you miss. You better be confident or you won't be a good putter. I worked with [psychologist] Dr. Bob Rotella, and he has this axiom that if you're going to think about putting, think about putting great or don't think about putting at all. I've been able to do that. I learned on greens like Rhode Island Country Club and Eastward Ho! that had a lot of break in them. So I never played putts inside the hole. I also played in windy and cold conditions a lot, which makes a difference. People say you grew up in the Northeast, how did you become a golfer? They forget that Nicklaus grew up in Ohio, Watson in Kansas City, Palmer in Pennsylvania. You don't have to have everything perfect. In fact, I think you're better when conditions might not be perfect. When I first started playing Pebble Beach or went to Hoylake in Britain to play the Walker Cup, it was like that's what I'm used to.

What is the main difference between the regular tour and the Champions Tour?

On the regular tour you see your buddy and say, "Hey how's it going?" and they'll say, "I'm doing well." On the senior tour they'll say, "How you feeling?" They look at you like, "Are you okay?" It's unbelievable.

Let's talk the belly putter ban? Your opinion?

I honestly don't believe that the forefathers of the game wanted you to have a club anchored to any part of your body. The golf club, whether it's a full swing with the driver, a little pitch or a putt, is supposed to be swung. I don't believe there should be a fulcrum or anchor. But the timing of the decision is really difficult. I understand the USGA is the governing body and we should follow what they do, but I'm a big proponent of keeping this game the same for everybody. What I think the USGA found alarming is that the percentage of guys using these putters has really gone up the last few years. It used to be three or four percent of the field, then six percent. Now it's 18 to 20 percent. They want to do this before it becomes 50 percent.
Are there other changes you would make, such as rolling back the golf ball?

The guys who have been the biggest proponents of rolling back the ball have been the great old champions, like Jack Nicklaus and Gary Player. First of all, Jack never thought they should roll back the ball when he was out-driving everybody by 40 yards. If I said that to him, he'd get mad at me, but that's the truth. He's always said that the ball is the issue. He's never had a business that sold a golf ball successfully [Editor's Note: Nicklaus unveiled a new line of golf balls this fall, and they're not "rolled-back."] But he's tried to sell equipment, so in the same breath where he says you've got to roll back the ball, he says, hey, buy my [driver]. It goes 20 yards further. Now that doesn't make sense to me. The ball is going further, but not just because of the ball. The equipment is better, the shafts are lighter, the heads are bigger, the athletes are stronger and faster. What these guys don't understand is you could give Bubba Watson or Dustin Johnson the old drivers, with the balata balls, and they would still hit it further than Jack did because they swing faster.

Are courses becoming obsolete? Should the equipment be regulated for the good of the game?

I've never played with an amateur golfer who said, "You know what, this game has gotten too easy, the equipment is too good. I'm going to quit." Nobody says that, right? Guys hit it far, that's true. It's not easy, it's different. It's harder to control a wedge shot now. The grooves have changed a little bit; the balata ball spun a look more.

What other issues are there on tour?

The pace of play is an issue. I can think of things that might speed it up, like using a laser gun to get yardage rather than pacing it off. But I understand why they're not allowed to use them, because they could stand there [in the fairway] and watch a guy on the green and see that putts break to the right or to the left. So you're not allowed to use a telescope for a reason, and guys would probably abuse it.
Why do Americans have such a difficult time winning the Ryder Cup? Are they less passionate about it?

It's not a lack of effort. I don't know one player on the American team that gets there and doesn't care about winning. You're representing your country and 11 other players and, if anything, you try too hard because we're not used to playing for 11 other people or for our country. The most nervous I've ever been my entire life was my first practice round of the 1995 Ryder Cup. We walked from the range to the first tee and there was a gauntlet of people out there with American flags, cheering "USA!" On the first tee were Byron Nelson and George Bush 41. The announcer says, "Playing first, Brad Faxon from the United States of America." The place exploded. I thought I was going to die. I remember standing over the tee shot thinking, where's [captain] Lanny [Wadkins], figuring that he's probably going to watch this to see if I can handle it. I hit kind of an over-hook into the left rough. I thought it was a great shot. I get to my ball and Lanny says, "You won't hit it into the rough on Friday, right?"

What is your favorite memory of the CVS Charity Classic?

We had Arnold Palmer and Gary Player one year, and Billy and I were standing near the 18th tee when they came walking up the fairway. The stands were full, we're at our home club in Rhode Island, we're raising millions for charity, and I turned to Billy and said, "We did it." That was the proudest I've ever been.

Let's throw out some names and get your reaction. Lee Westwood?
He's a little bit like Colin Montgomerie. The most dominant player of the last few years in Europe, but he's hasn't won a major. He has that tag of best-player-never-to-won-a-major along with Adam Scott [Editor's Note: Scott took care of that label when he won the 2013 Masters.] Very talented. I think it's a matter of time.

Ian Poulter?

He's a tenacious guy. He's got a steady game. He doesn't have a technically perfect-looking swing, but he knows how to score and he knows how to win. He's the MVP of the last couple of Ryder Cups. He's made a huge name for himself because of the Ryder Cup.

Sergio Garcia?

He's one of the best hitters of the ball that I've ever played with. He has a funny-looking swing. He drops the club down a lot and has a lot of stuff in his swing that you can't really teach. But he hits it well and straight. His Achilles' heel is his putting. We've spoken a lot about his putting. I think it's in his head. I believe stuff to be much more mental than physical when you get to this level.

Phil Mickelson?

He's a bona-fide superstar, and I believe in this day and age it's harder to win tournaments and majors than it's ever been. Again, the old guard will dispute that. But there are more, better players now. If Tiger weren't around Phil would have won seven or eight majors. But he's the second-greatest player of our time.

Ernie Els?

The third-greatest player of our time. He's lasted a long time. He's got that beautiful, rhythmic, lackadaisical, Fred Couples tension-free golf swing. I wouldn't be surprised if he won a couple more majors.

Tiger?

He's a different Tiger than he was. He's got a different golf swing, a different shape to his shots. The world's been fooled a little bit, because you're led to believe that every time he won he hit every fairway and hit every ball perfectly. But he's never been a great driver of the ball. He's always been an unbelievable scrambler and grinder who seemed to will his ball into the hole. If he doesn't win another tournament I still think he's the best who ever played the game.
Rob Duca is an award-winning sports columnist who wrote for the Cape Cod Times for 25 years, covering golf, the Boston Red Sox, the Boston Celtics and the Boston Bruins. He is now managing editor of Golf & Leisure Cape Cod magazine and has written for a variety of other publications, including Sports Illustrated, the Boston Globe, Yankee magazine and Cape Cod Life.