Q&A With Fazio Associate Jeff Lawrence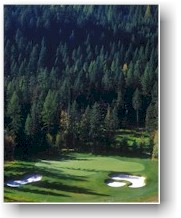 One of Tom Fazio's latest signature designs Ė Iron Horse Golf Club in Whitefish, Montana, opened on July 15, 2000. Becoming a member of the private club involves purchasing one of the 300 "cabin" lots overlooking the course and Whitefish Lake. Other nearby amenities includes Big Mountain Ski Resort.

With nearly 15 yearsí experience at Nicklaus Design and Fazio Golf Course Designers, Fazio associate Jeff Lawrence held the reigns as lead designer for Iron Horse. Cybergolf recently caught up with Lawrence at Fazio's Scottsdale office where he gave us the scoop on Iron Horse and the life of a golf course architect.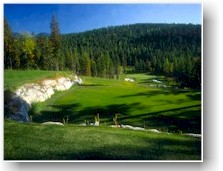 Cybergolf: Could you describe the layout of Iron Horse Golf Club?
Jeff: The course is built on the side of a mountain between Whitefish Lake and the Big Mountain ski area. Once you get closer to the course and are on the mountain, it is surprising because it doesnít feel like (that type of) course. There are amazing views of the mountains and of Whitefish Lake.
Cybergolf: When did you first start working on the design?
Jeff: The golf course was cleared several years ago and the actual construction started in April or May of í98.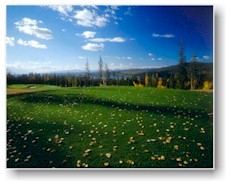 Cybergolf: What were some of the challenges that you faced during the project?
Jeff: On several golf holes we had a lot of drainage issues and sub-surface areas that we had to put in a lot of lineal pipe to handle the seeps coming out of the side of the mountain. Clearing wasnít a big issue and there werenít any wetlands.
Cybergolf: How long have you been with Fazio Golf Course Designers?
Jeff: About five and a half years. When I started there were three of us and now there are seven.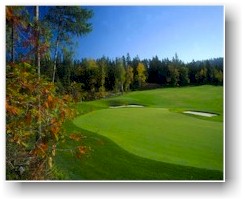 Cybergolf: Where are you from?
Jeff: I grew up in Cleveland and went to Arizona State University to play golf. After school I fooled around for about six months and then went to work at Nicklaus Design for seven years. After that I did a little bit of freelance with architects and did construction work and then came to work at Fazio and have been here ever since.
Cybergolf: What are some of your key design philosophies?
Jeff: I come more from the traditional side of design. I was fortunate enough to play a lot of great golf courses when I was young. Coming from the older-style courses, it's definitely influenced some of the courses Iíve worked on, with the bunkering and squared tees for example.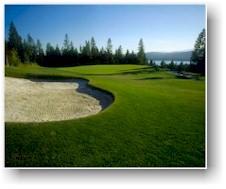 Cybergolf: Describe the relationship with your clients in Whitefish.
Jeff: They just let us do our thing. We did six or seven routings and then after (the area) was cleared, we changed two holes, making No. 16, which was a par-4, into a par-3 and vice versa with the 17th hole, which overlooks a deep gorge and ravine.
Cybergolf: Where do you see yourself in five years?
Jeff: Hopefully, as one of Tomís senior guys and helping the company to grow.

Cybergolf: Is there anything else you would like to add?
Jeff: Itís a great spot for golf, with perfect weather and there is so much to do in the area. It is a fun course to play with great views. We try not to block off any of the greens with strong contoured bunkers so there is always a way into the green. Itís a nice mountain course but it doesnít feel like a typical mountain course that is cut out of a hill.