Quail Ridge, Delray Dunes Reprise Annual Battle for Golf Road Cup
By: Jay Flemma
One of the undisputed truths of golf is that it is a celebration of both the unquenchable human spirit and altruistic virtues, even though the competition is as fiercely contested as though American hegemony were at stake with every shot.
Football players "swagger." Hockey players fight. Soccer players roll around on the ground crying like Nancy Kerrigan in a hilarious "theatre of the kidney stone afflicted" every time someone gives them a love tap on the field. But few events celebrate both competition and sportsmanship like golf. In championing such lady-like and gentlemanly sporting virtue, golf stands alone.

"Golfers try to clobber each other ruthlessly for 18, 36, even 72 holes, but then they take off their caps, look each other in the eye, smile, shake hands, and then do it all over again the next week," said Hall of Fame pro Ray Floyd after a particularly grueling battle with Tom Weiskopf and Hal Sutton. "It's what separates our sport from all the rest."

Team golf in particular highlights all these values, yet still affords the most compelling form of competition the sport has to offer. The recent runaway success of the Ryder Cup has demonstrated this time and again, and as the biennial competition between teams from the U.S. and Europe has grown so too has the public's desire to participate in similar team competitions, whether for their colleges, states, local communities or even their country clubs.

Indeed, no less a personage than Jack Nicklaus - winner of 18 major championships in medal play - said back in the '80s that team golf pitting city against city (Boston versus New York, for example), was "the salvation of the tour." Nobody listened to him back then because they were preconditioned and afraid of change. But time has proven the Golden Bear prophetic as everyone longs for their chance to share golf glory with teammates, and such challenge matches have blossomed at clubs and between states throughout America.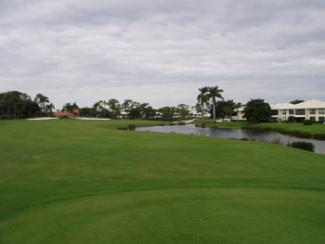 Short but Dangerous par-4 8th at South course
This weekend, far from the glitz of network cameras and TV towers and the dark mirror of the print media, but much closer spirit of local country clubs and public golfers nationwide, team golf gets yet another chance to shine as perhaps the country's best grass-roots level, club vs. club match is contended for the 12th consecutive year. Quail Ridge Country Club, the home of senior amateur golf, and Delray Dunes, the Pete Dye design which is home to many former pros, lock horns for the Golf Road Cup in Florida.

The tournament has grown so much in stature - it not only commands local interest, but state and national attention due to the quality and pedigree of competitor - that the competition just to make one of the squads is passionately intense.

"National members of both clubs who live in the north fly down just for the qualifying rounds," explains Quail Ridge team member Kevin Hammer, whose passion for the matches exemplifies that of not only the players but the members of both clubs. "It means so much for them to make the team, represent their club, and play in the event, that they make it a priority to keep their schedule clear so they can make it down south to play in the qualifiers."

After surviving their respective club's grueling qualifier, team members compete in a two-day, Ryder Cup-style match. The pros from the respective clubs even get in on the fun by playing one match each over the course of the weekend. Day one features two doubles sessions: five alternate-shot matches in the morning, five best-ball tilts in the afternoon. On day two, the players battle one another in 10 singles matches. Including the three pros from each club, there are 15 players on each roster. A total of 10.5 points is needed to win the Cup; in the event of a tie, the defending champion retains the Waterford Crystal bowl that serves as the trophy. There is also a Women's Road Cup contested the day before.
After losing the inaugural event in 2000, Quail Ridge rattled off an astounding eight consecutive victories in the series. With its roster bursting with well-decorated amateur champions and seasoned tournament veterans who play in organized competitions year-round, Quail was rightfully proud of their dominance. After all, there's golf and then there's tournament golf, and only upon being forged and tempered in the crucible of nerve-fraying, heart-wrenching, saber-rattling competition can one ascend to victory in competition at the highest level. With all their Society of Seniors Tour experience, the Quail Ridge players held a vast advantage in the early years of the event and soared to victory time and again.

However, a crop of young lions has recently swelled the ranks of the Delray Dunes team and, together with a core of former tour pros, they rallied to tie the 2009 matches (although Quail Ridge retained the Cup), then they "shocked the world but not themselves" as they surged to victory last year on their home course.

This year the matches will be played on Quail Ridge's newly renovated South Course, originally designed by Joe Lee, the long-time associate of Dick Wilson, and recently renovated by Florida designer Kipp Schulties. The course features white-sand, flash-faced bunkers that wreak havoc on a player's depth perceptionl; a burn winding through several holes; and green contours with cunning micro-movements and interior contours that require deft putting. With a few diagonal hazards, the South has some interesting strategic requirements off the tee as well.

Perhaps the most interesting hole on the course is the fiendishly tempting, short par-4 eighth. Though only a puny 300 yards on the card, the green is as well protected as the 18th at Carnoustie in Scotland. From the tee, the green winks at you like a leggy, short-skirted and fiery redhead from your favorite bar. But a wide, watery burn, out-of-bounds, a narrow strip bunker, and palm trees encircling the green make her a fire-breathing Ulrica ready to burn your scorecard with one bad swing.
Golf handicapping experts install Quail Ridge as the favorite this year. First, they have a strong home course advantage as they know the fiendishly clever and subtle breaks on the greens much better than their counterparts from across Golf Road.

Second, as the home of the Society of Seniors, the Quail Ridge roster is a top-to-bottom "Who's Who" list of well-decorated amateur champions. They have strength throughout the lineup. There's Ronnie Grove, a two-time competitor in the USGA Senior Amateur and a five-time U.S. Father-Son champion. Steely-nerved, iron-willed Kevin Hammer was a medalist in qualifying for the 1996 U.S. Open, is a perennial threat in all the major amateur championships like the Travis, Crump and Anderson tournaments, and is the reigning state of Florida Mixed Team champion with his 14-year-old daughter Alexa. Carl Everett is a four-time club champion at fabled Merion Cricket Club. Bob Ferrel has played in the U.S. Senior Amateur, British Senior Amateur and the British Senior Open. David Rowley owns the course record at both Quail Ridge (South) and nearby Country Club of Florida, 64 in both cases. Even the pros are a "Murderer's Row line-up. If Charlie Bowie doesn't get you, the husband-and-wife tag team of Pam and Dan Brosnihan will.

Of course, leadership starts at the top, and Honorary Captain Herrald Kirkpatrick played in the U.S. Open, British Open, U.S. Amateur, British Amateur and British Senior Amateur.
But they play golf for the Golf Road Cup, and in the eyes of the Delray Dunes squad, the more decorated champions they face the greater the glory when they rise up and upset the heavy favorite. Quail Ridge may have senior amateur all-stars, but "the Dunes" has the trophy right now and plenty of talent too.

Two former touring pros are the beating heart and inspiring soul of their team. Bob Murphy, who many of you know from NBC golf telecasts, has five PGA Tour victories and won the 1965 U.S. Amateur at the broiling furnace of Southern Hills Country Club in Tulsa, where they start hydrating for events six months in advance. Wake Forest grad Jay Sigel won back-to-back U.S. Amateurs in 1982 and '83 at Brookline's The Country Club and Milwaukee's North Shore, respectively. They also return five members with no less than nine years Golf Road Cup experience.

Finally, though he won't be playing in the event for the first time in its history, former Delray Dunes head pro Laurie Hammer will certainly provide inspiration for his team. A former victor on the PGA Tour and winner of nearly every honor the PGA of America can bestow upon a teaching- pro member, Hammer - a dead ringer for a young Robert Redford - is a warm and vibrant influence on everyone around him, bringing the sun with him wherever he goes. As the patriarch of the Hammer family, the first family of South Florida golf, he is the game's equivalent of a priest with a penitent, ministering the swings of his charges with white-hot passion and fervent dedication. He'll rally everyone around him to even greater heights than even they thought attainable.
So as the sun sets and the Christmas tree lights that decorate the palm trees wink on one by one like the stars above, players and friends form both sides gather in the Quail Ridge clubhouse for the party and dinner of special magnificence. Like the knights of old, on Saturday January 8th they'll clash shields and swords, Big Berthas and Scotty Camerons, but tonight they feast.

As usual, the Quail Ridge chefs surpassed themselves. It snowed food and rained drink, and broad smiles and fond remembrances were the highlight of the evening. (The steak is especially savory, cuts with a fork and melts like butter in your mouth). Excitement has risen to a dizzying height and all the Palm Beach golf community is abuzz with the excitement.

It's a celebration of all that is great about our game. No matter which team lifts the trophy Sunday night, all of golf wins . . . as it should be.


Since launching his first golf writing website in 2004, http://www.jayflemma.thegolfspace.com, Jay Flemma's comparative analysis of golf designs and knowledge of golf course architecture and golf travel have garnered wide industry respect. In researching his book on America's great public golf courses (and whether they're worth the money), Jay, an associate editor of Cybergolf, has played over 220 nationally ranked public golf courses in 37 different states. Jay has played about 1,649,000 yards of golf - or roughly 938 miles. His pieces on travel and architecture appear in Golf Observer (www.golfobserver.com), Cybergolf and other print magazines. When not researching golf courses for design, value and excitement, Jay is an entertainment, copyright, Internet and trademark lawyer and an Entertainment and Internet Law professor in Manhattan. His clients have been nominated for Grammy and Emmy awards, won a Sundance Film Festival Best Director award, performed on stage and screen, and designed pop art for museums and collectors. Jay lives in Forest Hills, N.Y., and is fiercely loyal to his alma maters, Deerfield Academy in Massachusetts and Trinity College in Connecticut.