Question No. 4 Comes from a Minnie Malist, from Traverse City, Michigan
If you won't cut infrastructure, what can you do in design to meet tight budgets?
The best way to cut a budget 10% is to build 16 holes, but no client has accepted that idea – yet. Assuming 18 holes is required, we minimize architectural features, and make those as artistic as possible. The first items we cut are waterfalls, landscaping (which can be added later) and retaining walls.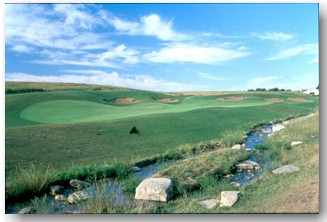 The 3rd Hole at Colbert Hills, Manhattan, Kansas. Improving a dry stream by adding pumps, rocks and landscaping ensures it flows all year, and not just rainy spring days. On upscale courses, amenities are competitive advantages, but on most courses, we eliminate these quickly.

We also save money by "nickels and dimes," which probably consumes most of our design time. We meet budgets by keeping expensive features as small and practical as we can:

Greens
Average green size is 6,500 square feet each. We make them smaller by flattening contours so all areas are suitable for cup-setting. At $5 to $6 per square foot, reducing the average green size by 10% saves $65,000 to 75,000.
Tees

Tees usually average 8,000 square feet per hole. We reduce that size by using rectangular – vs. free-form – tees because the entire tee is usable. Bigger savings come if we don't require a special sand mix.
Fairways and Roughs

We narrow fairways and eliminate double fairways despite their excitement. Fairways were wider during the Golden Age, but the Great Depression and World War II led to the belief that one fairway per hole was quite enough!

Each natural acre disturbed to create rough or fairway costs about $15,000 for clearing, grading, drainage, soil preparation, grassing and 10-11 irrigation heads. Reducing fairways from a comfortable 45 acres to 35 acres – still more than some courses have –saves $150,000.

Bunkers

Our typical course has about 75 sand bunkers, costing about $3,500 each. Reducing that amount by 30 bunkers saves up to $100,000. Substituting local sand for more expensive imported white sand saves more.

Irrigation

Irrigation systems for 18 holes cost $800,000 to $1,600,000. Longer watering cycles and reduced rough coverage reduce pumping capacity and pipe size.

The real purpose of an irrigation system is to protect turf, not make it perfect every day. I encourage the replacement of older-style systems, which watered many out-of-play areas during the day. Churches aren't designed for Easter Sunday, and irrigation systems shouldn't accommodate "full green" on the hottest summer days!

Earthmoving

I reduce earthmoving to what's necessary for drainage, vision, and the course's main features, while eliminating discretionary features like fairway mounds. Since mounds increase irrigation requirements and maintenance, these savings are perpetual.

A good architect using a site's natural features saves money over one who "imposes" his design on the topography.

Clubhouse, maintenance facilities, parking, utilities, land, permitting, and maturation account for 50-60% of a project's cost. Other ways to lower the budget involve having the property be donated, choosing land that won't cost as much to permit or build, and opting for a modest clubhouse.