Ramblings from the Road
By: Aidan Bradley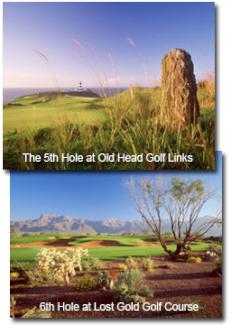 I am lounging here in Montego Bay in Jamaica, enjoying a refreshing tooty-fruity drink as I glance out over an enchanting, multilayered azure sea. The waves are slowly ambling up onto the white-hot sandy beach and reluctantly receding beneath the next advancing wave, only to start the process all over again. The serenity of the moment is only disrupted by the noise of a blender serving up another inviting concoction for the newest tourist to arrive from the East Coast.

Okay – so now you know where I am. I only mention this to remind myself of all the interesting places I have traveled to, since embarking on this whimsical photographic journey.

The one question I am asked the most is: "So where is your favorite golf course"? It's like asking, "Which single-malt whiskey do you most enjoy?" Or, "Who was your favorite ex-girlfriend"? If you've been married for more than 10 years, they all were.

The palette that I get to play with is as diverse as an array of Pantone colors. Case in point: Presently I am in Jamaica – where the purified air fresh off the Caribbean Sea's dance floor navigates its way through the tall coconut-laden palm trees – as I shank another Titleist into the green-side bunker.
Next week I will be in the hot-dry desert of Las Vegas, still shanking another expensive Pro V1 into a misplaced sand trap. In the evening, my senses will be assailed by multicolored neon lights and every beeping, gurgling, and chirping sound ever invented. Waitresses with skirts so short . . . if my eyes so much as stray from theirs, there is not enough blood pressure medicine to prevent a bolt to the heart.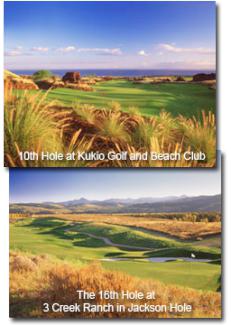 Bloody Point, on Dafuskie Island off the coast of South Carolina, is aptly named. After three flights, a 45-minute ferry ride and 10-minute bus trip, I am on the golf course. As soon as I have put my camera on the tripod, I am attacked by a cloud of "no-see-ums." Within minutes I have more holes in my body than a pin cushion. They should rename the course, "Bloody Points!"

Speaking of bugs, Gray Plantation in Saint Charles, La., has mosquitoes so big they make flying pigs look like distant cousins. I needed a quart of blood when I returned home just to maintain a healthy level.

3 Creek Ranch, a new course on the outskirts of Jackson Hole, Wyo., meanders through a wonderful meadow within view of the majestic Tetons. An environment so fresh, invigorating and healthy, I almost considered quitting drinking.

Speaking of tea, the comfort stations (Hawaiian for restrooms) at the fabulous Kukio Golf and Beach Club on the Big Island are stockpiled with more exquisite miniatures than a 747 inbound to Los Angeles from Singapore. The Tom Fazio design miraculously sprouts from the molten lava, graciously provided by the volcano goddess Pele. I wouldn't want to be around when she gets angry again.

And now, from the lavish to the natural. Ballyliffin Golf Club, which is as far north as you can get in Ireland without stumbling into the frigid North Sea after a couple of pints of Guinness, sports two fine links courses. The neighboring area has a grocery store/gas station and five hotels. The only activities in this beautiful part of the country are golf, golf, golf, and funeral lunches.

Heading in the other direction, as far South as you can go, is Old Head Golf Links which, arguably, occupies one of the most spectacular pieces of land ever to accommodate a golf course. However, beware, as one false step, or a mighty gust of wind, and you will follow hundreds of poor misguided sheep which, over the years, have done the "Fosbury Flop" into watery Atlantic Ocean graves.

While in this part of the world, how can you not talk about a couple of classics? I have had the good fortune to visit, play and photograph the Old Course at St. Andrews. It is as flat as the plains of Texas and has more bunkers than Normandy on "D-Day." That said, the "Holy Grail" is a must pilgrimage for any passionate golfer. Near the top of Scotland is a true gem, Royal Dornoch. If not for its remote location, this course would definitely be on the British Open rota. The only things that might ruffle your feathers at this links are the lack of yardage markers, on-course bathrooms (easy on the haggis before teeing off), and the occasional RAF flyboy practicing his "need for speed" over the Dornoch Firth.

Okay, time to get back across the Atlantic and wrap up this installment, as I can hear my editor mumble, "That's enough diatribe for this issue – finish it up" (Editor's Note: Not true.)

Getting back to the original point of "variety," the Lost Gold Golf Course in Mesa, Ariz., hosts an LPGA event in March. There is nothing like the dry desert air, flora and fauna, and the proverbial cacti that permeate this wonderful facility at the base of the ever-impressive Superstition Mountain.

In sharp contrast, you have the courses of Alberta, Canada. The perfect road trip starts with Jasper (where I lost and found my engagement ring). Then on to Banff Springs (where I proposed after completing 18 holes and consuming two stiff Irish whiskeys). Up the road a piece is Silver Tip (where she said "Yes"). Across the highway you will find Stewart's Creek (where I wondered, "What have I done?"), and finally on to Kananaskis ("Let's get out of here before either of us change our minds"). These courses weave their way through the Rockies and climb straight up from the fairways all the way to Heaven.

My Jamaican bartender, who has been standing in front of me for the past five minutes, has a pearly white grin from ear to ear. He is either an advertisement for a local dentist or been sipping too much happy juice. Mine is the only stool that has not been inverted on the bar, so I guess that's his polite way of saying, "It's time to go home Sir."

Slainte (Jamaican for "Ya Mon"}


Aidan Bradley is regarded as among the best at his trade and is widely recognized for his ability to capture the excitement and mood of a golf course.

Over the years, Aidan's images have graced the pages of all the national golf publications and he is a regular contributor to golf coffeetable books such as "Nicklaus by Design," Golf Digest's "Top 100 Courses You Can Play," "Golf, The Women's Game," and many others. Titleist, Spalding Worldwide, Taylor Made, and Top Flight are but a few of the clients who have used Aidan's images in their ad campaigns.

Aidan was born in Cork, Ireland, where he lived for 21 years. He now resides in Santa Barbara, Calif., from where his work takes him to places that the most passionate golfer dreams of: St. Andrews in Scotland, Augusta National in Georgia, Ballybunion in Ireland, and The Challenge on the island of Lanai in Hawaii. Whatever the assignment, Aidan's focus on light and the surrounding natural environment consistently produces images that evoke a mood that even non-golfers find attractive and compelling.

For samples of Aidan Bradley's work, and more about this outstanding golf photographer, visit http://golfcoursephotography.com/home.asp.