Rays Shine Brightly - Delray Dunes Outlasts Quail Ridge, Defends Golf Road Cup Title
By: Jay Flemma
It was Yankees-Red Sox, Steelers-Patriots, and Celtics-Lakers all rolled into one, and it went into the bottom of the ninth, the two-minute warning, and the last possession of the ball before it was finally settled.
Nick Coon Sinks the Cup-Clinching Putt for Delray Dunes
A steely-nerved Delray Dunes Golf Road Cup team withstood Quail Ridge's furious Sunday charge to eke out a narrow 12-10 win in the 12th annual battle between the two clubs. It was not only Delray's first title defense in tournament history, but also marked just the second time that the Dunes team has won the Cup at Quail Ridge. The last was in 2000 - the first meeting between the two teams. The overall series in Boynton Beach, Fla., stands at 7-4-1 in favor of Quail Ridge.

Quintessential Delray Dunes Golf Road Cupper and former PGA Tour player Jay Sigel led the Dunes with a perfect 3-0-0 record and took home the Most Outstanding Player Award as voted by the assembled media. Sigel won his two doubles matches 2 & 1 and held on for a 3 & 2 singles match over five-time Merion Club champion Carl Everett. Fellow PGA Tour veteran Bob Murphy also went 3-0-0 for Delray Dunes. Kevin Hammer led the Quails with two wins and a tie.
"Golf was the real winner this weekend," said a humble and grateful Tony D'Angelo, the Delray Dunes captain who sadly was sidelined from playing by a rib injury on the eve of the matches. "We may take home the Cup, but we also take home memories of brilliant golf from both sides, whether it was Jay, Murph and Jack (Schoenfelt), playing so tough down the stretch, or whether it was Quail's Bob Harris winning his singles match at 82 years old and being as much of a graceful and classy person as he is a brilliant player. That's the true greatness of this event."
Indeed, well-decorated champions on both sides staged epic battles throughout the day, while purple-and-gold clad Quail fans and green-garbed "Rays" supporters cheered fervently for their respective club.

"Isn't this something?" asked a smiling Herrald Kirkpatrick, the Honorary Captain of Quail Ridge, and it was. Nails were bitten at every shot, collective breath was held at every putt, and joyous cheers rang across the golf course, echoing off the palms. Even the children of members got into the action painting their faces with their club colors or wearing festive homemade rosettes on their shirts.

Although Delray was in the driver's seat most of the day, a late surge by Quail nearly stole the Cup at the last moment. Quail Ridge trailed 6-4 going into the 12 Sunday singles matches, and for most of the day the Dunes enjoyed a slight edge, or was no worse than tied in the singles bouts. Quail was dominating the top half of the draw, while Delray was leading in the late matches. Moreover, as the defending champion, Delray needed only 11 points to retain the Cup while Quail need a half point more to wrest it away.

But as early matches finished and purple logo after purple logo went up on the scoreboards around the course, Quail's remaining players heartened and began a late surge. In the span of just half an hour the 6-4 deficit had become an 8.5 to 7.5 lead for Quail Ridge. First, Bob Ferrel defeated Wayne Warren 2 & 1. Then the 82-year-young Harris, who had huge galleries following him all day, closed out Rob Valashinas 3 & 2.

"It was quite a sight," remarked on fan, "seeing Rob congratulate Bob and then shoulder his bag and walk up 18."
Then Delray's Troy Wheat and Quail's Keen Shackelford jousted back and forth like mighty knights before settling for a half each, and after Jim Sechrist and Charlie Baghby won for Quail, the purple and gold had the momentum. Only Brad McCallum managed a point for Delray, winning the opening match against Charlie Bowie.

Moreover, even though Delray led most of the matches in the bottom half of the line-up, every match coming in was close except Sigel's, and the roars from the home fans tightened several crucial battles.

But then the Dunes struck back. Delray's Tom Craig, Jack Schoenfelt and Norm Swenson sweated out tight, back-and-forth matches all day long. Craig won 2 & 1, while Schoenfelt and Swenson both won on 18.

The fate of the Cup was eventually in the hands of either Murphy or Nick Coon. But Murphy, normally a supercharged race car on the golf course, was leaking oil and riding on worn tires coming down the stretch. A 3-up lead with three to play had dwindled to one going to 18. Moreover, his short game, normally his strength, was failing. He left chips short, putts burned the edge without dropping and crucial strokes slipped away.

"I putted well," explained, "I just couldn't get them to fall. My stroke was fine, but I couldn't get one to go in late."

Meanwhile, Kevin Hammer and Coon were trading roundhouses and haymakers all the way to the 18th green like the champion prizefighters they are.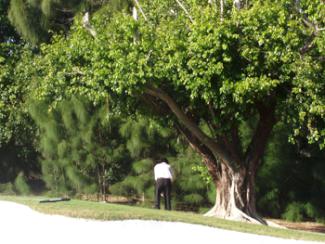 Coon Saved Par from Jail to keep Team's Hopes Alive
"I shot even-par on the front nine and I was still 1-down, but that's going to happen when you play Kevin. He's one of the greatest competitors I know," Coon stated. "Then I hit the cart path with my approach on 10 and the ball caromed out-of-bounds for a double bogey and I was 2-down."

After hitting his second shot on the par-5 12th hole under a tree right of the fairway, things looked bleak. But Coon hit a remarkable recovery shot, halved the hole and then slowly started chipping away at Hammer's lead. A birdie at 14 moved him to one down. Then both players birdied the par-5 15th hole.

"That shows you how great both of them are as players and competitors, what terrific golf," remarked one Delray member who as watching greenside. After draining a 12-footer for birdie on 17, the match was tied and the two went to 18 with the Cup in the balance.

Then Coon hit his approach into the right greenside bunker.

"I knew this was the most important shot of the round, thank goodness I hit close," Coon said. He splashed out to 2 feet. It was his best shot of the day and it couldn't have come at a more clutch moment. After sinking the putt, he earned the 11th point for Delray Dunes and clinched the Cup for his club. Murphy won the 18th hole for an additional point to make the final score 12-10.

The Dunes players credited their victory to a key adjustment on and around the greens. Quail Ridge's South Course underwent a complete renovation and partial redesign by Florida golf course architect Kipp Schulties this fall. As a result, the greens were unusually firm.
"The challenge was in the approaches," explained Delray Dunes pro Gino "Multo Bene!" Composto. "The South course is a second-shot golf course to begin with, but more so now because the greens are still brand new. We switched to a softer ball - usually a Titleist with more spin, and then played a few shots to land once before the green and bounce on."

Quail Ridge switched to two new types of grass for the South course: "Celebration" grass for the aprons and Paspallum for the greens.

"It was a little sticky around the greens, and even chip shots didn't release as much as normal, so some of us played more Scottish style golf as a result. The adjustment worked. It made for really fun and interesting golf and great competition that came down to the wire."

"We also had to get used to the new sand in the bunkers," added Wayne Warren. "It was much fluffier so balls plugged deeper. But our guys are talented and experienced and they made the adjustment there and on the greens. I thought the course played great and it made for a terrific competition."

Perhaps the only player unaffected by the changes was Sigel. Everyone marveled at the magician-like spin and control he had with his irons and wedges all weekend. Time and again, pressure shot after pressure shot, he would rip at the ball with a vicious downward strike, loft even long irons high into the air, drop the ball on a dime, and leave two nickels for change. He was firmly in control all three matches, leading the younger players with his experience and poise.
"He's a gifted player and a great ambassador for both his club and this tournament," said Quail captain Woody Greene. "He and Jack and Murph have been staples of this event and play great every time they tee it up."

But that sums up everyone in the Golf Road Cup. The quality of player from both Quail Ridge and Delray Dunes is astonishing. Club champions form some of the most venerable clubs in America lock horns with participants - even winners - of U.S. Amateurs, U.S. Senior Amateurs, British Amateurs and countless other U.S.G.A. and PGA events. Perhaps no other battle between clubs in America has as solid rosters except the Tavistock Cup, and even that can't compare with the camaraderie of this event.

"We are fierce competitors, but even more dedicated friends," added D'Angelo. "We battle each other for two days, and then we go celebrate with each other and rekindle old friendships that we've cherished all our lives. I can't wait for next year."

"That's fine with us," added one beaming Quail Ridge member as he raised his glass in salute to the champion Rays. "Next year starts tomorrow!"

News and Notes: The Quail Ridge ladies won the Women's Golf Road Cup 9-7.


Since launching his first golf writing website in 2004, http://www.jayflemma.thegolfspace.com, Jay Flemma's comparative analysis of golf designs and knowledge of golf course architecture and golf travel have garnered wide industry respect. In researching his book on America's great public golf courses (and whether they're worth the money), Jay, an associate editor of Cybergolf, has played over 220 nationally ranked public golf courses in 37 different states. Jay has played about 1,649,000 yards of golf - or roughly 938 miles. His pieces on travel and architecture appear in Golf Observer (www.golfobserver.com), Cybergolf and other print magazines. When not researching golf courses for design, value and excitement, Jay is an entertainment, copyright, Internet and trademark lawyer and an Entertainment and Internet Law professor in Manhattan. His clients have been nominated for Grammy and Emmy awards, won a Sundance Film Festival Best Director award, performed on stage and screen, and designed pop art for museums and collectors. Jay lives in Forest Hills, N.Y., and is fiercely loyal to his alma maters, Deerfield Academy in Massachusetts and Trinity College in Connecticut.