Red Mountain, Loch Palm, Riverdale join GIAK
Three of Thailand's top resort venues have joined the country's golf-marketing cooperative, "Golf in a Kingdom: The Thai Golf Experience," while a fourth member course has agreed to host another Asian Tour stop in December.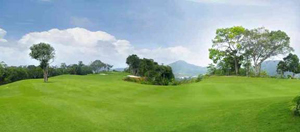 Red Mountain
Golf in a Kingdom serves golf holiday-makers by packaging top course venues with accommodations from hoteliers including Hilton, Marriott and Anantara. Starting today, with the addition of Bangkok's newest track, Riverdale Golf Club, and two premier properties on island of Phuket - Loch Palm Golf Club and Red Mountain Golf Club - these course offerings now cover the full breadth of Thailand, top to bottom.

Meanwhile, the Asian Tour has confirmed that Golf in a Kingdom member Black Mountain Golf Club in Hua Hin will again host the Black Mountain Masters, December 16-19. Swedish star Johan Edfors will be on hand to defend his 2009 title, also held at Black Mountain, though this year's prize money should drawn an even stronger field. According to Asian Tour Executive Chairman Kyi Hla Han, the purse for the 2010 Black Mountain Masters purse has been boosted by $100,000, to $600,000 USD.

"These developments emphasize once again why Thailand is Asia's top golf destination, for touring professionals and traveling golfers alike," says Mark Siegel, managing director of Bangkok-based tour operator Golfasian (www.golfasian.com), a founding member of Golf in a Kingdom. "It's a feather in the cap of Black Mountain to earn a return engagement with the Asian Tour; it's clearly a superb tournament course.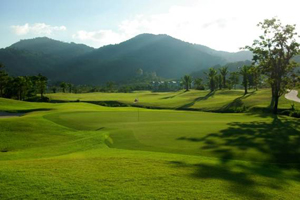 Loch Palm
"We are just as eager to welcome Riverdale, Loch Palm and Red Mountain to Golf in a Kingdom. We're all about making golf holiday in Thailand more convenient. Most international flights land in Bangkok, so the more course options we provide there, the better. But Phuket is such a desirable destination and it's no less convenient: Its international airport accommodates direct flights from Asian hubs like Singapore, Hong Kong and Sydney."

Riverdale, Loch Palm and Red Mountain are all owned and operated by the Bangkok-based MBK Group. According to Michael Brasier, PGA Professional and Golf Operations Manager at Loch Palm and Red Mountain, MBK sees great potential in golf, and in Golf in a Kingdom.

"At the moment MBK owns three golf properties in Thailand, but over the next few years, we expect this portfolio to expand," says Brasier, a native of England, who has been in Thailand for 16 years. "This was part of our attraction to Golf in a Kingdom. We are now standing beside the best courses in the country. It's just the sort of company we want our properties to keep, and it's no surprise that golfers are attracted to layouts of this quality, especially when economically packaged with rooms at hotel properties the likes of Marriott, Hilton and Anantara."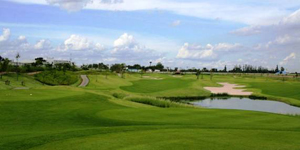 Riverdale
Located in the Pathumthani district of Bangkok, Riverdale GC opened for play Aug. 1, 2010. It was designed by Welsh architect Jonathan Morrow and his partner, veteran shaper Al Tikkanen, who took a dead-flat site and utterly transformed it through some major feats of engineering. It's hard to believe dramatic elevation changes at "Rice Mill Corner" - the sweeping dogleg par-4 7th, the epic par-3 8th (with its choice of greens: a water-protected island or plateau postage-stamp) and stern uphill par-4 9th - are man-made.

The experience at Red Mountain, also designed by Morrow and Tikkanen, couldn't be more different. Carved from an abandoned tin mine in the mountains of Phuket, Red Mountain features at variety of remarkable golf holes on startling terrain. The elevation changes, some in excess of 150 feet, are natural; the water hazards (former mining pits) and the exposed red cliffs are legacies of the property's former industrial use. The golf holes take maximum advantage of all these qualities.

Loch Palm, located just down the road from Red Mountain, presents a "far more relaxed experience," Brasier says. The surrounding terrain is mountainous but the course is level, the tree-lined holes laid out graciously along the edges of Crystal Lake, the largest on any track in Phuket. The layout at Loch Palm underwent minor course renovations this summer. At the close of high season, in April 2011, it will undergo a major renovation of course and clubhouse. Both will return to full operation in October 2011.
Well before that time, both Loch Palm and Red Mountain will be served by The Tinidee Hotel@Phuket, a boutique golf lodge located equidistant from the two clubhouses. The Tinidee is on schedule for a soft opening on 1 November, 2010.

By banding together to form Golf in a Kingdom: The Thai Golf Experience the country's top courses and hotels have created a cooperative itinerary that matches the most desirable "stay" options with its most desirable "play" options. With the addition of Riverdale, Red Mountain and Loch Palm, those play options represent the crème of Southeast Asian resort tracks:

Banyan Golf Club, also in Hua Hin, voted top new course in Asia by readers of Asian Golf Monthly in 2009.

Chiang Mai Highlands Golf & Spa Resort, recently voted the top course in Southeast Asia by SEA Globe magazine.

Muang Kaew Golf Club, a lush urban retreat in the heart of Bangkok. The Old Course at Siam Country Club in Pattaya, host of the 2010 Honda PTT LPGA.

Siam Country Club's Plantation Course, host of the same LPGA event in 2009.

Thai Country Club in Bangkok, voted 'Best Championship Course in Asia', as voted by Asian Golf Monthly readers in 2008.

Black Mountain Golf Club, just three years old but already a bona fide "championship" layout.
For more information on Golf in a Kingdom: The Thai Golf Experience, or to make golf travel plans in Thailand, visit www.golfinakingdom.com, or email info@golfinakingdom.com.