Red Sox Faithful One of a Kind
By: Elisa Gaudet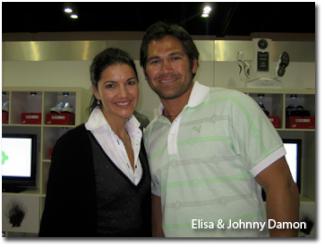 Would you, could you with a Red Sox….
Would you, could you share a beer
Could you even yell a cheer?
Would you, could you watch a game in a Boston bar
Even if you came from somewhere really far
Would you wear red and sit in Fenway Park
Ok what if it was completely dark
Would you could you wear a cap with a "B"
Maybe if your name was Brian McBrandon Barnaclesea
It seems people either love 'em or hate 'em. The Red Sox have one of the strongest most passionate fan bases in any sport. Win or lose, the fans love them and continue to support them and have done so for many generations.
Strong evidence of this is the continued support throughout the famed curse, an 86-year-old drought without a win in the World Series until the BoSox won in 2004 and did so again last year. It goes well beyond your average fan support and would probably take a trained professional psychiatrist to truly understand why. Anyone who spends time in Massachusetts, or any of the surrounding states for that matter, will see this is more like a religion, part of the social fabric, a fanaticism, social norm and an infectious obsession.
Anytime there is great passion there is attraction. On any given day throughout the year in Massachusetts you can find people wearing the signature blue baseball cap with the red "B." I am of the belief that when you are born at Mass General, they send a child home, no matter the sex, with a starter cap as well as one for the teen years and another for college. If you're thinking, "Well they must ship off any deserters to the cause to some secluded island" (i.e. Yankee fan relocated to Boston for a job or a West Coast tofu loving Dodgers fan living in Massachusetts), think again. "The Islands" (Nantucket and Martha's Vineyard) are filled with multitudes of Red Sox fans.
Upon further investigation, at the infamous Cask 'n Flagon, the bar directly outside the gates of Fenway Park, it turns out this fanaticism is handed down from generation to generation. Three Massachusetts' natives, John Garvey, Kelley Blood and Tony Gaudet, share their passion for the Sox. John went to his first game at age 8 and collected baseball cards, with Carl Yastrzemski being his most valuable. Josh Becket is his current favorite player, and John's most memorable Red Sox moment is attending the 1990 pennant series, when the Sox won.
Kelley's mother was the Red Sox fan in the family and she took Kelley to her first game at age 9. Kelley's favorite player is Tim Wakefield and her most memorable Red Sox moment came in 1996 when John Valentin hit for the cycle (when a player hits a single, a double, a triple and a home run in the same game). Diehard Patriots and Sox fan Tony lists Mike Lowell as his favorite player. Tony's most memorable moment is when the Red Sox reversed the curse by winning the World Series in '04. All three recall the Red Sox and baseball being a large part of growing up, and they acknowledge it is still a big part of how people socialize in Massachusetts.
There has always been a fierce rivalry between the Yankees and Red Sox. However, the game of golf seems to transcend that rivalry when the players leave the field. Red Sox pitcher Curt Schilling and his wife host a golf tournament dedicated to funding patient services, vital research and increasing public awareness of Amyotrophic Lateral Sclerosis (ALS). ALS is a neurodegenerative disease that usually attacks both upper and lower motor neurons and causes degeneration throughout the brain and spinal cord.
Yankee legend and native New Yorker, Lou Gehrig, who still holds the Major League record for most career grand slams (23), played for the New York Yankees until his career was cut short by ALS, a disease that was posthumously named after him. Gehrig brought international attention to the disease in 1939 when he abruptly retired from baseball after the diagnosis. Most commonly, the disease strikes people between the ages 40 to 70, and as many as 30,000 Americans have the disease at any given time. ALS has cut short the lives of other sports greats such as Hall of Fame pitcher Jim "Catfish" Hunter, boxing champion Ezzard Charles, NBA Hall of Fame basketball player George Yardley, pro football player Glenn Montgomery, golfer Jeff Julian and caddie Bruce Edwards
Golf enthusiasts Wakefield and Jason Varitek, the Red Sox catcher, join forces in hosting a golf tournament to support "Pitching for Kids." The event is dedicated to providing earmarked grants to benefit children in a myriad of ways, all of which enhance the lives, minds and spirits of children across the New England.

Perhaps, the most recent example of the Boston Red Sox fans' loyalty is in their relationship with Johnny Damon, the catalyst who helped break their famous curse. Damon's heroics and leadership in 2004 became the stuff legends. "Damon's Disciples" were constantly rallying the "idiots" on to victory day after day that year, finally reversing the curse. When this former Red Sox-turned-Yankee returns to Fenway Park, the future Hall of Fame player is always welcomed by the Red sox faithful.

Johnny is yet another baseball player who loves golf, and the 12 handicapper often plays in charity golf events; he's even sponsored by Puma to represent their golf line. While many player rivalries are overlooked in the name of golf and charity the deep love for the Red Sox remains strong.

I would, I could share a beer in a bar
I would even drive really far in my car
I could, I would scream Big Papi out loud
And wear a "B" cap in a NYC crowd.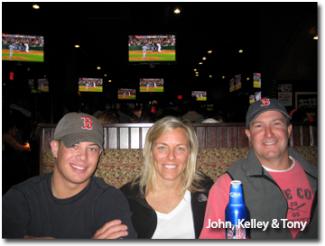 Elisa Gaudet brings a wealth of entertainment and golf experience to Cybergolf. Elisa has spent the past several years in the golf industry in the U.S., Latin America and Spain. She worked for the PGA Tour and the Tour de las Americas before founding Executive Golf International, a golf marketing company that works with clients to develop strategies using golf as the medium. Often referred to as the Maria Bartiromo (a business analyst for CNBC) of golf, Elisa says: "Golf, as a marketing tool, has been around for years. It's amazing how many new ways companies can align their brand with the golf market to reach their target audience. Our goal is to create alliances and establish cross-border relations." Elisa also worked in the entertainment industry for over 10 years, including five in Los Angeles as a model and actress. She can be seen at many celebrity golf events and often gets the inside scoop from PGA Tour players. For more information about Elisa, visit her websites at www.onthelip.com or Executive Golf International www.execgolfintl.com.