Reflections on the Champions Tour & Seven-Man Playoffs
By: Tony Dear
Two things occurred to me as I watched last weekend's record-setting seven-man play-off at the Boeing Classic. The first (how come this sort of thing doesn't happen more often?) is a question that has bothered me for years. Okay, seven players tying for the lead after 72 holes may be a tad unusual, but with fields of 75-plus golfers and the difference in average score between the top 20 less than one and a half shots a round, you'd (well, you might not actually, but I certainly do) expect a playoff involving two or three players every week, or at least every other week.
But this was just the fourth time extra holes have been needed in 22 events on this year's Champions Tour. On the PGA Tour, with fields of 150 or so, the difference in scoring average between Nos. 2 and 120 is less than two shots (I didn't include No. 1 in this because, well, his scoring average is freakish), and yet there have been just eight playoffs in 37 official tournaments this season. And it's not just this year, of course. Last year, only five events from a total of 47 went into sudden death.
No doubt there's a perfectly valid mathematical explanation for all this, but my math book is not only closed it's securely locked and has been put away in a box and stored in the attic where it will never be found.
My other thought was for the R & A and the guy who decides what to do if four or more players are tied after 72 holes in the Open Championship. I just hope he was watching. The R & A rarely makes dubious decisions - the set-up for the 1999 Open at Carnoustie, the pin position on Sunningdale Old Course's 4th hole and its subsequent re-positioning at an Open Championship qualifier in July, and disqualifying Mark Roe at the 2003 Open after he and Jesper Parnevik had failed to swap scorecards, even though it had the freedom within its own rules to waive a penalty, not withstanding. But in the 2002 Open at Muirfield, its decision to divide up the four players who had all finished at 278, 6-under par (Ernie Els, Thomas Levet, Steve Elkington and Stuart Appleby), into two pairs was just plain dumb. The man who thought of it probably couldn't pour water out of a boot if the instructions were written on the heel, someone said. The potential for drama was all but lost and no one, least of all the players, really knew what was going on.
The Boeing Classic playoff was great entertainment, however, the most exciting day on the Champions Tour since Arnold Palmer and a handful of other geezers got together in 1980 and decided the golf world still wanted them. Despite its efforts to make watching golfers well past their best compelling (like interviewing players in the middle of the round), and the fact there are obviously a number of guys out there who are still capable of playing superb golf, seeing Lonnie Nielsen win the Commerce Bank Championship or Brad Bryant beat R.W. Eaks at the Regions Charity Classic or Keith Fergus win the Ginn Championship at Hammock Beach or D.A. Weibring win the 3M Championship doesn't really do it for me nor, I suspect, many others. Nick Price and Mark O'Meara's arrivals have been less than thrilling thus far, and anticipation surrounding Seve Ballesteros' return to competitive golf, at the Regions event in May, was short-lived to say the least following rounds of 78, 81 and 73. He wisely recognized that if he could hit only 55% of Champions Tour fairways and find just 46% of its greens, he was probably better off fishing in Pedrena.
The Champions Tour needed something like this to put it in the minds and on the screens of golf fans during yet another year in which Tiger Woods is sucking up virtually every column inch devoted to golf. And Boeing Classic's tournament director, Chuck Nelson, must be thanking his lucky stars too. With all due respect, Nelson could probably have done without Canadian Ray Stewart holding on to his second-round lead, two years after David Eger won the inaugural event. Every new tournament likes to start life with a bang but little-known Eger and Stewart winning two of the first three (Tom Kite won last year) would not have produced the sort of noise one associates with the sponsor's products.
Mind you, Stewart winning the only tournament he has played in this year, and only his fifth since becoming eligible for the Champions Tour in 2003, would have made a great Cinderella story. A win for the sweet-swinging British Columbian would obviously have been the highlight of a patchy career in which he made 106 cuts from 205 PGA Tour starts and finished in the top 10 just nine times. That he should have his place in the field for this week's First Tee Open at Pebble Beach (by finishing in the top 10 he assumed he would get in) taken away on a technicality is a terrible shame and something of a black mark for the Champions Tour.
Oh, there was something else I was thinking about as the last few groups came up the hill at the 18th hole. What was it now . . . oh yeah, how on Earth does Jim Thorpe hit the ball with a swing like that?!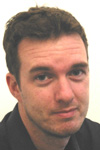 Tony Dear has been writing about golf for 11 years. A former assistant club pro from Sussex, England, Tony started out as a freelancer in 1992 before taking a staff writer's job at Fore!, a magazine based in Peterborough. As the magazine's chief instruction writer, it was Tony's job to compose instructional articles aimed at a youngish readership whose letters to the editor suggested they often got confused by technical jargon and theory. Tony brought his simple approach to teaching golf to the magazine, helping boost sales by 10,000 issues. As a result, he was nominated within the company and nationally for Young Writer of the Year awards.

From there, Tony moved 20 yards across the Emap UK office to join Today's Golfer. There, he was soon promoted to a senior editorial position, focusing on equipment, and became a significant part of a team that saw sales figures double within the magazine's first 12 months.

After three years at Emap UK, Tony was dragged kicking and screaming across the Atlantic by his American wife ("not really, I love it over here") and, after short spells in Phoenix and Denver, wound up in Seattle in May 2003. He recently moved to Bellingham in the far northwest corner of the far Northwest of the U.S. and became a father to a son on whom he has already staked for the 2029 Open Championship. At present, he is freelancing for a number of print and online publications back in England including Today's Golfer, Golf World, Bogey, The Open Championship Magazine and Casino.com. He is also a contributing editor for Denver-based Colorado AvidGolfer.

Recent features include a look at Colorado's self proclaimed 'links' courses, an interview with Suzy Whaley, with whom he played nine holes ("and got soundly thrashed") and a 64-page instruction supplement for Today's Golfer.

Tony has authored three books in the last five years and been nominated for several specialist and young writers awards. "Although I've never actually won one," he admits. He is a member of the Northwest Golf Media Association and the Golf Travel Writers Association based in London.