Remembrances of Seve
By: Elisa Gaudet
Working in the sports industry I am fortunate that I've met many great athletes. Over the years I've overheard people's reactions after meeting famous sportspeople. Some are surprised to learn their hero is kind, funny and down-to-earth or, unfortunately, perhaps just the opposite.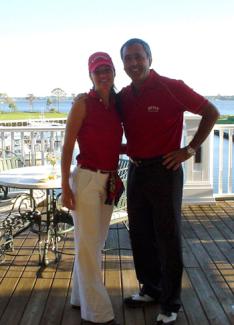 Elisa & Seve in Florida
In 2004 while attending a PGA Tour event at Doral in Miami, I was asked by a friend who works for Jim McLean if I wanted his ticket to a Miami Heat game that night. There was a group going and he couldn't attend. I love sports and was delighted to accept. As it turned out, the group included an American teaching pro, a colleague from Spain and Seve Ballesteros.

At the time I had been working in the golf industry for a few years but concentrated on the business side and was by no means a historian of the game. I knew who Seve was, especially since I had worked and lived in Latin America and Spain. He was a great player with a fantastic record, but since he was no longer playing you didn't see him much anymore.

As we sat at the Heat game there was an instant comfort among us. We laughed and joked and it seemed as if we'd known each other for years. I'm fluent in Spanish and enjoy an understanding of Spanish culture. We talked about everything except golf: favorite movies, politics, regions of Spain, my experiences as an American in Spain and his experiences as a Spaniard in America. Had someone been listening it might have sounded like we were exchange students.

A few days later we met again at the Gary Player Invitational, held at the Floridian in Palm Beach, Fla. I was covering it for my column and Seve would be giving a clinic. He told me he was in great pain and it was difficult to play golf anymore due to a back injury. The next few days I assisted him in finding and visiting doctors in an attempt to find who would provide the best care in the U.S.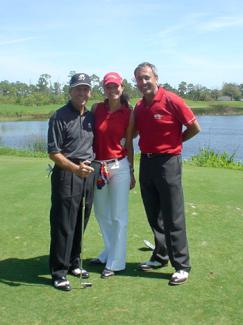 Gary Player, Elisa & Seve
During those days we went from somber visits with doctors to having dinners with groups of people and smoking cigars. He was wildly entertaining and captivated everyone with his stories and the passionate way he told them.

We got together soon after at the Arnold Palmer Invitational at Bay Hill. Seve, still unable to play, was frustrated but continued to get healthier through physical training. My birthday fell during the week at Bay Hill, and Seve, Juan Carlos and I celebrated by going out to dinner.

While walking from the car to the restaurant we discussed Flamenco music and dancing. Seve said he knew how to Flamenco, but I believed he was pulling my leg to some degree. What he did not know is that I had taken a number of years of Flamenco in Spain and America. So when I challenged him to a dance-off in the parking lot - he accepted. We mock-danced in the parking lot and had a tremendous laugh.
It was this intense zest for life that made the rest of us like moths on his flame. Elton John perhaps sang it best: "Your candle burned out long before your legend ever did."
When Seve returned to Spain we kept in touch via phone calls. I saw him a few years later at the Masters and he was the same except his eyes were a bit dimmer. It had seemed as if life was challenging him on many levels.

After he passed away I watched footage of Seve playing golf; his spirit come through, yet again. I must have watched two straight hours of You Tube footage, including his daring shot from the parking lot to the 16th green in the 1979 British Open, which he won. The announcers at the time said, "The golfing gods really are with the smiling Spaniard today."

At Seve's funeral this was the eulogy given by Ivan Ballesteros, his cousin and manager: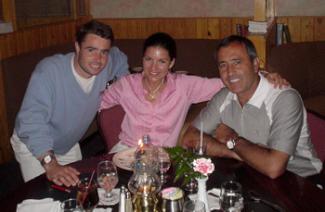 Elisa on her Birthday Between Juan Carlos & Seve
"As a sportsman he continued to change a sport that at the time was only accessible to wealthy people. He showed the world that a boy from a village in the north of Spain could revolutionize golf in five continents. Without a resourceful start his talent, determination, his fighting spirit and personality told how he was a child who realized his dreams. He was the best and he won the hearts of the people."

Seve himself said, "You have to respect every hole and every shot, otherwise the golf course will bite you." There is deep irony that for a man who lived life to the fullest his time on Earth was too short.

Upon presenting Seve with the lifetime achievement award in 2009, fellow Spaniard Jose Maria Olazabal said this of his good friend: "I met you when I was 15; since then we have been through a lot. You belong to a group of golf professionals that changed the image of the game of golf all around the world. Your achievements speak for themselves, five majors and over 70 tournament wins. It is not just those achievements that make you special, more so it is the way you did it. You did it with a lot of imagination, lots of skills but, most important, you did it with all your heart. I know that because I have had the privilege to be close to you in some of those occasions. You were the first one to play the game of golf with such desire and passion and by doing so you made a lot of us believe that it was possible to achieve those goals."
When Seve was asked who had the greatest influence on his life, he listed Jack Nicklaus for teaching him how to understand golf courses, and Nelson Mandela for the life he lived and, the most important lesson of all, that if you don't forgive you will never be free.

Known for being wild and free, Seve played his heart out - there was no other way for him. To me, he was someone who taught those around him to enjoy life, laugh, live passionately and reach high. As I reflect on those few weeks in 2004, I was fortunate to meet a remarkable man who happened to be a great athlete.

Seve was a sportsman, a public figure, father, husband, brother and friend to many, and he came into our lives for a reason, a season, a lifetime.
Elisa Gaudet brings a wealth of entertainment and golf experience to Cybergolf. Elisa has spent the past several years in the golf industry in the U.S., Latin America and Spain. She worked for the PGA Tour and the Tour de las Americas before founding Executive Golf International, a golf marketing company that works with clients to develop strategies using golf as the medium. Often referred to as the Maria Bartiromo (a business analyst for CNBC) of golf, Elisa says: "Golf, as a marketing tool, has been around for years. It's amazing how many new ways companies can align their brand with the golf market to reach their target audience. Our goal is to create alliances and establish cross-border relations." Elisa also worked in the entertainment industry for over 10 years, including five in Los Angeles as a model and actress. She can be seen at many celebrity golf events and often gets the inside scoop from PGA Tour players. For more information about Elisa, visit her websites at www.onthelip.com or Executive Golf International www.execgolfintl.com.