Remodel of Jefferson City Country Club Underway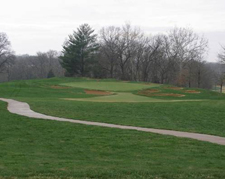 The course has closed and the clock is ticking on an aggressive, three-month greens-renovation project overseen by Lohmann Golf Designs at Jefferson City Country Club in Missouri.
Plans are to rebuild all 18 existing "push-up" greens to USGA specifications, then replace the old Penncross bentgrass and poa annua turf with modern A-series bentgrass. At least nine greens will also be relocated and re-contoured to improve playability and increase cupping space.
Architects Bob Lohmann, and son Matt Lohmann, who assisted with the design and will serve as project manager, will also improve green surrounds and greenside bunkers, reroute several fairways and add about 15 new tees that will stretch the private layout to around 7,100 yards from the tips.
"The greens are Job 1," Matt Lohmann explained. "Push-up greens like these are exactly that: putting surfaces that were formed decades ago by simply bulldozing dirt into a pile. There was no real drainage capability built in, no sort of soil profile created to assist with that drainage and promote sound root growth. Eventually, these greens just give out and need replacing. For Jefferson City CC, now's the time."
The new drainage and upgraded USGA greens will help move water off the course and get players back on the links much quicker after heavy rains, according to head superintendent Jim Poetker.
"With native clay sitting below the top 4 to 6 inches of sand we've built up over the years, it can take two to three days for the greens to return to normal after a major storm," Poetker explained. "The new greens should make a huge difference in getting our members back onto their course, which we are bringing into the 21st century really."
The Jefferson City course closed to member play on July 7. The early focus will be placed on rebuilding the greens because the construction timetable calls for seeding the new putting surfaces by late August, giving them an opportunity to become fully established heading into winter, and keeping things on track for an anticipated June 1, 2009, reopening, Matt Lohmann said.
Fairway alterations and the renovation of tees, approaches and green surrounds will follow. As sod will be laid down in those areas, time is less of an inhibiting factor. Construction should be completed by mid-October.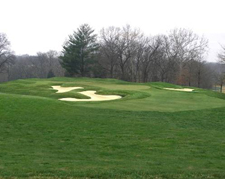 The biggest challenge at Jefferson City CC will be working around the existing irrigation system while installing additional drainage, the younger Lohmann continued. A longtime member of the maintenance crew has been helpful in delineating the existing irrigation system - important information for construction workers as they dig into the playing surface.
Matt Lohmann is making a cameo Midwestern appearance on the Jefferson City CC project. He normally runs the East Coast office of Lohmann Golf Designs (LGD) and its sister construction division, Golf Creations, out of Arlington, Va., having recently joined his father's firm after spending five years working for Wadsworth Golf Construction. He was project superintendent on four separate projects for Wadsworth, the last one being Harbor Station, a Nicklaus Signature Design in Dumfries, Va.

The new putting surfaces are part of a multi-faceted master plan Lohmann Golf Designs developed for Jefferson CC, where the original nine dates back to 1922 and a Larry Packard-designed second nine was added in the 1960s. This phase of the master plan will cost roughly $1.5 million, with additional fairway bunker work anticipated for 2009.

"Prior to selecting Lohmann we did our due diligence, checked references and played a couple of the company's courses near Chicago," said club president Mike Winter. "We were very impressed with the quality of Lohmann's work and attention to detail. The company has been easy to work with, extremely helpful and patient with our members."

For their part, the architects at Lohmann Golf Design feel their selection to redesign Jefferson City CC may have been somewhat inevitable, even fated, given the name of the community before it was changed to Jefferson City and designated the state capital in 1821. Its previous name? Lohman's Landing.