Renoblog4
By: Blaine Newnham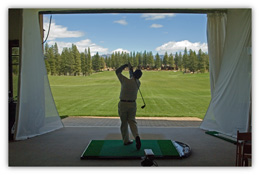 So this Fam trip, or media tour, isn't just about playing one great golf course after another. We had a choice one afternoon whether we wanted to play Coyote Moon, in the mountains near Lake Tahoe, or do something to improve your game. Coyote Moon is spectacular. My golf game isn't.
In the morning, we had played Old Greenwood, a Jack Nicklaus course right off I-80 and just east of Truckee. It is one of Nicklaus' most gentle courses, very pretty, very scenic as it routes through Ponderosa Pines and sagebrush. But still tricky hard, with greens you can't seem to hit or hold if you do. The tariff there runs about $180.
At the far end of Old Greenwood's long and spacious double-ended driving range, there is a golf academy with the most modern equipment and the most serious teachers. Play a round of golf, or spend $100 more to have them put you and your swing through the technical wringer?
I went willingly to the golf school after shooting a 91 on Old Greenwood, well above what my handicap index of 10.7 suggests but really indicative of my game. For every 79 there are five or six 89s. The teaching pro, Keith Lyford, is good.
I've taken lessons before. Todd Erwin, a pro near Tacoma who won the Washington State Open four times, puts on a great short-game school. That's how I got down to 10.7 at age 66 with a good short game and a puny long game that found fairways but not a lot of satisfaction.
Eight of us did Old Greenwood's school that afternoon and were broken up into groups of four. We would do the full swing first, then work on the short game and finally get our putting analyzed. Keith, a stern New Englander who once played on the PGA Tour - he finished ahead of Fred Couples and Mark O'Meara at Q school - works out of a studio that opens dramatically to the driving range and is filled with sophisticated equipment.
He tried to explain a little of what it would do. I heard launch angle and rolled my eyes. I guess I don't believe equipment is the answer. He had us hit two 7-iron shots that he photographed. Then the four of us looked at each other's swings with Keith. It was embarrassing and enlightening.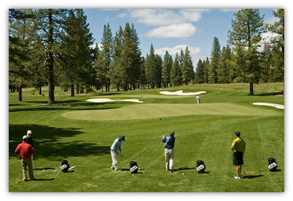 Mine was perhaps most interesting. Like with much of old age, my swing had shrunk. He showed how I was standing nearly a foot too close to the ball. He showed me that I also needed more lag in my swing. Outside, we worked on both: so simple yet so effective. It worked because the computer - while comparing me to PGA pros - was proof positive, because he didn't overwhelm me with technical stuff and because he showed me how to fix what was broken. It was creative, but concise.
"We put our entire staff through his program," said Bob Hickam, the director of golf at Old Greenwood, "and everyone of us was blown away."

Keith is able to transform technology into simple instruction. If I were some guy from the Midwest with bucks who wanted to escape the summer heat, be in a beautiful spot, and improve his golf game, a few days at Old Greenwood could be the thing. You can do as many as three days, which if you share a room, will cost $1,490.

The town of Truckee near Lake Tahoe is vibrant, really like old Lake Tahoe. Besides Old Greenwood, there's its sister course, Coyote Moon, and nearby Northstar. Forty five minutes away in Plumas County are the really wonderful courses of Whitehawk Ranch and Grizzly Ranch, as well as the defanged Dragon, which is now called Nakoma.

Time will tell whether the lesson will take. I'm committed right now, even though you can imagine how awkward it is to step back 8-10 inches from the ball. I'm hoping, of course, I'll also be standing farther away from the ball after I hit it.
Blaine Newnham has covered golf for 50 years. He still cherishes the memory of following Ben Hogan for 18 holes during the first round of the 1966 U.S. Open at the Olympic Club in San Francisco. He worked then for the Oakland Tribune, where he covered the Oakland Raiders during the first three seasons of head coach John Madden. Blaine moved on to Eugene, Ore., in 1971 as sports editor and columnist, covering the 1972 Olympic Games in Munich. He was to cover five Olympics all together - Mexico City, Munich, Los Angeles, Seoul, and Athens - before retiring in early 2005 from the Seattle Times. He covered his first Masters in 1987 when Larry Mize chipped in to beat Greg Norman, and his last in 2005 when Tiger Woods chip teetered on the lip at No. 16 and rolled in. He saw Woods four straight major wins in 2000 and 2001, and Payne Stewart's birdie putt to win the U.S. Open at Pinehurst. Blaine plays golf at Wing Point Golf and Country Club on Bainbridge Island, Wash., where his current index is 12.6. In 2005, Blaine received the Northwest Golf Media Association's Distinguished Service Award. He and his wife, Joanna, live in Indianola, Wash., where the Dungeness crabs out-number the people.