Renoblog5
By: Blaine Newnham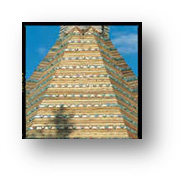 What do you talk about on a golf media trip? Golf, of course. During the six-day trip around Lake Tahoe, we talked about the guy who paid $100 to get his golf bag from Denver to Reno on United Airlines. He'll pay the same amount to get it back. As he understood it, there would be no charge if it were the only bag he checked. Presuming it didn't weigh more than 50 pounds.
Can you imagine what it is going to be like in the cabins of today's jet liners when everyone tries not to check extra bags?
We also talked about playing the appropriate sets of tees. Golf writers can be sheep like everyone else, or just plain egotistical. I watched a dozen guys play a course on our trip from 6,600 yards where there was a far more suitable set a few yards in front that would end up playing 6,100. They didn't want to embarrass themselves. Each group had a pro. Each group might have had a good player. But the majority of the guys were in over their heads.
I politely refused to play the longer set of tees. There was brief ridicule. One of the guys in the group joined me, so the two of us teed off on one set, two on another. The two of us who played the forward tees had good rounds and shot in the 70s. The other guys had holes they couldn't finish.
One writer said he'd been to a resort the weekend before where they admitted moving all the tees up a set during weekends and heavy play and saved 30 minutes a round doing it.
When is golf - and golfers - going to realize that rounds can be faster and more fun from the right set of tees? Tees that put you in position to play the golf course the way it was designed. When are most players going to realize they drive the ball 200 yards on a good shot, not 250.
What's the use of fairway bunkers if you can't reach them? Why have a 6-iron in your bag if you never use it? I'm for hybrids, but on every hole?
On our last day of the Reno trip, I opted to play the Nakoma Golf Club, whose reputation unfortunately preceded it. This is the course they called The Dragon, devilishly difficult, with a sign where you entered that boasted "Bring Me Your Heroes."
The course is located near Portola, an hour's drive from Reno in the mountains of California's old-fashioned Plumas County. Nearly 10 years ago, a couple - Peggy and Dariel Garner - wanted to build a challenging course and use a Depression-era design by Frank Lloyd Wright for the clubhouse.

The building is astonishing. It has all the Wright angles, with the most amazing fireplace I've ever seen. But because of divorce and financial troubles - the property is in bankruptcy and for sale - food is no longer served.

The course has also been defanged by the removal of some trees and the shortening of some holes. They go out of their way to give you a sheet that describes distances to so-called safe zones. The best thing today is that you can play for a third of the original price with green fees ranging from $55-$80 including carts.

The scenery is compelling. So is the course. Sure, it still was the toughest layout I played all week, but with a few trees removed it was possible. Especially from the right tees.

We tried something. Our foursome played four different tees. Phil, a 5-handicapper, played the back set (6,749 yards). Next up was Kevin, an 8, at 6,380. Then me, a 13, at 5,945 and finally Susan, a 19, at 5,289.

I don't think it took any longer. We played a match and adjusted the handicaps for each set of tees. You can do it. Just be stubborn. Know your tees and stick to them.
Blaine Newnham has covered golf for 50 years. He still cherishes the memory of following Ben Hogan for 18 holes during the first round of the 1966 U.S. Open at the Olympic Club in San Francisco. He worked then for the Oakland Tribune, where he covered the Oakland Raiders during the first three seasons of head coach John Madden. Blaine moved on to Eugene, Ore., in 1971 as sports editor and columnist, covering the 1972 Olympic Games in Munich. He was to cover five Olympics all together - Mexico City, Munich, Los Angeles, Seoul, and Athens - before retiring in early 2005 from the Seattle Times. He covered his first Masters in 1987 when Larry Mize chipped in to beat Greg Norman, and his last in 2005 when Tiger Woods chip teetered on the lip at No. 16 and rolled in. He saw Woods four straight major wins in 2000 and 2001, and Payne Stewart's birdie putt to win the U.S. Open at Pinehurst. Blaine plays golf at Wing Point Golf and Country Club on Bainbridge Island, Wash., where his current index is 12.6. In 2005, Blaine received the Northwest Golf Media Association's Distinguished Service Award. He and his wife, Joanna, live in Indianola, Wash., where the Dungeness crabs out-number the people.