Renovation Completed at Minnesota's Edinburgh USA
Edinburgh USA, a Robert Trent Jones II-designed facility opened in 1987, recently completed a $1.9-million overhaul of its golf course, which is located 15 minutes from downtown Minneapolis and owned by the city of Brooklyn Park.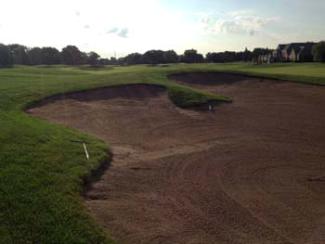 One of the New Bunkers at Edinburgh USA
According to Bruce Charlton, president and chief design officer at Robert Trent Jones II, "We tried to make the course more playable and easier to maintain by taking out a lot of the sand and introducing fairway grass in its place. Basically, we tried to dial up the 'fun factor.' The idea was to give players more options, especially around the greens. Unlike before, you're not always in a bunker if you miss a green. We've greatly reduced the amount of sand around the putting surfaces."

Players can now putt, chip or bump-and-run the ball onto the greens from the closely-mown surrounds, said Charlton. He added that the course is also more environmentally sustainable after the makeover.
Don Berry, Edinburgh USA's director of golf for 27 years, said the remedial work started as a basic bunker renovation and took off from there. "We rebuilt and reshaped every bunker on the course, and several were eliminated to enhance playability."

Duininck Golf, a Minnesota-based golf course construction firm, employed the "Better Billy Bunker Method" to rebuild the sand traps at Edinburgh USA. This durable system uses a 2-inch pea gravel layer sprayed with the patented Better Billy Bunker Polymer to bind the gravel together, allowing maximum drainage, substantially reducing washouts and eliminating silt contamination.

Berry reported that Duininck Golf did "fabulous" work, especially with the bunkers, which were reduced in size and trimmed with bentgrass. "There are almost no lips," he explained. "They're less costly to maintain and, from a playing perspective, they're easier to get in and out of, which has improved the pace of play."
According to superintendent Tom Fischer, who joined Edinburgh USA in 1985, said the renovation's planning and construction phases at the popular Twin Cities layout - including all sodding - were completed in mid-August.

"We had a horrible spring and the second-wettest June on record, yet Duininck Golf finished the job on time and under budget despite the adverse weather conditions," he said. "They even brought in a second crew to make up for lost time."

Fischer noted that 25 years ago, golf courses were designed to be difficult. "Everyone was vying to see who could build the toughest golf course."
Times have changed. "Over a dozen bunkers were removed to make Edinburgh USA more fun and more playable," Fischer explained. There are now 62 fairway and greenside bunkers, but they are smaller and shallower than the originals.

"We went from 140,000 square feet of bunkers to 104,000 square feet," Fischer noted of the decrease.

In addition to a bunker overhaul, other parts of the course were refurbished. The tee boxes at three par-3s - Nos. 2, 6 and 8 - were expanded by 50 percent from their original dimensions, a necessary addition for a public course that hosts upwards of 35,000 rounds a year.

Trees were removed to widen the fairways. Also, "kicker" slopes were built on the back sides of a few greens to funnel the ball back to the putting surface. In addition, three greens were rebuilt - the first and third as well as the practice green.
"Duininck Golf re-contoured collection areas around the greens and added a total of four acres of turfgrass around the putting surfaces," Fischer noted. "The course is now easier for the average player from the forward tees, but it's still a championship-caliber test for low-handicappers from the back tees at 6,904 yards (par 72)."

According to Berry, "Duininck Golf finished within one week of the deadline and came in under budget. The construction crew did a good job of catching up after the rainy spring - they fought through adversity to complete the renovation work and did an outstanding job. We're getting rave reviews from our customer base and local media outlets."