Renovations at Black Butte's Glaze Meadow Complete; Grand Reopening Set
Black Butte Ranch in central Oregon is on the verge of reopening its Glaze Meadow Golf Course following a $3.75 million renovation of the 30-year-old layout by architect John Fought, an Oregon native.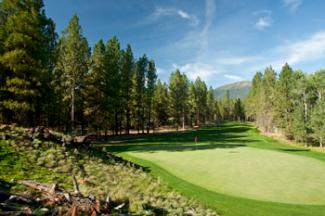 OR-Glaze Meadow's 8th Hole
(Photo by Aidan Bradley)
Closed since September 2010, the revitalized Glaze Meadow will reopen in two phases: the front nine will be ready for play beginning Memorial Day weekend, while all 18 holes will be open to the public June 30.

"We are unequivocally thrilled with the renovation, and we've heard from a lot of people who are pining for the opportunity to again play Glaze Meadow," said Scott Huntsman, president and chief executive officer of Black Butte Ranch, a 1,800-acre family resort community 30 miles northwest of Bend.

"We salute John Fought for a job well done - the shot values have been restored, the playability has been greatly improved and the course has been sufficiently lengthened to adapt to today's technology."
Glaze Meadow was originally designed in 1982 by the late Pacific Northwest legend, Gene "Bunny" Mason. Now extending 7,007 yards, Glaze Meadow received more than 400 yards and features many changes, including the rebuilding of all 18 greens and tee boxes and greatly improved sightlines. The course now features five tees per hole, including a set for juniors built forward to encourage youngsters to play along with adults.

With slightly elevated greens, square tee boxes and deep, grass-faced bunkers, Glaze Meadow is reminiscent of the Donald Ross era. Fought, president of John Fought Design in Scottsdale, Ariz., received national acclaim for his restoration of Pine Needles, a Ross classic in Southern Pines, N.C. Fought's brother, Jeff, is the director of golf at Black Butte Ranch.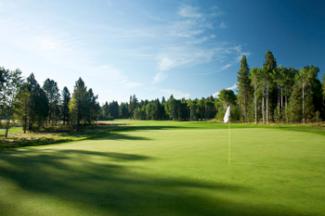 OR-4th Hole at Glaze Meadow (Photo by Aidan Bradley)
During the renovation, Black Butte Ranch's 7,002-yard Big Meadow Course, a popular layout that has hosted numerous Oregon golf championships, remained open for play. The course, originally designed by Robert Muir Graves in 1970 and renovated by Damian Pascuzzo four years ago, is scheduled to open for the season on April 1.

Black Butte Ranch is currently offering an "Unlimited Golf Package," with rates starting as low as $99 per person, and includes unlimited golf on both Glaze Meadow and Big Meadow. The package is available April 1 through season's end.

For overnight guests, Black Butte Ranch boasts 115 lodging properties, ranging from two-person hotel-style rooms to six-bedroom residences. For more information, call 541/595-1500 or visit www.blackbutteranch.com.