Renovations Begin at Linville Golf Club
Weed Design has begun renovation work on Linville Golf Club. The course Linville, North Carolina is a 1924 Donald Ross design.
"We are working on bunker restoration at this time," architect Bobby Weed said about the project. "For this particular course, we are also preparing a customized irrigation plan. We will do a lot of design in the field because of the native fescue grasses on the course that we want to preserve. The fescues on site have that fuzzy 'eyebrow' look and give the course a lot of character."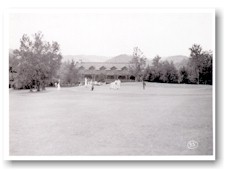 Most of the fescues are in the rough and out-of-play areas, but contribute to the style of the course and give it a distinctive appearance. In addition to bunker restoration and a new irrigation system, Weed will also renovate tees, clean out shrubbery that obscures the original design of the holes, and clear selective trees that infringe on play. Drainage will also be enhanced. Over the summer, a new pump station will be installed for the irrigation system.
The greens are currently being evaluated. The first adjustment to the putting surfaces is to enlarge them by changing the mowing patterns back to those originally established in the 1920s. New mowing patterns in the fairway are also being utilized for the coming season.
Weed Design has renovated several Ross designs including Timuquana Country Club in Jacksonville, site of the 2002 Senior Amateur, and Myers Park Country Club in Charlotte. The firm is currently working on a redesign of the University of Florida golf course, which will be completed in fall '02.