Renovations Underway at TwinEagles in Naples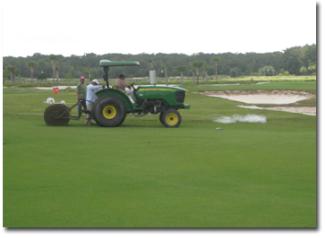 FL-Work on Aerie's 15th hole
The two courses at TwinEagles in Naples, Fla. - the Gary Player-designed Aerie and Talon, a co-design of Jack Nicklaus and his son Jack Nicklaus II - are undergoing a project to improve playability and resolve turf issues created by last winter's drought and subsequent watering restrictions.
Nathan Groce, the golf professional at the Club at TwinEagles, said work on the Aerie, which closed in mid-June, will continue through August to accommodate work on 15 of the 18 holes - a project initiated by a committee of nine TwinEagles' members and representatives of Bonita Bay Group, which is developing the 1,115-acre TwinEagles.
"This project won't change the integrity of the original design," Groce said. "We're working closely with Gary Player Design on the modifications with input from members of the committee and our director of agronomy. We want to complete the work this summer so the course has time to heal prior to winter play."
The work includes extending fairways, eliminating some waste areas and adding bunkers. The third green is also being reconstructed. "Every golf course, even the very best in the world, undergoes little changes here and there," said Groce.
When Aerie reopens, work will commence on a month-long project at Talon. That involves re-sodding and sprigging areas which suffered during water restrictions and the drought earlier this year. "We're bringing the course back to its original condition," said Jeff Burgoyne, director of golf operations. "The quality of the turf was impacting the Talon's playability. We're already seeing significant improvements with the much-needed summer rains."
When Aerie was unveiled in February 2007, TwinEagles became the first - and only - private golf club in Florida to have courses designed by two living legends, Nicklaus and Player. TwinEagles has hosted The ACE Group Classic, a Champions Tour event. Groce said the Aerie work is being overseen by Gary Player Design's lead designer, Frank Henegan. "Frank has visited on several occasions to discuss the changes and help us implement them," Groce added.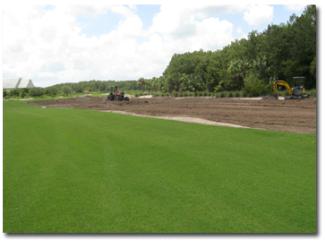 FL-Work on Aerie's 18th hole
After work is completed in late August, the courses will each close through the fall to provide "healing time," said Burgoyne. "These closings, three weeks at a time, will get the Aerie and Talon in the best possible condition for the season."
For more information about TwinEagles, call 888/507-1765 or visit Twin Eagles