Respected Scribe Outlines Events Leading up to Woods' Accident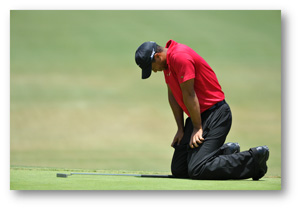 Furman Bisher, who recently retired as the respected, long-time columnist for the Atlanta Journal-Constitution, posted a blog entry on December 26 that will certainly be sweeping across the Internet and other media.
In it he outlines what happened prior to Tiger Woods' car accident, and why Woods has subsequently gone into virtual seclusion and taken an "indefinite leave" from the PGA Tour.
In the entry, Bisher writes a preface to his story entitled "Updated Inside Story on Tiger Woods." The piece is based on a recent email he received from a "trustworthy journalist" detailing the incident in the early-morning hours after Thanksgiving that led to revelations the game's top-rated player was involved in a series of romantic trysts which may end up resulting in a permanent split from his wife, Elin, who has since hired a noted divorce attorney and purportedly moved out of their palatial home in Windermere, Fla.
In his preface, Bisher writes: "The following is a legitimate message I received from a trustworthy journalist I have known for years. It's the Tiger-Elin incident finally put into reliable form, and I send along for no purpose other than to present the picture in its clearest form. - Furman Bisher"
For Bisher's complete blog entry, visit (http://furmanbisher.wordpress.com/2009/12/26/updated-inside-story-on-tiger-woods/).