Restoring the Roar: With Minor Changes to Course Set-up, it's Still the Magical Masters
By: Jay Flemma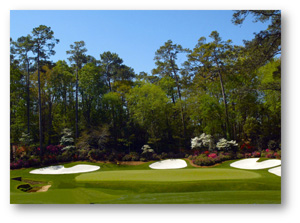 …and as she walked around the glade,
And bent to touch each mighty tree,
The leafy tower above would bloom
Like buoyant hearts rescued from gloom!
But at sunlight's first pale ray
She will transform, it is her doom.
And as a flower she'll remain
Till moonbeams grace her once again…
…from Jay's poem "The Yellow Rose."

Like Persephone returning from the Underworld and rekindling her mother's love - and therefore bringing forth spring - so too does the magical Masters herald the arrival of golf season and a warm rebirth of the game to frozen golf hearts across America. Welcome back, old friend.
"We still have something pure," said ardent golf fan Ken Jokall. "We love the Masters because it symbolizes everything good about the game: it's genteel, it's humble, and it's charming," he continued, his eyes brightening. "It shows how high we all can reach together if we put aside our egos and our greed and focus on the purity of the sport."
Indeed, in an age where society has capitulated to the reckless indifference of a libertine disposition, allowing greed to pervert the sports industry, only the Masters takes Alfred Lord Tennyson's advice and stands apart in quiet dignity: stoic and sentinel amidst the chaos and traffic of the world, wisely stewarding and promoting the game's altruistic virtues.
"It's not just the roaring on the pines," explains Sajit Khan, a lifelong player and devoted golf fan. "Sure, we're all excited about the first major of the year, and waiting with baited breath to see a wild Sunday, where eagles and double bogeys are separated by mere inches. But it's the history and respect and reverence for the game that the tournament promotes that inspires golfers across the country to stand up and be proud of their game. It's the most exciting golf tournament of the year."
Yet some pundits fear the exhilaration, so much part and parcel of the Masters's magic, has been dulled by changes to the golf course by architect Tom Fazio. For many years, the Masters was the archetype of golfing drama, it owned the freehold on excitement.
But now dark murmurs run through tournament media tents on the PGA Tour: "Something is missing at Augusta," they say, alleging that the roars have been replaced by frustrated groans and polite golf claps. The word around the campfire is that Fazio's changes are subtraction by addition. Length, rough, and trees have suppressed scoring and, by extension, excitement, turning Championship Sunday from a day when the game's greats would skyrocket up the leaderboard like fireworks, to a grueling march to outlast the field.
Trevor Immelman won last year's Masters with a final-round 75, the highest Sunday round by any winner at Augusta, yet he managed to increase the lead he held after three rounds by a stroke. In fact, the average scores of the top 15 players on the leaderboard through three rounds was a whopping 75.1. It prompted Tiger Woods to tell reporters after the tournament, "You don't shoot low rounds here any more. You've just got to plod along. "It's more like playing in a U.S. Open than a Masters."
"The Masters will never be the same," said one prominent NYC golf writer. "Fazio's changes took away the source of the excitement - temptation. Guys just aren't tempted to go for the eagle anymore. Look at Zach Johnson: he won in 2007 by playing safe and laying up on every par-5. We're never gonna see the Sunday charge or hear the roaring on the pines again, it's a thing of the past."

On paper, they're right. Eagles have had their wings clipped, but scores have soared.

Nevertheless, 2009 brings change, a change for the better. Although some of Fazio's changes to certain holes don't work because his adjustments are counterintuitive to the way the green complexes were designed, this year the Tournament Committee to address these concerns. Remember that changes are always a work in progress, and that it takes time to see their long-term effect. But with a proactive tournament committee, new set-up variables, a wide array of hole locations, some good weather and a little patience, the Masters will once again prove the most exciting tournament of the year.

By the Numbers: 2002-2008

Augusta National has also gone through more changes since its inception than any other of the world's 20-or-so greatest courses; changes were made to the course in 41 different years. Interestingly, and to some, alarmingly, the most extensive occurred in 2002, when Fazio extended nine different holes, each an average of 25-30 yards, and the 18th alone by 55-60 yards. In 2006, Fazio lengthened six more, each an average of 20-25 yards. Since 2002, a total of 460 yards have been added.

The changes also turned some easy holes into much harder holes. However, harder is not better. The U.S. Open has shown that. "It used to be that you tried to survive 1-6, then scored on 7-9 and use that as a springboard to build on the back nine. Now seven is one of the hardest holes on the course," explained Phil Mickelson. "It's a completely different hole right now."

Mickelson is absolutely right. The hole was originally designed to loosely resemble No. 18 at St. Andrews: short but sexy. At 350 yards - meant to play drive-pitch - it could survive being the narrowest hole at Augusta and the smallest green surrounded by some of the deepest bunkers. It's Golf Architecture 101: defend the shorter holes with the most peril.

However, Fazio added 100 yards. Now 450 yards from the tips, the hole is dangerously narrow, and pros play mid-irons severely uphill to a green designed to accept a wedge. There is no doubt Fazio's changes don't fit the green, and he has erased the original playing strategy, turning the hole into exactly what Jones, Roberts, and Mackenzie wanted to avoid - a center-line grind, a line of scrimmage battle of attrition rather than fireworks, almost impossible to play without luck, not skill. Since 1942 it has played as the 12th hardest hole at Augusta, a 4.14 stroke average. Since 2007, it's the third-toughest hole, over the last two years averaging 4.325.

Another example is the first hole. It was once 265 yards to carry the fairway bunker guarding the inside of the dogleg and reach the downslope for a much shorter approach into the green. Now it's 315-320 yards, so no one takes the risk: everyone hits the same safe center-line shot. But can you blame the pros? Why start the day by tempting a likely double-bogey? "They've taken away a lot of choices," said former champion Sandy Lyle in a published interview. "It means fewer guys can be competitive."

Traditionally one of the easier holes, one played the fourth-hardest last year, behind 10, 11, and 7 respectively. Fifth most difficult, by the way, was the 240-yard, par-3 4th hole, which was also dramatically lengthened by Fazio.

Moreover, with the addition of rough and trees at 13 and 15, the two back-side par-5s where so many roars originate, eagles are suppressed as well. Even though the four par-5s play as the four easiest holes on the course, many writers believe the addition of rough and trees at 13 and 15 takes away the temptation for players that hit a less than perfect drive. "They are not classic risk-reward right now," said our anonymous scribe from New York. While there were 30 eagles recorded at the 2004 Masters, (won by Mickelson's epic 31 on the back nine, where he made five birdies in the last seven holes), the entire field has made an average of only 19 eagles each year since. Consider these numbers:

Low back nines at the Masters since 2002:

2002: 30 - V. Singh, Rd 2
2003: 31 - Els, Rd 2
2004: 31 - Mickelson, Choi, Garcia, Wittenberg (all final round)
2005: 31 - Immelman (Rd 3), D. Howell (Rd 2)
2006: 32 - V. Singh, Mediate (Rd 1), Duval (Rd 2)
2007: 34 - (nine different players, four in the final round, including Zach Johnson)
2008: 33 - (12 players, including Immelman and Padraig Harrington, but only once in the final round: Miguel Angel Jimenez, who needed a 68 to finish seven shots back).

The 2009 Augusta

Happily, the Masters Tournament Committee takes its obligations of stewardship seriously. They listened to the criticism and thoughtfully considered some alterations to the course set-up to "restore the roar" that made the tournament America's flagship golf event. For the first time in 28 years, they shortened the course. Ten yards were trimmed from one hole, and several tees were extended forward to make holes play up to 20 combined yards shorter should the wind and weather dictate.

Moreover, taking a page from the USGA's set-up man, Tom Meeks, tournament officials hinted that the seventh hole may be played from the original tee (350 yards), for at least one day, more if the weather resembles the dreadful conditions seen in 2007 and '08.

There was an additional factor no one could have foreseen: two consecutive years of the most abysmal weather Georgia had ever seen for Masters' week. Global warming, huh? Well "The Gore-acle" needs to understand one inconvenient truth: he should go back to inventing the Internet rather than being a meteorologist because despite his histrionics, we needed three layers of fleece at the Masters the last two years!

Usually it's one day cold, one day wind, one day rain and one sunny day, but not in 2007 and '08. "We think last year's exceptionally high scores were an anomaly due to the frigid, windy weather," explained Tournament Chairman Billy Payne. He has a point. The winning score was what's known in the sports industry a "statistical outlier," a result so far away from normal that it should be discarded from consideration. However, the weather was a statistical outlier, too. Perhaps Augusta never saw worse weather in spring since its ill-fated official opening in 1933 which, according to the Augusta Chronicle article from the next day, featured "near-freezing weather which came in with a cold rain," and where guests ate barbecued chicken and bootleg corn liquor in a tent to stay warm.

Neither touring pros nor aging grandmothers in Depends can score well when shivering and wrapped up tighter than King Tut in his burial chamber. And even so, Immelman was as low as 11-under before shooting 75 the last day for a respectable winning aggregate of 280.

With a more flexible set-up - taking a cue from the U.S. Open - where tees might be moved forward and some generous hole locations provided, the excitement that is one of the Masters' trademarks will be back and we will all be happier for it. The course will play tough, of course, but not "hard for hard's sake." The results of the refinements will be incremental - we may not see 15-under win, but like all things cyclical the pendulum will begin its return swing this year, and the Sunday Charge and Sunday Charge Roar will once more shake the woods and echo throughout the stately arboretum of America's golf cathedral.

Handicapping the Field

The prince looked at the letter, which bore the insignia
of three fleur-de-lis, and opened it with agitation,
which visibly and greatly increased when he perused
the contents which were expressed in these words -
"Take heed to yourself, for the Devil is unchained."
The Prince turned as pale as death, looked first on
the earth, and then up to heaven, like a man who has
received news that sentence of execution has been
passed upon him.

from Sir Walter Scott's "Ivanhoe"

Tiger's back and he's roaring. No worse news of a comeback has befallen any since Prince John heard from the King of France's hand that King Richard the Lion-Hearted was returning to England from the Crusades, and that keen, piercing glare - savage fierce and intractable - tells in every glance a history of courses conquered, enemies subdued, dangers dared, adversity overcome and challenges overcome, sweeping them aside in the flash of a steely club-shaft and virile fist-pump. Right on cue, PGA Tour pros turned craven-hearted, and the turtles all retreated to their shells, the worst being Sean O'Hair, whose inglorious 73 frittered away a five-shot lead in last week's Arnold Palmer Invitational at Bay Hill. Champions don't play like that; they let the pressure galvanize them instead.

Nevertheless, I'm picking Padraig Harrington. I'm two-for-two riding the Paddy Wagon, and as he's had his eye fixed on preparing for this tournament, he'll be ready. He plays best on the hard courses, and he plays well at Augusta. "I like it when the course is tough, half the field thinks they are out of it before we tee off, so that's an advantage already," he said before the PGA at Oakland Hills last year. The Irishman has centered his practice regimen around the rigors he'll face at Augusta. He drives long and straight. He has one of the most well-rounded games in all of pro golf; he's strong in every facet. He's mentally tough. He plays Augusta well (except 15…). He's mentally and physically ready and his game is steadily coming into form just in time. As Brian Keogh of the Irish Sun and Irish Golf Desk recently wrote to me:

"He's done all the media interviews it is possible for a man to do so that he will be left in peace once he gets to Augusta and he loves the changes they have made to Augusta over the years. Used to hit sand wedge to the first, 9-iron to 11 and lob wedge to 18. Now it's back to the way it was in the '80s. Yes, it's long and tough but Augusta has total control over the scoring because they no longer have to put pins a foot from slopes. They are three feet away now and they can control everything with tees, pins and green firmness. He regards the Masters as the ultimate test of golf. If you can win the Masters, you can really play this game. Other tournaments you can win by being a good putter. At the Masters you have to be on your game in all departments. Period. There are no lucky winners of the Masters."

After that, yes, Tiger will contend. Prior to his win at Bay Hill, I spoke with Hank Gola of the New York Daily New, who addressed my question about Tiger's poor putting at the Match Play and Doral by saying, "Don't judge Tiger's putting by his poor early showings at Doral and the match play. He putts better on faster greens and the greens at both Dove Mountain and Doral were slow. Plus, he improved the last two days at Doral. He'll putt well this week at Bay Hill, you watch." Woods was number one in putting at Bay Hill, averaging a mere 26 putts per round. That's the kind of effort that wins majors. Just ask Harrington, who had 51 putts in his final 36 holes at last year's PGA Championship on some of the toughest greens in golf.

As for the rest of the field, the usually suspects should play well. Ernie Els is rounding into shape; Phil Mickelson has been playing well; Retief Goosen showed flashed of the form that won him two U.S. Opens and a Tour Championship; Geoff Ogilvy not only won but has the mental toughness to survive the crucible of a major championship. As for sleeper picks, Ben Curtis went 374 consecutive holes without a three-putt, and he fits the same mold as Johnson: unflappable, consistent, and a great putter. He won a major before . . . and he plays well here. Johnson is also a great putter, has a great short game, and is a gritty grinder with unflappable demeanor. He won this major before. After failing to qualify for three of the four FedEx Cup tournaments, he had a town-hall meeting with his advisors and coaches. The result was two victories, and a sixth and 10th in a six-tournament stretch. "I went back to my old way of putting: scrambling, converting birdies on par-5s and good putting, that's my game," he said in a recent interview.

So don't believe all the gloom and doom about the supposed "U.S. Open in March." The good and welfare of the Masters, and indeed American golf itself, could not be in safer hands that those of the Masters Tournament Committee. So once again the sport light shall shine brightly once more, and the excitement will be back at our glorious arboretum, where the clangor will once again ring upon the field and the celebrations will resound joyously to the vaulted sky, before our beautiful golf Persephone disappears once more into the mist for another year.

But what a week it will be.


Since launching his first golf writing website in 2004, http://www.jayflemma.thegolfspace.com, Jay Flemma's comparative analysis of golf designs and knowledge of golf course architecture and golf travel have garnered wide industry respect. In researching his book on America's great public golf courses (and whether they're worth the money), Jay, an associate editor of Cybergolf, has played over 220 nationally ranked public golf courses in 37 different states. Jay has played about 1,649,000 yards of golf - or roughly 938 miles. His pieces on travel and architecture appear in Golf Observer (www.golfobserver.com), Cybergolf and other print magazines. When not researching golf courses for design, value and excitement, Jay is an entertainment, copyright, Internet and trademark lawyer and an Entertainment and Internet Law professor in Manhattan. His clients have been nominated for Grammy and Emmy awards, won a Sundance Film Festival Best Director award, performed on stage and screen, and designed pop art for museums and collectors. Jay lives in Forest Hills, N.Y., and is fiercely loyal to his alma maters, Deerfield Academy in Massachusetts and Trinity College in Connecticut.