Revitalization of Black Butte's Two Courses Complete
By: Jeff Shelley
Central Oregon is known for its four-season outdoor activities, with skiing at Mount Bachelor a big draw in winter and golf the thing to do in spring, summer and early fall. Bend, Redmond and environs are cherished as a golfing Mecca, and for good reasons.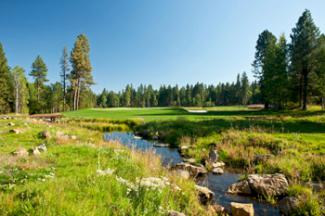 The 5th at Glaze Meadow (Photo by Aidan Bradley)
Boasting sunshine about 300 days a year - and, at lower elevations such as Redmond, year-round play, the golf courses here feature tremendous variety and usually immaculate conditioning.

I've been coming to this part of the Pacific Northwest for over four decades, whether through research for my book, "Golf Courses of the Pacific Northwest," or just to get out of the big, rainy city of Seattle and go to a place on "the other side of the mountains" for some dry weather and fun in the sun.

One of my favorite places to stay and play has always been Black Butte Ranch, a 36-hole resort on the east flank of the Cascades with a low-key ambiance and spectacular panoramas of nearby peaks, one of which is its namesake.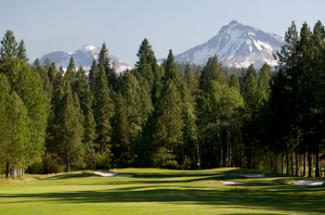 Big Meadow's 10th Hole (Photo by Rick Schafer)
Developed in the early 1970s, the nearly 2,000-acre enclave occupies the former Corbett cattle ranch and lies about eight miles from the quaint Western-themed town of Sisters. Of the 1,251 well-established and expansive homes - all of which are secluded within dense pine forests and off narrow, twisting roads, 110 are used as vacation rentals.

In addition to golf, Black Butte residents and guests occupy themselves with sports such as tennis, trout fishing, swimming, horseback riding, biking, kayaking, paddle-boarding, bird-watching and hiking, with cross-country skiing and snowshoeing in winter on its miles of paved paths. The Hoodoo Alpine Ski area and other "snow parks" are five miles from the Ranch. Just to the north is the Metolius River, which offers some of the West's best catch-and-release fly-fishing.

The first course here was Big Meadow, designed by the late Robert Muir Graves and opened in 1972. Glaze Meadow, designed by the legendary Gene C. "Bunny" Mason, a long-time Oregon golf pro and Black Butte's former director of golf, followed eight years later. (For more about Bunny, visit http://www.cybergolf.com/golf_news/a_legend_in_northwest_golf_passes.)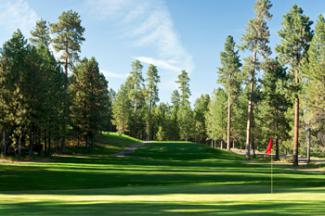 The 7th at Glaze Meadow (Photo by Aidan Bradley)
As with all courses approaching the 30-plus-year mark, renovations were needed for both "Big" and "Glaze." Over 2004-05, a master plan was begun for both layouts, with the primary focus being the replacement of their aging irrigation systems. Remarkably, the property owners - who also own the Ranch and its golf courses - approved the plan by a whopping 83 percent.

Big Meadow was first. Damian Pascuzzo, who worked with Graves (Graves passed away in 2003) and in 1991 became his partner, was hired to do that remodel. Work there, completed in 2008, focused on revamping the tees, bunkers, irrigation, cart paths and tree-thinning.

Following Big Meadow's renovation, Glaze Meadow gradually saw a decrease in play. "We were in a declining-rounds environment, all due to play on Glaze Meadow," observed Scott Huntsman, president and chief executive officer of Black Butte Ranch, during a presser in early June 2012.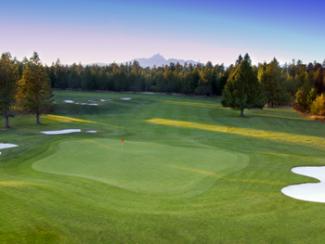 9th Hole at Big Meadow (Photo by Mike Houska)
"Even with increased competition in the area and even through the recession, rounds had grown at Big Meadow. But we were losing rounds pretty steadily (at Glaze Meadow) because it wasn't a comparable playing experience to what you could see at the Brasadas or Tetherows (Bend-area courses) or even Big Meadow," added Huntsman. "We were finding people coming in, playing Big Meadow once or twice, and then opting to go someplace else as opposed to playing Glaze."

Glaze's quirky opening hole - which had a blind tee shot over a steep hill to destinations unknown, along with many fairways that had become constricted by expanding forestry, turned off those who'd made a habit of staying at Black Butte and playing both courses.

So Portland native and current Arizona resident John Fought was hired to conduct a remodel that was considerably more extensive than what took place at Big Meadow. And what a reincarnation the former PGA Tour player and 1977 U.S. Amateur champion-turned-successful-golf architect has wrought.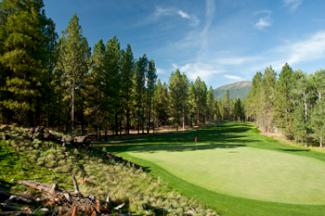 Glaze Meadow's 8th Hole
(Photo by Aidan Bradley)
In addition to his Oregon roots, Fought's bona fides were spot-on for the Black Butte job: With Robert Cupp, he co-designed both Pumpkin Ridge courses - site of several USGA championships - as well as The Reserve Vineyards & Golf Club near Portland, and Crosswater Club at Sunriver south of Bend. Fought solo designed The Gallery's North and South courses in Arizona; Sand Hollow Resort in Hurricane, Utah; Centennial Golf Club in Medford, Ore.; Trophy Lake Golf & Casting in Port Orchard, Wash.; Ridge Creek Golf Club in Dinuba, Calif.; and Windsong Farm - with Tom Lehman - in Minneapolis.

Equally impressive is his remodel work, highlighted by his restoration of the Donald Ross-designed Pine Needles in South Pines, N.C.; Dallas Country Club (originally crafted by Tom Bendelow); and another Ross gem, Rosedale Country Club in Toronto. (For more background on Fought, see Tony Dear's profile at http://www.cybergolf.com/golf_news/favorite_designers_john_fought.)

So the Oregon native son was the perfect man to handle the rebirth of Glaze Meadow, although Fought knew what he faced when proposing wholesale changes to Mason's work. "I'm usually very unpopular at the beginning of projects. I'm OK with that because I know what it's going to be like at the end. I knew it could be so much better, and that was the mission, and I knew at the end they were going to be happy, and I think they are. Time will tell."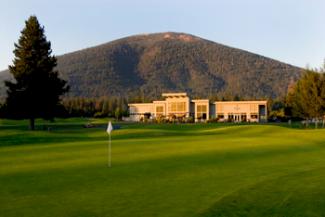 Big Meadow Clubhouse (Photo by Mike Houska)
The project began in October 2010 and the full course reopened to public play in late June 2012. Fought retained Bunny's routing for the most part, but that was about it. He directed the removal of thousands of trees inside and along the course, and the tees, greens and bunkers at all 18 holes were built from scratch. Glaze also went from just over 6,500 yards to 7,000 in total length.

"We can now host an Oregon Open," said Jeff Fought, John's younger brother and Black Butte's director of golf. "We can tuck the pins and speed up the greens if we want. But it's also still playable for average golfers."

And, yes, a new irrigation system was installed at Glaze. Black Butte's superintendent Phil Lagao, named 2012 Superintendent of the Year by the Oregon Chapter of the Golf Course Superintendents Association of America, said, "The old irrigation was a struggle . . . this new system is a Cadillac." The computerized system is also saving the Ranch over 20 percent in water usage a year.

TDI Golf out of Guelph, Ontario, Canada, handled the construction of Glaze, with the talented Ron Hart doing the shaping. The price tag for the complete makeover was a remarkably reasonable $3.75 million.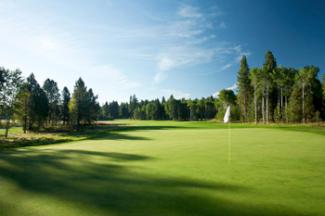 Glaze Meadow's 4th Hole (Photo by Aidan Bradley)
Glaze's old poa annua was replaced by a mix of bent and ryegrass throughout, with fescue in the rough. The greens were also expanded from their original 4,000-square-feet average to around 6,250. But the greens aren't overly bold, by design. "Golf courses are the greens," John Fought said. "I wanted the new greens to have subtle contours. It took me awhile to learn that."

Heading into the remodel Fought was confident he could make a significant difference at Glaze. "I knew this could be 300 percent better," the designer said. "I love projects like that, where you can get in there and you know you can really make a difference. I mean a big difference, like night and day."

For starters, the old first hole is simply unrecognizable from its current configuration. Instead of facing a where-on-Earth-am-I-going par-5, the golfer now has a full view off the tee of the right-bending par-4, with meadows and the Black Butte as a backdrop. Neither is the 16th, a former tree-pinched and punitive par-4 that's now nearly twice as wide. "I think it's really fun to do those makeovers," Fought said specifically about the two holes.
Of the 16th, he added, "I think now it's a nice hole, and before it was Mickey Mouse.

"Nobody likes playing out of the trees all day long. It was a function of us getting the scale of trees back to where they should be. When we first started taking them out, I think some of the homeowners were 'Oh my gosh, what were you thinking?' Then they walked the holes and said this could be a lot more fun to play. It's a big change, but the good news is that there are good trees behind the ones we took out."

Fought had a ready reply for the homeowners about the 3,000 to 4,000 trees removed at Glaze. "There are still 250,000 to 300,000 trees on the entire 1,800-acre property," he noted.

Interestingly, when both Big Meadow and Glaze Meadow were built the designers utilized the standard corridor widths of the 1970s and early '80s - 300 feet. With golf's technological advances, however, newer courses now require 400-foot fairway widths. So to open up the holes at Glaze, Fought removed peripheral trees almost to the property lines of adjoining homes. Now, if you're now off-track at Glaze you may be out-of-bounds.
Needless to say, the two Foughts and Black Butte officials are pleased with the reincarnation of Glaze Meadow.

"We really feel this will give us an opportunity to . . . re-position Black Butte where it had been for so many years as a quality destination for golfers in the region," said Huntsman.

"This is the best bang for the buck I think I've ever done," added a beaming John Fought.

For more information, visit http://www.blackbutteranch.com.