Revolutionizing Social Spaces to Meet Demand
By: Tom Hoch
There was a time (not so long ago) when the golf clubhouse was the recreational equivalent of an old boy network club. Throngs of golfers, predominantly male, would make their way from the 18th hole to the 19th hole in search of a cold drink, a game of cards and witty banter.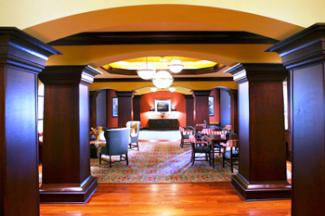 The Lobby at Ross Bridge on the Robert Jones Golf Trail
My, how times have changed in the golf industry, with public, private and resort clubhouses undergoing total makeovers in not only who utilizes them, but how and when. At Tom Hoch Design, we are now just as likely to design a daycare center, grab-and-go bistro, yoga and fitness studio or adult game room as a traditional men's locker room or pro shop.

To draw a parallel, think about the business-class hotel category. Whether it is Marriot, Hilton or Starwood, lobbies have become a mixed hub of productivity, recreation and social exchanges. Members and guests expect more functionality from spaces, as the lines between work and play have been forever blurred.

With this in mind, a fistful of key trends have come to the forefront of clubhouse design for which managers, owners and operators should take note.
Back Lobby at Creighton Farms in Virginia
Fun for All Ages

Gender-specific rooms (like the aforementioned men's locker room) are being replaced by gender-neutral spaces with family-centric activities like daycare centers, teen rooms and other fun-first activity areas.

The fun isn't limited to the younger demographic, as adult game rooms featuring two-lane bowling alleys, billiard rooms and golf simulators are also taking center stage. Many of these "noble" pursuits aren't just remedies for mid-life crises; they are vibrant incremental revenue centers that attract patrons year-round.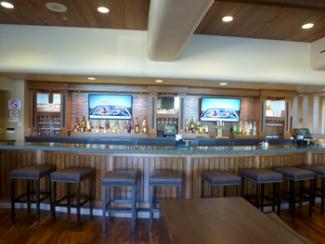 The Bar Area at Camelback Mountain in Scottsdale
Culinary Enhancements

On the culinary front, wood-fired pizza ovens, action stations and open/exhibition kitchens are growing in popularity. Cooking classes are offered at a number of the clubhouses we've designed and built, only adding to member enrichment and guest envy!

Wine bars have been hot, nationwide, for the past half-decade. And we're fielding more and more requests to include them - and sophisticated cellars - in our space programming.

One thing that many golf courses enjoy is a great location. As such, alfresco dining is hot button with both our renovation and new design projects. Just like in the hotel industry, holing up in a dark and dank restaurant or bar is no longer avant-garde.

Marrying indoor dining rooms with outdoor patios is a simple yet powerful technique for attracting more food and beverage revenue through increased leisure and group business.
Fitness and Sports

Rising to meet the demand for sports and fitness activities, many clubs and resorts have incorporated multi-use areas to assist in overall health and wellness. Aerobic rooms, yoga studios and grab-and-go stations featuring healthy food options are replacing seldom-used banquet rooms and other underutilized spaces. Relaxation options are also finding a renewed emphasis, including true amenity-level spas and exotic saunas.

On the sports side, two pursuits once left for dead by golf clubs - tennis and swimming - are making a decided comeback. Numerous competition and resort-style pools have been installed, increasing the social energy among members and extending the club's utilization season. Instruction programs, such as tennis and golf lessons, provide additional profits and afford more options, keeping parties engaged at the property.

These trends combine to focus on the importance of catering to members while also offering a welcoming environment for guests.

This renewed concentration on today's society and social-setting designations has created an all-around experience, and led to increased profits and foot traffic. Now may be the time to survey your destination to discover untapped opportunities and new chances to engage.
Tom Hoch is the president of Tom Hoch Design, a leading design-build firm based in Oklahoma City, Okla. Founded in 1963, Tom Hoch Design specializes in club, resort, hotel, restaurant and recreational spaces. The firm has revolutionized the category via its "revenue-based design" model, a space planning, sizing and mapping process for retail-driven spaces such as golf shops and food- and-beverage operations. For more information about the firm, visit www.tomhoch.com.