Riding the Pacific Northwest's Best Golf Trail from Kamloops to Kelowna
By: Crai S. Bower
True, the Okanagan of eastern British Columbia doesn't boast over 100 courses, and golf in the winter is called cross-country skiing. But other conveniences dictate that a trip to this arid part of North America is mandatory if you're serious about playing great courses in bunches.
Fruit of the Vine

Unlike many golf destinations, the Okanagan also offers entertainment for non-golfing companions, specifically Canada's most prolific wine-growing region. B.C. wines have followed Washington and Oregon into respectability, winning international awards and resulting in tasting rooms and terrazzo-style dining that celebrates this Mediterranean climate where the grapes grow. Among Okanagan wineries, Mission Hill Family Estates is notable for its grand Tom Kundig-designed villa high upon a valley bluff, bell tower, subterranean barrel room (be sure to check out the ancient vessels) and a demonstration kitchen. Several smaller wineries of great reputation, including Burrowing Owl, Kettle Valley and Quails Gate, will capture the non-golfer for an hour, an afternoon or a couple of days.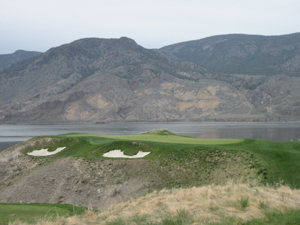 It's hit or miss at Tobiano's signature hole
Hitting the Links

For golfers, however, there is little time for sipping because the chipping options appear so robust. My partner and I head due north upon touchdown in Kelowna, our first course still a couple of hours away in Kamloops. We don't have to drive to play, the 36-hole Okanagan Golf Club - with its Quail and Bear (a Nicklaus design) courses - is just 15 minutes from the airport, but it's often forgotten by visitors to the region due to the preponderance of courses throughout the valley. Our game plan first takes us to our farthest point north; we'll work our way from there back south.

Traveling as far as Kamloops, an industrial city lacking Kelowna's lakefront locale and reputation as second-home and vacation destination, never entered this player's pre-trip routine before 2007, when Thomas McBroom was called upon to design a links-style course on the bluffs overlooking the Thompson River. Tobiano received "Best New Canadian Course" accolades in 2008, even though many mid-handicappers considered the course too punitive to be much fun, as well-placed tee shots rolled off shaved sides into rattlesnake habitat on several holes. The course superintendent has since made subtle changes that save golf balls and, today, Tobiano soars as perhaps the most fun Northwest course north of Chambers Bay.

Like that public course in University Place, Wash., Tobiano punishes the ambitious. My partner, a long hitting Toronto-born hockey player, nailed a few drives among the gophers when a 3- or 5-wood would have placed him in "Position A," especially on the downhill, 453-yard par-4 14th that rewards a well-struck tee shot with enough roll to leave barely a lob wedge to the green. The 14th is just one of several "floating" greens hovering above the Thompson that require extremely accurate approaches. I've played few other courses where my pro's mantra about prioritizing the short game was never more apparent.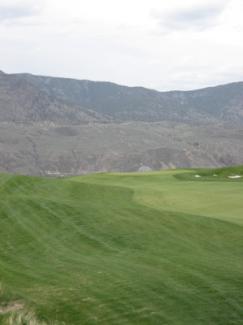 Tobiano's greens dangle over the Thompson River Valley
There's no way other way to say it, Kamloops is a rugged town that really belongs in Alberta. The best attribute of Kamloops is, frankly, leaving Kamloops. Cynical as that sounds, the surrounding mountains offer the some of the best family skiing (Sun Peaks Ski Resort) in the West and over 100 fishable lakes within 60 minutes. The hills are lined with cross-country biking trails, including four new trails designed specifically for the Intermontane Challenge mountain bike race. Like the cowboy and oil province to the east, the geography surrounding Kamloops is littered with fossils, geodes, gems and even a little gold.
The Kamloops environment, an ecozone between mountain and desert, offers diverse golf, from the bluff links at Tobiano to valley links at the newest track, highly-touted Canoe Creek in nearby Salmon Arm, to Talking Rock, one of B.C.'s best arboreal tracks.
Talking Rock Resort is owned by the Little Shuswap First Nations Band. If you're lucky you may run into one of the many elders who act as docents for the property and the resort. The golf course, just two years old, travels through a mature alpine forest. The 4th and 5th holes climb out of the valley before the layout falls back to earth on the dramatic par-3 6th. Talking Rock waits until the finishing hole to present its signature hole, a narrow lane cut beside the Little Shuswap Lake.

One might consider a two-year-old course to be new. However, with almost 20 courses from Kamloops to Osoyoos, two years old is practically middle age here. The newest kid on the block, The Rise, offers a track cut into a hillside from the drafting table of perpetually youthful Fred Couples a Seattle native. Architect Tom Doak once told me that tour pros design courses differently than mid-handicap golf designers; consider The Rise "Exhibit A."

Located high above Vernon equidistant between Kamloops and Kelowna, The Rise's 550-yard opening hole requires a third shot to an elevated green fronted by a circular stonewall. Leave it well short and you encounter a testy chip; just miss and your ball ricochets in any number of directions. The game goes uphill from there, as you continue to climb on the 431-yard 2nd hole. You'll definitely need to rise to the occasion here (sorry for the bad pun), pairing length with precise iron play on holes like the 6th, a 192-yard par-3 fronted by water. Water also comes into play on the 15th and 16th, as the slightest over-draw (or over-fade in my left-handed case) is all wet.

There is certainly something fun about playing one Couples's first signature courses, and the vistas are spectacular as we traipse up and over the mountain. Yet The Rise is just this side of a dreaded tricked-out design (similar to either the Chelan - Wash. - or Victoria - B.C. - Bear Mountain courses) and demands full concentration and energy to avoid frustration. "Boom-Boom" and his architect-partner, Gene Bates, attempted to assuage this aggravation by offering five tee boxes that will add or subtract 2,000 yards from the blocks you choose to play.

If The Rise represents the tipping point for Okanagan golf, Predator Ridge exemplifies its apex. Located between Vernon and Kelowna behind the golden hills that rise above the lakes, this 27-hole complex will complete its fourth nine in 2010, creating two 18-hole courses instead of the forever incongruous 27-hole format. Canadian resorts tend to favor the 27-hole layout due to the six-courses-in-three value. In fact, rare are the three nines that add up to a comprehensive 18-hole experience, though Predator comes close.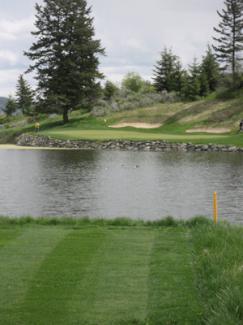 There are no gimmes at Fred Couples' Rise
The Okanagan's premier golf destination also encourages family and mixed-ability playing groups, as tee boxes are separated by as much as 2,000 yards and the junior tees are obvious. Unlike many courses, which clearly favor the "white" tees, architect Doug Carrick has created a satisfying track for hitters of every length at Predator Ridge. Only two par-4's fall below 400 yards from the tips as the course stretches out along hills and dips into several valleys. Predator's Golf Performance Centre, restaurant and lodging are unequaled in the Valley. Beginning in 2010, an Okanagan golf vacation could easily begin and end at Predator Ridge.

There are few destinations on our continent that are truly set up for multi-activity travel so well as the Okanagan Valley. Flying into Kelowna, I can't help but twitch with excitement whether I'm heading to SilverStar, Big White, Revelstoke or Sun Peaks ski resorts in the winter, or looking to tick off 72 holes or more over a long weekend. Supplement your trip with detours to the scores of wineries or take an afternoon to float on Okanagan Lake and everyone departs satisfied.

Just think, at less than 60 minutes away from SeaTac Airport, you could be chasing par and sipping chardonnay by this time tomorrow.
The Golf

Okanagan Golf Club
Greens Fees: CDN $95-115
Kelowna, B.C.
250/765-5955
www.golfbc.com

Tobiano
Greens Fees: CDN $100-130
Kamloops, B.C.
877/373-2218
www.tobianogolf.com

Talking Rock
Greens Fees: CDN $72
Chase, B.C.
877/663-4303
www.talkingrock.ca.com

The Rise
Greens Fees: CDN $85-115 Vernon, B.C.
877/243-7417
www.therise.ca.com

Predator Ridge
Greens Fees: CDN $110-140
Vernon, B.C.
888/578-6688
www.predatorridge.com

The Wine

Burrowing Owl Estate Winery
Oliver, B.C.
877/498-0620
www.bovwine.ca.com

Kettle Valley Winery
Naramata B.C.
205/496-5998
www.kettlevalleywiner.com

Mission Hill Family Estates
Kelowna, B.C.
250/768-7611
www.missionhillwinery.com

Quails Gate Winery
Kelowna B.C.
800/420-9463
www.quailsgate.com
Crai S. Bower publishes 50-plus articles a year in over 30 publications. He has written about golf in Alaska Airlines Magazine, Journey, Travesías and Travel.MSN.com, among others. He received the 2008 Northern Lights Award for Excellence in Canadian Travel Journalism. He contributes "Destination of the Month" for aaajourney.com and is the travel commentator for NPR affiliate, KUOW. For more details about Crai, visit www.FlowingStreamWriting.net.