Rory McIlroy - The Irish Phenom Comes to America
By: Tony Dear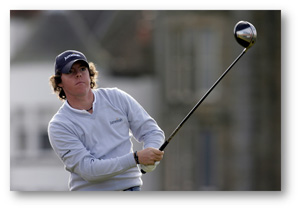 The article seemed like a good idea four weeks ago - introduce American golf fans to the player billed as the sport's next megastar. It still is appropriate, indeed exciting, to talk about him, but the nature of the story has altered. Now, as a result of the ample exposure he received during impressive performances at the WGC Matchplay, Honda Classic and WGC CA Championships, there's really no need for introductions. American golf fans can see clearly for themselves the path set before the mop-haired teenager from suburban Belfast.
Actually, Rory McIlroy has been known to serious observers on this side of the Atlantic since he shot an opening 3-under-par 68 in the first round of the Open Championship at Carnoustie two years ago. In typically frigid and blustery Tayside conditions, it was the only bogey-free round of the day and put him in a tie for third, three shots behind Sergio Garcia. He would finish tied for 42nd that week and, six weeks later, represent Great Britain and Ireland in the Walker Cup. A week after that, he turned professional and a few days later banked his first check - €15,128 after another tie for 42nd, this time in the British Masters at the Belfry. He then won €211,321 for third place at the Alfred Dunhill Links Championship and virtually guaranteed becoming the youngest affiliate member in European Tour history.
At any point during his short career, McIlroy's numbers are remarkable. Besides winning almost €2million and recording 13 top-10 finishes, including eight top-fives in less than two years on the European Tour, he reached No.1 in the world amateur rankings in February 2007, made the cut at the Dubai Desert Classic as a 17-year-old amateur, won the West of Ireland and Irish Close Championships in both 2005 and '06, added the European Amateur Championship in 2006, and hit a 40-yard drive at age 2.
By far the most remarkable stat of all though, especially for anyone that has played there, is the course record 61 he shot at Royal Portrush in July 2005. A score of 61 on any course over 6,000 yards long is pretty special. But a 61 on a tournament layout is outstanding, a 61 at an Open Championship venue is extraordinary, and a 61 at Royal Portrush, where the Open was held in 1951, is simply obscene. The fact that McIlroy had turned 16 just a few weeks before he laid waste to Harry Colt's classic Dunluce Links makes the score all the more far-fetched.
Not surprisingly, the Ulsterman has attracted his share of rave reviews in recent months. At the Dubai Desert Classic in January, Mark O'Meara said McIlroy is better at 19 than Tiger Woods was at the same age. "As far as ball-striking is concerned, he's probably better than what Tiger was," said the 52-year-old and a good friend of Woods. "His technique I think is better. Certainly Tiger has developed his game and swing over the years and made modifications to be able to hit the ball pin-high, but Rory is already doing that and he's 19, so he's already a step ahead."
Ernie Els, like McIlroy, a client of Andrew "Chubby" Chandler's International Sports Management (ISM) group, says he is the player most likely to topple Woods from the No. 1 spot in the world rankings. Former U.S. Open champion Geoff Ogilvy, who defeated McIlroy in the quarter-finals of the WGC Matchplay event in Arizona recently, said the Irishman's then world ranking of 16th would be his worst for 10 years (he actually fell to 17th on March 15th, but Ogilvy's point is well-taken.)
Lee Westwood and Darren Clarke, ISMers who forged a successful Ryder Cup partnership at the Country Club in 1999, Oakland Hills in 2004, and the K Club in 2006, expect McIlroy to be a European Team regular. Clarke adds that he would love to play alongside his countryman at Celtic Manor in 2010 but says he would be very happy, pleasantly surprised even, to be "playing at the same level as Rory by September next year."
Chandler himself, though slightly biased perhaps, reckons McIlroy could turn out better than Seve Ballesteros and remarks that his likely rivalry with fellow teenage sensations Japan's Ryo Ishikawa and New Zealand's Danny Lee will be huge.
Then there's Trevor Immelman, who won the Green Jacket at Augusta National last year on his seventh attempt, and who believes McIlroy can claim the title on his first in two weeks' time. "It's definitely not impossible," the 29-year-old South-African told reporters recently. "Fuzzy Zoeller did it in 1979 and, although Tiger Woods had played three times as an amateur, it was his first as a professional when he won in 1997."

Immelman acknowledges the pressure on McIlroy will be intense and predicts he will experience feelings he's never felt on a golf course before, but says he already has all the physical attributes of a Masters champion. But, he cautions, there are an awful lot of players who possess the talent to win, though only a small number that ever will. "There's a little bit of an 'X-factor' in doing something great in sport," he says. "Players find that out when the moment arises, and time will tell whether he has that little 'X-factor.' "

Some will point to McIlroy's minor collapse at last year's Omega European Masters in Switzerland and say he's not quite ready. After beginning the final round with a four-shot lead, McIlroy eventually lost in a playoff to Frenchman Jean-François Luquin when he missed an 18-inch putt. Others will remember his composed up-and down from the bunker at the back of the 18th green to win this year's Dubai Desert Classic, however, and say he has "it" in spades. And judging by some of the comments NBC announcers made during his three-week stretch in America earlier this month, the feeling here, too, is that McIlroy is very much the real thing and poised perhaps to become the youngest major championship winner since Johnny McDermott, who was 19 years and 10 months when he won the 1911 U.S. Open at Chicago Golf Club.

McIlroy has committed to play in next week's Shell Houston Open, but by the time he tees it up at Redstone, he will have visited Augusta National with his long-time coach Michael Bannon. McIlroy first met Bannon at Holywood Golf Club in 1993 at the ripe old age of 4. When Bannon moved five miles east to be head pro at Bangor GC in 1998, McIlroy and his father Gerry followed. "I'm still looking after him, just like I've done since he was a wee boy," Bannon told the Irish Independent in 2007. "He just comes down to me when he's at home. I reckon all the work on his swing was done by the time he was 14. I could see it suited him and I liked the look of it. Since then, I just make sure he's in all the right positions. I can remember when he started trying to swing like Tiger Woods. I told him to concentrate on swinging like Rory McIlroy."

The swing, unlike those of so many other Irish greats - Jimmy Bruen, Harry Bradshaw, Joe Carr, Des Smyth, Eamonn Darcy and Ronan Rafferty - is beautifully orthodox, unfailingly simple and surprisingly powerful. "He makes such a good angle on the way down," says Bannon. "There's a way of doing it so that you don't throw the club too early in the swing and Rory holds onto this angle until just the right time. That, his enormous turn and his leg-drive, give him tremendous power. And he's very flexible as well. It makes for a great unit."

Power is a major plus in today's game, of course, and it will come in especially handy at Augusta where it helps to approach the huge, contoured greens from a good height rather than on a lower, flatter trajectory. McIlroy averaged 305 yards per drive during his recent three-week trip to the U.S., so he should have no problem dealing with 7,435-yard Augusta National where the 10 par-4s now average over 450 yards in length. "I actually think the course will really suit my game," he told Cybergolf via email. "And I really haven't prepared any differently for the Masters than I do most other tournaments."

Just as important as the distance he generates so effortlessly, though, will be the innate poise and serenity this quietly-spoken, level-headed youngster exhibits on the pressure-packed fairways and stress-inducing putting surfaces of the modern professional game. "I just go out and enjoy playing golf," he said at the WGC CA Championship in Miami. "I feel very comfortable being the center of attention."

After observing his astonishing rise into the world's ethereal top 20, that's exactly what one expects him to be when the Masters starts.
Tony Dear is an Englishman living in Bellingham, Wash. In the early 1990s he was a member of the Liverpool University golf team which played its home matches at Royal Liverpool GC. Easy access to Hoylake made it increasingly difficult for him to focus on Politics (his chosen major) and, after dropping out, he ended up teaching golf at a club just south of London where he also made a futile attempt at becoming a "player." He moved into writing when it became abundantly clear he had no business playing the game for a living. A one-time golf correspondent of the New York Sun, Tony is a member of the Golf Writers Association of America, the Pacific Northwest Golf Media Association and the Golf Travel Writers Association. In 2009, Tony won first place for Editorial/Opinion in the ING Media Awards for Cybergolf. The article (http://www.cybergolf.com/golf_newsa_euros_take_on_the_2008_ryder_cup_matches) that impressed the judges was the one about Europe's Ryder Cup team and Captain Nick Faldo's decision to pick Paul Casey and Ian Poulter rather than Darren Clarke.