Rory & Rickie Drawing Young Fans
By: Elisa Gaudet
As I sat sipping espresso from my newly purchased 2011 U.S. Open Congressional coffee mug I can't help but think how it is the perfect symbol of what is currently going on in golf. A little bit of European mixed with a little bit of American and a whole lot of hope.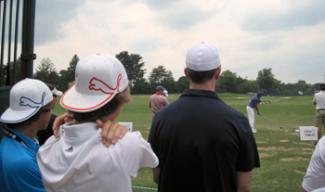 Watching Fowler On Congressional's Range
After Rory McIlroy's resounding U.S. Open victory two weeks I felt a new sense for golf - hope. The U.S. Open Congressional looked more like a Justin Bieber concert than a golf tournament because of the number of teenagers in attendance. And many of the youthful attendees were dressed in the brightly colored Puma outfits worn by another youngster, Rickie Fowler of the U.S.

When asked about the attraction to Fowler, two 16-year-olds, Nick and Joe, said they liked Fowler for his great golf and his outfits. "He relates to us better," they remarked.

When asked if they were the new Arnie's Army, they said they were working on a new name to honor their hero. The pair did manage a name for his signature hair, calling it the "Fowler Flow." But when Fowler missed the cut his fans shifted focus on McIlroy. The 22-year-old Northern Irishman not only played spectacular golf but conducted himself with grace and maturity beyond his years.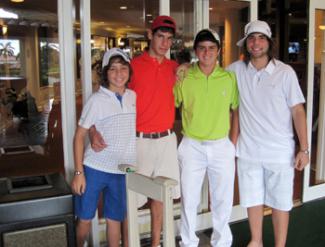 Four Young Guns at Doral
After his meltdown on Sunday at the Masters in April, McIlroy picked himself up and moved onward, shocking the world with an eight-shot win in the very next major championship. He kept his composure in the heat of competition and under the media microscope, proving himself as a refreshing combination of youth, talent and humility in an age of overindulged athletes who don't know how to lose gracefully.

I had the pleasure to enjoy the final two rounds of the U.S. Open in Miami while staying at the stunning Blue Hyatt Residences, which border the 12th and 13th holes of Doral's Blue Monster course.

While watching the final round and enjoying a John Daly cocktail in the restaurant, I met four more Fowler followers: Francisco, 14 years old (4 handicap), 16-year-old Jesus (2 handicap), 15-year-old Jorge (scratch), and 16-year-old Shears (a 10). They liked Fowler for his "swag and style" and Rory for his swing.
It looks like golf has some new heroes who are bringing in new blood, and the game is all the better for it.
Elisa Gaudet brings a wealth of entertainment and golf experience to Cybergolf. Elisa has spent the past several years in the golf industry in the U.S., Latin America and Spain. She worked for the PGA Tour and the Tour de las Americas before founding Executive Golf International, a golf marketing company that works with clients to develop strategies using golf as the medium. Often referred to as the Maria Bartiromo (a business analyst for CNBC) of golf, Elisa says: "Golf, as a marketing tool, has been around for years. It's amazing how many new ways companies can align their brand with the golf market to reach their target audience. Our goal is to create alliances and establish cross-border relations." Elisa also worked in the entertainment industry for over 10 years, including five in Los Angeles as a model and actress. She can be seen at many celebrity golf events and often gets the inside scoop from PGA Tour players. For more information about Elisa, visit her websites at www.onthelip.com or Executive Golf International www.execgolfintl.com.