Ross Recovered in Schlegel's Restoration of San Jose CC
By: Mark Leslie
God bless the Tufts Archives at Pinehurst Resort in Pinehurst, N.C. They have saved a Donald Ross-designed gem from extinction. That is, the Tufts Archives and the combined efforts of San Jose Country Club (CC) members in Jacksonville, Fla., who supported golf course architect Dan Schlegel, head pro Todd Bork, superintendent Clayton Estes and General Manager Scott Irwin in the project.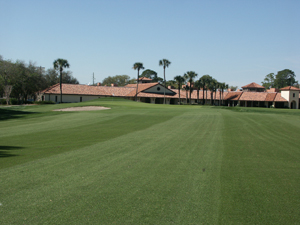 A
Ross, considered perhaps the greatest golf course architect who ever lived, designed San Jose CC in 1925 with many of his classic elements. But because of the financial restrictions of the Great Depression and World War II, along with other factors, all of his bunkers had been filled in and most of his strategy lost over the last eight decades.
But history took a fortuitous turn. When club members discussed rebuilding all 18 greens, which had badly deteriorated, one particular member's research at the Tufts Archives revealed what lay beneath the surface of their golf course. The result was a burning interest among many members in resurrecting the lost Ross.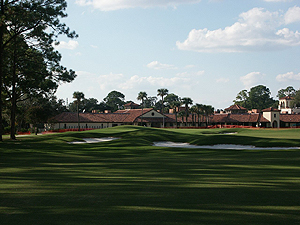 The
San Jose CC members brought golf course architect Dan Schlegel, ASGCA, on board in the spring of 2004 and gave him marching orders to return Ross's design to the property with today's technology in mind. Schlegel followed up on Col. (Ret.) Ray Benson's research with investigation of his own. He spent exhaustive time at the Tufts Archives, reading Ross's thoughts on the San Jose design and visiting several Ross-designed courses along the East Coast.
One aspect of San Jose CC that had not changed, Schlegel said, was the routing, which "is brilliant, the way it flows, its sequence, the tees next to the greens making it a wonderful walking course."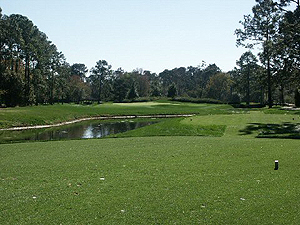 The Before Look of Hole No. 5
Modern technology has added distance to golf clubs and balls, so Schlegel was able to find an extra 300 yards on the 115-acre property to reinstate Ross's strategy and bunkering on 14 holes, exactly as Ross had designed them. Construction started last March 13 and the resurrected San Jose CC reopened October 14 to rave reviews.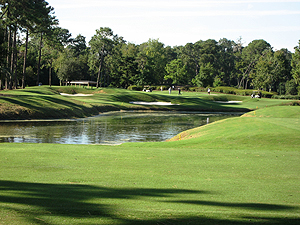 The After Look of the Fifth Hole
"Dan has given us a real gem," said Bork. "I think he has elevated San Jose's status tremendously in the area. It's significantly different. It's the same basic corridor, but visually it is incredibly different because of the bunkers."
"Visually, the course is stunning from every tee, every fairway, and every green approach," said club president, Judge Charles Cofer. "Dan's design work has taken a good course that could be played without giving thought to strategy, into a course where you have to give thought to just about every shot."
Calling the new course "a slam-dunk," Irwin said: "The members love it. It's now one of the best courses in North Florida."
Member Tom Kavanaugh added: "The Donald Ross Room is our most popular dining room and faces the course. I'm confident Mr. Ross would be especially proud of the honor paid to him by Mr. Schlegel and our membership for returning to our roots."

Irwin said the club spent $3 million on a total club improvement plan that also included clubhouse and security improvements, pool replacement, and enhancement of tennis facilities. All these improvements have created an excitement that has already swelled membership from 1,200 to 1,260, with more joining every week.

The reconstruction may also attract major amateur events back to a facility that once hosted a number of them, Bork said. Schlegel agreed, adding: "I think that given notice, Clayton Estes, San Jose's terrific superintendent, would be able to get the course in tournament conditions and green speeds, and the course would present all the challenge any tournament golfer would need."