Ross vs. Fazio: Who Rules in North Carolina?
By: Dave Droschak
The opinions on North Carolina golf could fill up an eight-hour car ride from Manteo to Murphy: mountains or coast? Bermuda or bent greens? Pinehurst Resort or Grove Park Inn?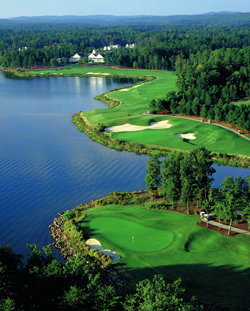 Finishing Holes at Tom Fazio-Designed
Old North State Club, North Carolina's
No. 1-Ranked Private Club
With more than 500 golf courses dotting the Tar Heel State, avid golfers and vacationers have their favorite jaunts. But when it comes to architects in North Carolina, few experts argue that two stand alone at the top - Donald Ross and Tom Fazio.

But who is or was better, the old-school Scot who lived adjacent to a fairway on Pinehurst No. 2, or Fazio, who set up his golf-design empire in Hendersonville in the shadows of the Blue Ridge Mountains?

Talk to members of the Donald Ross Society, a tight-knit group of avid and devoted Ross lovers whose goal is to keep his legacy alive, and they sneeze at today's designers as mere landscape architects, void of strategy and imagination, while Fazio fans point to his national rankings and popularity as an indication of his enormous success.

And what better state to open the debate than North Carolina, where Pinehurst No. 2 is ranked as its top public/resort layout, while Fazio owns the private course top spot with either Wade Hampton or Old North State Club, depending on which ranking you're citing.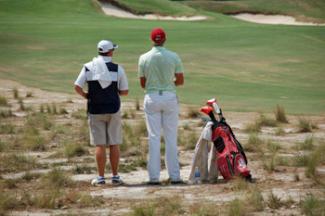 Decisions Weigh Heavily As Golfers Attack
a Ross Gem, Pinehurst No. 2
Ross designed more than 400 golf courses, mostly along the East Coast, of which 48 are located in North Carolina. On the other hand, Fazio has more than 200 layouts to his credit, 18 of which are in the Tar Heel State. And while a majority of his portfolio is located in Florida (where he also owns an office) Fazio has said on numerous occasions he would still have a Hall of Fame career if he just counted his North Carolina designs.

Most - if not all - of Fazio's layouts in North Carolina would be described as spectacular in both setting and style, while the Ross collection was accomplished during a more rudimentary stage in golf course design. So, this article won't set out to pick one architect over the other, but to point out the differences and why each is - and will be for all eternity - extremely relevant in North Carolina's rich golf history.

Each of the architects has their loyal supporters, kind of along party lines. "You can say that Tom has actually outdone Donald Ross if you line the careers up," says Tom Marzolf, Fazio's lead architect for more than two decades. "Look at the impact of Donald Ross and the impact of Tom Fazio; you can look at the quality of the properties across the country and you can easily see a situation in the future that the most revered architects are going to change, change through time and that's just a natural evolution. The interesting thing is golf in America is not that old, we've only been playing the game here since the 1890s, so it is still young.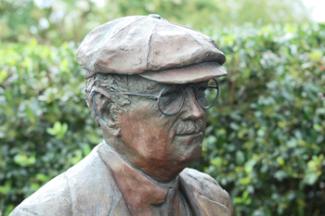 A Statue of Donald Ross is Outside
Pinehurst Resort's Clubhouse (Photo by Dave Droschak)
"Tom Fazio has been around for a 40-year career of those 130 years. He could end up being known as one of the most prolific and best designers in the history of the game. Some would say that's already true. He'll get more exposure as time goes on."

The exposure that Ross garners in North Carolina more than 60 years after his passing still amazes me. If you've ever golfed in the Tar Heel State for any length of time you've probably logged a round or two on a Ross course. Of course, the Ross crown jewel is Pinehurst No. 2. But some argue that he did comparable work just down the road at Pine Needles Resort, or near the coast at Cape Fear Country Club, or heading to the mountain at Mimosa Hills.

Fazio's North Carolina designs are almost exclusively of the private nature, with cart paths weaving their way through high-priced housing and finishing at elaborate clubhouses, while Ross massaged the native land mostly by "hand," using large crews of laborers, horses and oxen.

I describe many of my rounds on a Ross course as a "walk in the park" with tee boxes within earshot of the green just finished, while 18 holes by Fazio are a ride through paradise, featuring tons of sugary, white-sand bunkers, water and exquisite routing through forests - in essence - some major eye candy.
"When Ross started with a blank slate he had to work over the topography to figure out how he was going to put 18 holes in a place where he didn't have to move a lot of dirt," says Michael Fay, the executive director of the Ross Society. "For the most part he had to use the natural ground to create the golf course, and in doing so his golf courses looked like everything else in the neighborhood. It's not like you walk off a flat piece of property and all of a sudden you have all these hills and valleys. If the property had hills and valleys then the golf course had hills and valleys.

"Today his courses look like they did 100 years ago," added Fay. "They still have some of the little quirks of nature that most modern-day architects will do away with. That is one thing that had held most people's fascination with Ross."

Ross courses are generally played close to the turf, while Fazio's challenges are more aerial, his hazards often situated on the land to challenge the best players while offering "hackers" an escape route.

"I see modern architecture 'dumbing-down' the game because they are selling to a different audience." Fay notes. "They are not selling to golfers necessarily. Nowadays, a lot of people playing the game are retirees or older people who quite frankly don't have enough time left in their lives to learn how to hit a bunker shot from eight feet deep."

Ross courses in general are shorter since he designed most layouts between 1910 and 1929, when hickory shafts were still in play. That has led to a flurry of Ross restorations or redesigns over the past decade across North Carolina, many times aimed at adding length or efforts to "recover" a course's historical significance.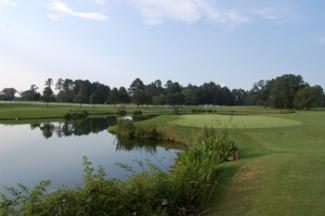 9th Green at the Tom Fazio-Designed
UNC Finley Golf Course
Some have been good, others not so much. One architect in North Carolina who has studied Ross and his work is Greensboro-based Kris Spence, who performed a minor miracle with Ross's course at Grove Park Inn, where one hole was lost to a parking lot and another big chunk of the classic was eaten up by tennis courts over the years.

"So many of the early golfers learned the game on his courses, and they were taught the player's strategy with a wide variety of types of shots - high, low, right, left," said Spence, who like Ross started his golf career on a course's maintenance staff. "Ross made sure in all of his designs that the golf course addressed the game comprehensively. That's one of the things that Ross admired - the mental side of the game. He was very cerebral in his thinking and placement of bunkers, the layout of the golf holes, to make players challenge themselves, challenge their confidence and ability to play certain types of strokes near hazards or to get angles and give themselves the widest variety of shot options for the next shot.

"Landscape architects have sort of taken over the business to some degree," Spence adds. "It's not necessarily a bad thing, but now it's more about the appearance of a golf course, the setting of the golf course and the courses have gotten away from the strategy of the game. We got into this phase of building golf courses that have this 'wow' factor."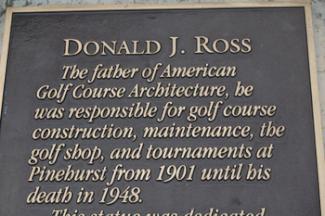 Plaque Devoted to Donald Ross at Pinehurst
Point well taken, but Fazio operated under different times in the 1980s, '90s and into the next century as his popularity soared. Money at times was no object for clients, who wanted exclusive private enclaves that were bigger and better than the next. That doesn't make Fazio's work less insignificant than Ross, just more diverse.

Possibly the highest compliment to Fazio was Pinehurst Resort tabbing him to design Pinehurst No. 8 in 1996 to celebrate the resort's centennial. The layout is generally regarded as the most popular in the resort's stable of courses behind the famed No. 2. I actually like it more as if offers a wider variety of hazards and different types of topography.

"It is pretty much one of a kind," Fazio says.

While most Ross courses are "compact" with tees and greens close to each other, putting surfaces offer a major challenge and bunkers are steep and a stern test. Fazio's major strength can be traced to his routing, his expansive courses seemingly flowing across the land and "fitting" into the property that oftentimes is aimed at more than golf.

"The economy of the land demand was that you build the tees right next to the greens," Fay said of the early days of American golf course architecture. "Mr. Ross probably wouldn't like (cement cart paths) very much. If they asked him to build one of those courses I'm not so sure he would take them up on it."
"We spend a lot of time studying the site, walking the land and placing golf course holes very well on the land," Marzolf said. "Every hole has a chance to be a great hole because of where it is placed. That's the difference in golf architects right there. Some firms do that in an average way, some firms do that horribly and some firms do that incredibly well and I think the success of our career has come about because we've very good routers of golf courses. Our golf holes feel natural and feel like they fit into the environment."

Whether you want to argue strategy vs. scenery, bunkers vs. beauty, each man, each famed architect, was at the top of his game given the parameters of play at the time. And no one in the country has quite the collection of their work as North Carolina.

"I would have certainly loved to have met Mr. Ross," Spence said. "I would have wanted to follow him through a golf course and listen to his conversations with routing a golf course and laying out the bunkering. It would be so valuable to me as an architect who has spent the last 10 years trying to preserve his courses - and his legacy."

And while some have followed down the Ross path of design work (Pete Dye also being a big fan of Ross), Fazio has forged his own path to greatness.

"Why haven't the great artists painted another Mona Lisa? Why did Picasso do what he did?" asks Fazio. "When you are a designer why would you like to copy something? Just like a writer, you don't want to copy somebody else. If you are a talented person you don't want to copy something else. I am not going to copy Wade Hampton, Old North State or Eagle Point. Look at Forest Creek; as well received as any golf course I've done but many people think the second one (North Course) is better than the first."

Why wouldn't Donald Ross take the other courses and make all of them look like No. 2? He could have done it and he didn't do it. Why dilute the product?

And why argue over who was better? Sit back and enjoy both and be thankful each of these great architects set up shop in North Carolina.
David Droschak has covered golf in the Carolinas for three decades, mostly with The Associated Press, where he worked for 20 years as AP sports editor in North Carolina prior to launching Droschak Communications, a full-service marketing and PR firm based in Apex, N.C. Dave, 51, has covered numerous major golf tournaments, including the 1999 and 2005 U.S. Opens at Pinehurst Resort, and is a longtime member of the Golf Writers Association of America.

Dave was honored with the Sports Writer of the Year award in North Carolina in 2005, and is currently editor of Triangle Golf Today (www.trianglegolf.com), a print and online publication regarded as the "No. 1 Source for Golf News in North Carolina." He is golf editor for Pinehurst Magazine, an award-winning glossy publication, and was instrumental in helping launch Triangle Golf Deals powered by Twongo (www.trianglegolfdeals.com) in the fall of 2011.

Dave also is the co-founder of www.HurricanesBeat.com, a website devoted to coverage of the Carolina Hurricanes, an NHL franchise he has covered since the team moved to North Carolina from Hartford in 1998.

Dave grew up in Penn Hills, Pa., about five minutes from the famed Oakmont Country Club and was introduced to the game of golf as a caddie at Green Oaks Country Club in nearby Verona, Pa.

Dave was the co-captain of the 1978 Penn Hills state championship baseball team, was a pitcher for the 1982 Atlantic Coast Conference champion University of North Carolina Tar Heels, and pitched professionally for two years in the St. Louis Cardinals organization. He is a member of the Penn Hills High School Sports Hall of Fame, which also includes NBA coach George Karl and former four-time Pro Bowl offensive lineman Bill Fralic.