Rough Enough - Will Pinehurst No. 2 Produce Typical U.S. Open Scores in 2014?
By: Dave Droschak
Tired of seeing scorecard carnage and anguished faces from the world's best golfers? Well, the U.S. Open at Pinehurst Resort in 2014 may finally produce some red numbers.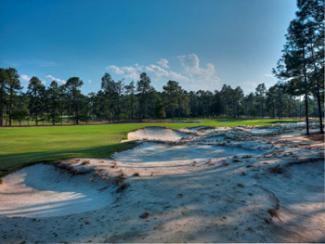 Pinehurst No. 2's 7th Hole
Previous Opens at Course No. 2 - in 1999 and 2005 - have more than held up to par, but that was prior to the restoration of the famed Donald Ross layout by architects Bill Coore and Ben Crenshaw. The pair returned the historic layout to its 1940s' yesteryear look two years ago, which meant expansive sandy "waste" areas and, as USGA executive director Mike Davis swallows hard, no rough for 2014.

That's a first for the U.S. Open's storied history.

"Your chance of getting a few of those 'green-light lies' at Pinehurst is going to be greater, versus always being in rough where you're going to have grass between your club and ball and not being able to control your distance or your spin," Davis said.

The No. 2 course was an unusual U.S. Open venue before the modifications. Now, the notion that 80 percent of the players may be hitting fairway approach shots and not hacking out of a forest of rough may raise some eyebrows from purists.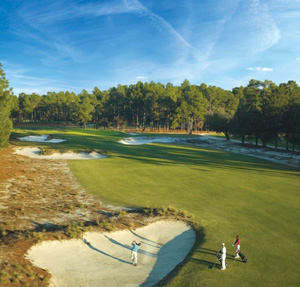 14th Hole at Pinehurst No. 2
But don't bet on a score of 10-under par winning the 2014 Open just yet. Pinehurst's defense - its turtleback greens and short-game hollows - remain as formidable as ever and possibly even more difficult along with tons of sand around the putting surfaces to navigate.

"The difference between Merion and Pinehurst No. 2 is they're different styles of short games," said David Orr, the putting and short-game coach for 2013 U.S. Open winner Justin Rose. "At Merion and courses in the Northeast you try to hit soft shots out of the rough to firm greens. In Pinehurst, they will be closely mowed, tight lies, more of a nipping and pinching type of wedge game, or even using a putter off the green. You have to adjust what's in the bag and what kind of shot style you can hit. It's definitely an adjustment."

Believe him or not, Davis said the USGA is not concerned about scoring at U.S. Opens, only testing all of the abilities of the best players - from the physical to emotional challenges over 72 holes.

"Mother Nature can give you certain conditions where it is either going to make it much easier or it make it much harder," Davis said. "In 2006 and 2007 at Winged Foot and Oakmont plus-5 won those Opens, those were really hard golf courses, but we didn't do anything at those Opens to really try to make it harder. Those two years were dry U.S. Opens and we got some wind. My read on Pinehurst is you could see 10-, 11- or 12-under win if we are unlucky and we get some storms and it softens up the greens and they can throw darts at them, but I can see where 3- or 4-over would win if it happens to be firm. In either case, the USGA wouldn't have done anything differently; it was what Mother Nature would have done.
"If 10-under is the winning score and the golf course played properly, in other words it was a difficult test and a fair test, then that's really what we're looking for, trying to identify the best player that week. We want to have it hard - that is kind of the trademark of the U.S. Open - but I'm committed to the fact that we don't want to try to trick up Pinehurst No. 2 just to have a higher score winning."

Davis admits it will be a "wider Pinehurst" in 2014, but wayward shots off the green fairways will find trouble, or maybe not. A haphazard display of native wire grasses, or rough sand, or a fallen pine cone or a pine needle may interfere with a golfer's approach, or golfers may have a clear path to the green from hard sand.

"In the first two Opens here you had a lot of fairways that were 22-28 yards wide; well, we're just not going to have that this go-around," Davis said. "In a sense you are going to see more players hitting into greens from the fairway than the past. That part is going to make the test easier, but the putting greens in a lot of ways are the real defense there in the fact that they sit up and you really have to hit a good shot."

There will be no "prepping" of the sandy waste areas at No. 2, Davis said, the USGA opting instead for a "natural" test out of the sand.

"We're going to make sure those sandy areas have all kinds of different shots," Davis said. "If you hit your ball into one of those areas you are not always going to like what you get. There may be some softer sand that has some footprints in it that make a shot very hard, there are going to be pine needles in it, there is going to be some hardpan, you may roll right up against some wire grass.

"So the idea there is that we really want there to be different types of shots, where with the Bermuda rough when you hit it there you knew what you were going to have even before you got to your ball, you were going to be in 2½-inch rough and the ball was going to be sinking down halfway and you were going to hit this knuckle shot that was going to have no spin on it and you weren't going to hold the green.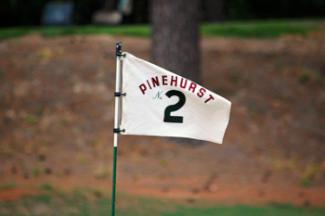 No. 2 Flag at Pinehurst No. 2
"This go-around players are going to encounter a lot more variety when they miss a fairway and sometimes it is going to be harder, when you are in a footprint, than if they were just in Bermuda grass or if your ball is right up against the wire grass, but if you are on hardpan, for a touring pro, that's really not that hard a shot," added Davis. "It's going to be a little bit of a crapshoot. They are not going to know what they are going to get until they get to their ball."

Or hear the crowd's reaction - just as if a ball sunken deep into rough and out of site to all TV viewers and on-site spectators during most U.S. Opens.

The U.S. Open venue at Pinehurst has produced record crowds in the past, numbers approaching 50,000 spectators a round. A lack of rough may even affect the fans, since some of the viewing areas may be pushed back or altered.

"Our goal is to rope a course so that we keep balls inside the ropes; in other words, play safe in the arena," Davis said. "Because any time a ball gets outside the ropes, funny things happen. You either get trampled rough or having to move a bunch of spectators or anything you might be in a ton of footprints.

"So, I do think you will see the roping wider. When that ball gets to some of that hardpan, it rolls and it rolls a long way. When you hit Bermuda rough, it stops quickly. So I think there will be a different roping plan. But we are going to be very considerate and thoughtful when it comes to making sure that it's a good experience for the spectators. I know that our staff has thought through grandstand locations and they have thought through making sure there are quite a few good vantage points, but it will be slightly different."

So, who does the New No. 2 Course at Pinehurst favor in 2014? Here are my five favorites a year out.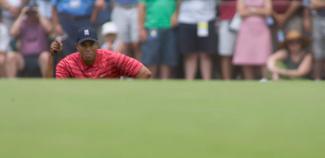 Tiger Looking over Green at
U.S. Open at Pinehurst No. 2 in 2005
Phil Mickelson: A runner-up here in 1999 to Payne Stewart, Pinehurst requires some magic around the greens. Who has a more creative short game than Lefty? And maybe, just maybe, he's done finishing second.

Justin Rose: There hasn't been a repeat champion since Curtis Strange's run in 1988 and '89, but Rose's short-game coach is headquartered 30 minutes from Pinehurst. Expect Rose's strategy to be spot on. And he's a great bunker player.

Webb Simpson: His parents own a home here and the North Carolina native is ultra-familiar with the course. And he's a great player.

Tiger Woods: Two top-three finishes at the two previous Opens at No. 2 make Woods a factor, if nothing more than from a confidence standpoint.

Carl Pettersson: The dark horse of the group, Pettersson grew up in Greensboro, N.C., and played college golf at N.C. State. He can go low and get hot with his long putter, finishing tied for third in last year's PGA Championship.
David Droschak has covered golf in the Carolinas for three decades, mostly with The Associated Press, where he worked for 20 years as AP sports editor in North Carolina prior to launching Droschak Communications, a full-service marketing and PR firm based in Apex, N.C. Dave, 51, has covered numerous major golf tournaments, including the 1999 and 2005 U.S. Opens at Pinehurst Resort, and is a longtime member of the Golf Writers Association of America.

Dave was honored with the Sports Writer of the Year award in North Carolina in 2005, and is currently editor of Triangle Golf Today (www.trianglegolf.com), a print and online publication regarded as the "No. 1 Source for Golf News in North Carolina." He is golf editor for Pinehurst Magazine, an award-winning glossy publication, and was instrumental in helping launch Triangle Golf Deals powered by Twongo (www.trianglegolfdeals.com) in the fall of 2011.

Dave also is the co-founder of www.HurricanesBeat.com, a website devoted to coverage of the Carolina Hurricanes, an NHL franchise he has covered since the team moved to North Carolina from Hartford in 1998.

Dave grew up in Penn Hills, Pa., about five minutes from the famed Oakmont Country Club and was introduced to the game of golf as a caddie at Green Oaks Country Club in nearby Verona, Pa.

Dave was the co-captain of the 1978 Penn Hills state championship baseball team, was a pitcher for the 1982 Atlantic Coast Conference champion University of North Carolina Tar Heels, and pitched professionally for two years in the St. Louis Cardinals organization. He is a member of the Penn Hills High School Sports Hall of Fame, which also includes NBA coach George Karl and former four-time Pro Bowl offensive lineman Bill Fralic.